The magic formula of Mazda's sporty styling, efficient powertrains and a more car-like and involving driving experience than its foes, combined with Japanese reliability, low running costs and practicality has proven impossible to beat.
For the 2020 Mazda CX-5, the lineup spans five main levels, running from the Maxx, Maxx Sport, Touring, GT, to the top Akera. Both front- and all-wheel drive are available, depending on the variant, and all except the entry Maxx with the 2.0L petrol come with a six-speed auto as standard (Maxx available with a six-speed manual as well).
Prices start from $30,980 for the base Maxx and top out at $50,830 for the Akera with the 2.5-litre turbo-petrol four-cylinder. Here we're mainly focusing on the Touring and the GT, which are great all-rounders.
Comfort and practicality
Mazda CX-5 GT Interior
Open the door on any current model Mazda and you'll be pleasantly surprised. We think these are some of the finest interiors you'll see in the mainstream vehicle category. And it's the same story with the CX-5. In GT trim with the white/bone leather trim, it's just exquisite. The colours and materials create a classy yet practical decor, and we like the way the white tones are not carried through to the lower cabin and footwells where surfaces would otherwise show dirt and scuffing.
In Touring specification, the interior design is pretty much the same only the dash and parts of the centre console aren't swathed in leather, and there's more of a mono-tone colour scheme going on. It's still very nice, though. And despite the obvious high priority on design, the controls and fixtures are entwined seamlessly. Everything sits where you'd expect to find it, with commonly hidden functions – such as dimming for the instrument cluster – sticking to tradition for instant familiarisation.
The standard features list is extensive in most variants. The upper models share the same MZD Connect media interface, which we think is one of the best systems in the class, with the very convenient hand controller down on the centre console. You don't need to be a computer genius to understand how it operates. Once you get used to the left-right, up-down cursor movement and the surrounding jump-to buttons, you'll soon be able to make selections while on the go and not even need to glance down.
All of the must-have items are standard on the GT, including a rear-view camera, Bluetooth, digital radio, automatic on/off LED headlights, auto wipers, GPS sat-nav, cup holders galore, and dual-zone climate control. The GT also gets a power tailgate and an advanced head-up display system. Thankfully, Mazda has got rid of its old flimsy plastic flip-up head-up display system and now uses a proper dash-integrated projector like most other systems in the industry.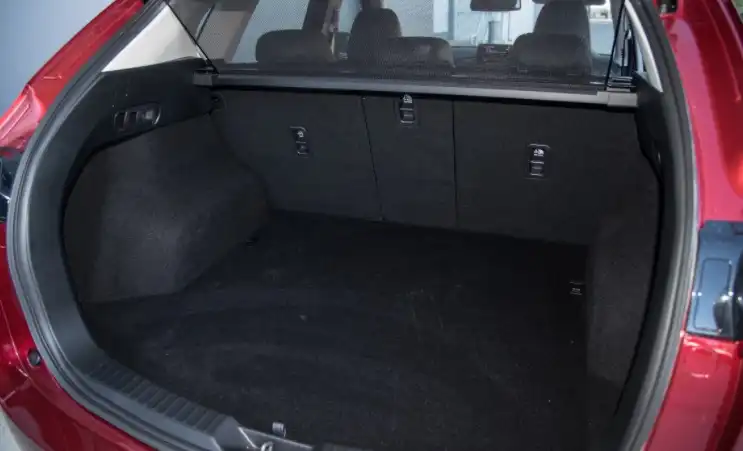 Mazda CX-5 Touring Boot
Boot space is rated at 442L/1342L with the rear seats up/down. This is one of the smaller-capacity cargo areas in the class, but only just and still totally acceptable and perfect for the family. The towing capacity is rated at 750kg/1800kg unbraked/braked.
On the road
One of the better traits of modern Mazdas, in our opinion, is the drive character. We love the way these cars behave on the road. The steering feels taut and mechanical, providing good levels of feedback without being twitchy, and while the suspension isn't specifically tuned for Australian roads it does offer a distinct, rubbery and confident feel. It always feels composed on the road, especially over shoddy sections with corrugations around those long sweeping bends in the country.
With the wheels firmly planted on the ground at all times, the CX-5 inspires driver confidence. In any regular situation the CX-5 never feels out of its depth or nervous. It feels solid and reassuring. And being more to the sporty side in terms of steering and handling, it can be an entertaining drive experience, which is certainly uncommon in this segment. There's also impressive noise suppression, with very little wind noise or road roar coming into the cabin, making it a great family road trip vehicle or company car for travelling workers.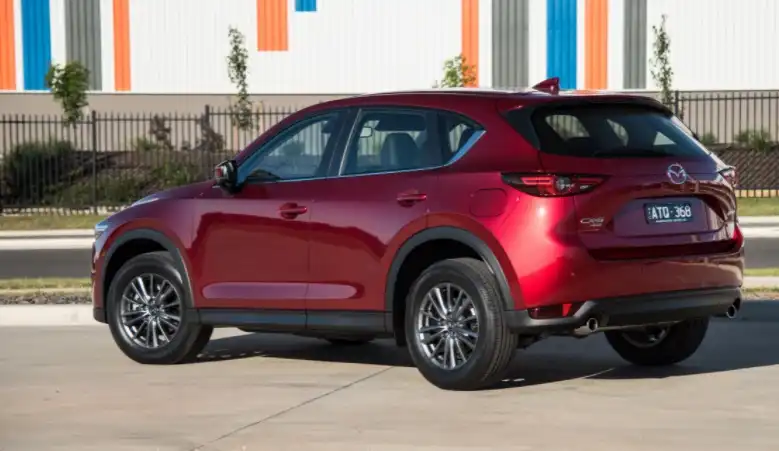 Mazda CX-5 Touring Rear
An area that will be of high relevance to travellers is fuel economy. With the recently updated 2.2-litre twin-turbo diesel, average fuel economy on the official combined cycle is reduced from 6.0L/100km to just 5.7L/100km. Given power and torque have been turned up, from 129kW to 140kW and 420Nm to 450Nm, this is an outstanding effort. Even more remarkable is what you can expect to achieve in the real world. During our testing we averaged around 6.5L/100km.
Matched up to a six-speed auto makes it feel quite effortless in all conditions. It doesn't hunt around gears like some of the competitors do, and it's definitely more exciting than the dreaded CVTs offered in rivals. Mazda has said that it isn't looking to increase the number of gear ratios any time soon. Instead, it takes on a different philosophy. While some carmakers add more gears partly as a marketing exercise and partly to help make use of downsized engines, Mazda is sticking with larger capacity engines and these usually have no trouble surging through longer gear ratios – especially in the case of the diesel and the 2.5 turbo petrol.
Should you buy?
It's easy to see why the Mazda CX-5 is such a popular product on the Aussie market. It does everything you need from a medium-size SUV, and it looks great and provides passengers with a high-quality yet practical interior package. It doesn't really matter if you go for the more affordable and perhaps better value Touring or the luxury GT, it's a smart buy. We'd recommend the Touring as it does bring in a big basket of useful features that will be appreciated across a wider audience, while the GT is more of an indulgence.
Find out how much you can save on your new Mazda CX-5 with OnlineAuto.