If you think self-driving technology and a car that can see into your blind spots is a thing of the future, read on and prepare to be amazed.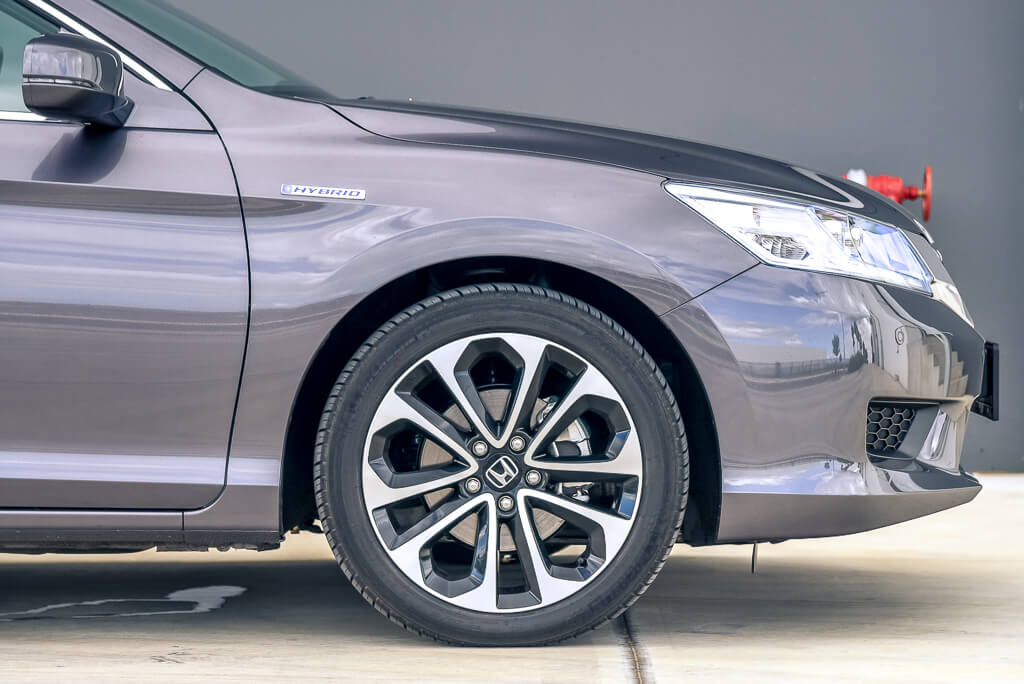 A sporty yet elegant classic
Honda's classic, traditional sedan style is designed to keep five adults comfortable over a long journey, and fit a pram or sporting equipment in its enormous boot. Six colours include white, silver, a lustrous black, with highlights including 'Modern Steel', a deep grey, a rich Carnelian Red and a very distinctive and bright Brilliant Sporty Blue, which gives the car the most character.
Inside you are greeted by not one but two large screens. One for primary audio and sat-nav controls and the other for cameras and navigation display. Helpfully, there are still knobs and buttons for audio volume, tuning and climate control functions, so it remains user-friendly for all.
Whether you go for the 2.4-litre four-cylinder or the revvy 3.5-litre V6, Honda's VTEC technology will deliver better than expected fuel economy, amazing quietness and a sporting flavour. The Honda's front-drive chassis isn't the sportiest in the class, like say, a Mazda6, but it is nimble and enjoyable enough to keep you entertained.
Look mum, no hands!
Honda's real party trick is a system that can basically drive the car itself on freeways for short periods of time. Adaptive cruise control keeps the distance between you and the vehicle ahead, braking and accelerating all by itself. It can even read lane markings on the road and steer itself for up 30 seconds. If you haven't experienced this before, it is utterly surreal and is one of the coolest features available on any new car.
The Accord also has eyes in the side of its head. Honda's LaneWatch system features a camera mounted on the lefthand mirror, activated when you indicate left. It helps you see traffic hazards lurking in the shade without turning your head.
Parking is super easy thanks to an array of cameras that give you a great view of where the car is heading, avoiding nasty prangs and bingles that are the nightmare of any shopping mall car park.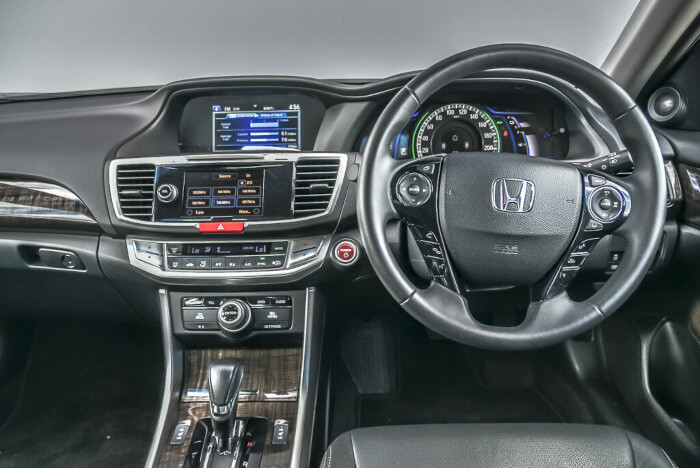 Our verdict
Honda's Accord is a modern sedan without shouty styling, that hides some brilliant technology you would never expect. It is certainly one for people who value long distance comfort more than sporty handling, but we love the zippy V6 engine.
Overall, it's a blend of innovation and comfort, with a hint of Honda's fanatical precision and attention to detail. The best part has to be that starting price. No other car in this segment is able to better or even match this for sheer packaging and luxury.?
5 specs you need to know:
Engine: 2.4-litre four-cylinder or 3.5-litre V6
Transmission and drive: Five or six-speed automatic, front-wheel drive
ANCAP safety rating: Five Stars
Official fuel economy: 9.2L/100km (9.4L/100km during test)
Time from 0-100km/h: 6.5 seconds (V6)
Pros
Class-leading ingenuity and technology; dual LCDs, blind-spot camera
Refined V6 engine
Very smooth and quiet drive
Smart six-speed auto
Standard features list
Quality fit and finish
Cons
A bit floppy in handling
Brakes don't live up to powerful V6 engine
Exterior design somewhat plain