Buyers in Australia are presented with a plethora of options with the latest XF, but here we're testing the flagship model called the XF S. It's a sassy cat, coming with a potent supercharged engine.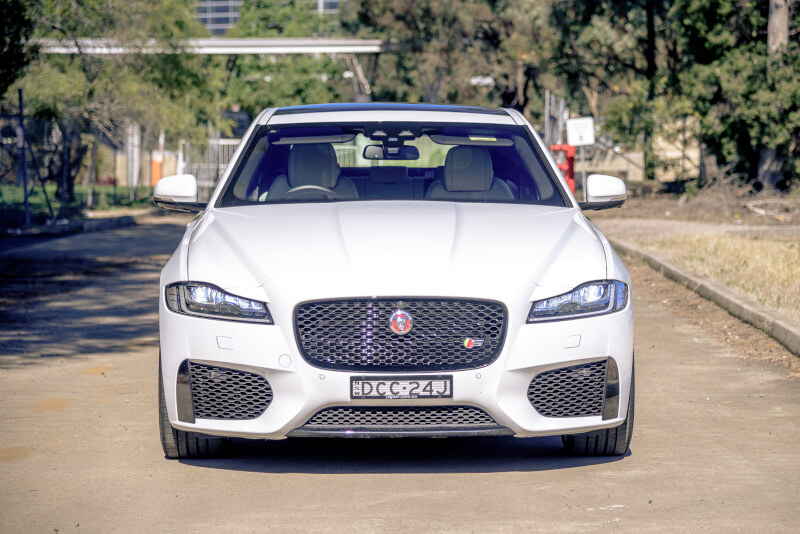 007's family car
Jaguar vehicles are renowned for their modern and unique designs. And the same can be said of the latest XF. It looks beautiful and is, in our opinion, the most stylish and glamorous sedan in the class. But there are sacrifices. The roofline is very low, with the front door pillar spearing straight for your forehead in the front. You have to crouch down to get in otherwise you'll bump your head. Once you're in the accommodating is open and welcoming.
Rear seat space is good, again, once you're in, with slightly reclined seats offering reasonable headroom thanks to cutaways in the ceiling and decent legroom. In this respect, all of the rivals we've tested seem to be more practical and will probably be easier to live with on a day-to-day basis. Of course, the rivals don't turn heads quite like the XF.
Like the exterior, the interior design is fetching. You get an exquisite gear selector that's made from metal. It automatically rises up from the centre console on start-up. You get the sense every button and knob has been painstakingly crafted from scratch, the attention to detail is that superb.
Be prepared to bring your second chequebook at the time of ordering though, as the big Jag is offered with a huge variety of options. Some of these are a must, adding exclusivity to the car, while others are just nasty and should really come as standard on a vehicle of this calibre and price.
The prowling cat
This supercharged cat goes like a… scolded cat, when you nudge the throttle. It might only be a V6 but it goes like a V8. It's a machine on the highway, effortlessly eating up the miles. Despite its hasty urgency when you tickle it in the right places, the XF S is a proper luxury touring sedan as well.
Highway miles are eaten up like a vacuum, and the optional adaptive cruise control makes this even more relaxing. You can set a distance between you and the car in front, and the on-board sensors and tech will hold you there, braking automatically, and then speeding back up to your set speed, by itself!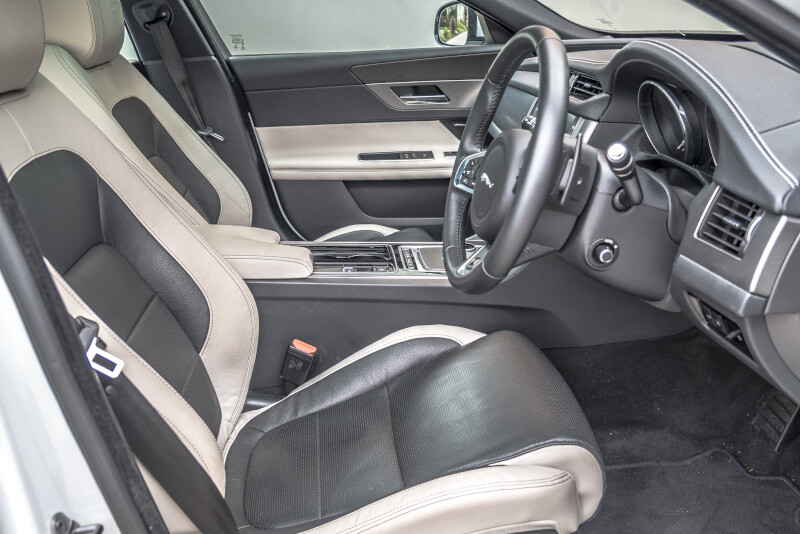 Our verdict
In need of a swift, stately sedan with a compelling design and enough technology to satisfy even the savviest of tech nerds? The Jag XF is a great option and should not be overlooked. Just choose wisely between variants and the options you want and need.
If you like the sound of that, talk to one of our experts today.
5 specs you need to know:
Engine: 3.0-litre supercharged V6
Transmission and drive: Eight -speed automatic, rear-wheel drive
ANCAP safety rating: Five Stars
Official fuel economy: 8.3L/100km (10.4L/100km during test)
Time from 0-100km/h as tested: 5.43 seconds
Pros
Throttle response from supercharged V6
Attention to detail
Stylish design
Clever technology
Cons
Big options list
You need yoga skills just to get in