It's not a multi-million-dollar supercar as the design might suggest. You can actually jump into a Huracan for a bit over $400k, which isn't too bad considering Ferrari will be happy to sell you a similar package for around $500k. But, the Prancing Horse doesn't come with a V10 engine like the Lambo.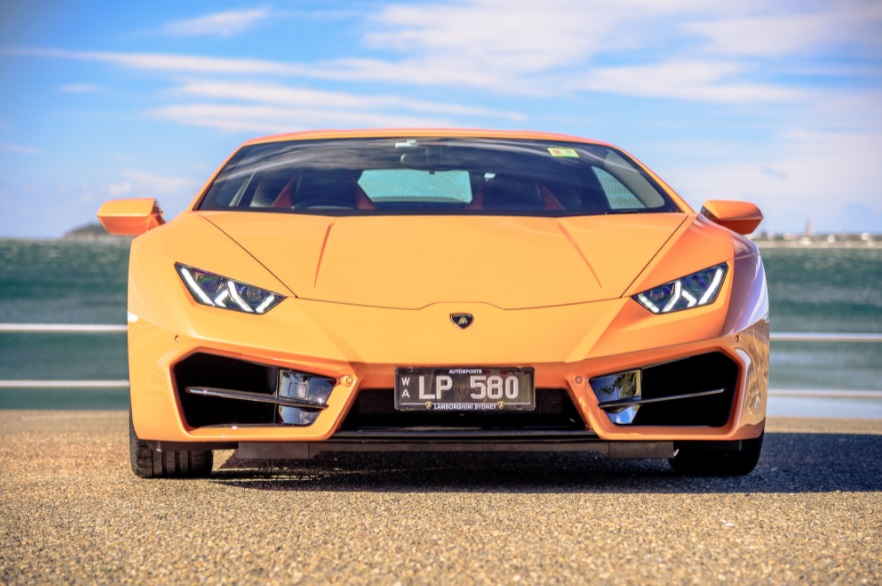 Batman's cave
Let's get one thing straight; this isn't a car designed for the daily commute or for taking on the school run. It's a supercar, in that it is super fast and super impractical. You need to fold yourself like origami just to get in. And once you're in, it's about as settled and relaxing as a three-year-old that's just consumed a bottle of coke and two packs of Wizz Fizz.
And that's exactly what this is meant to be. It's purposely designed to create excitement and emotion, even just sitting inside. You don't actually have to start the engine to feel the presence of the mighty Raging Bull that lurks behind your shoulder (yep, the engine is mounted in the back), because there is just so much going on inside.
Lamborghini offers a range of bright colours and trimming options for the Huracan, with our test car featuring a vibrant orange which is sure to lighten up your day. Italy is regarded as the fashion capital of the world, so, naturally, the exterior matches the interior.
With an engine in the boot, essentially, it doesn't leave much room for your things. In the cabin you can put your phone… in your pocket. As for your handbag? Forget it. Unless you like driving alone so you have a vacant passenger seat your bag will have to go under the bonnet in the front.
Live large, make a noise
There are few moments in life that can replicate the intense excitement and heart-palpitating experience of starting a V10 Lamborghini. Using the jet-fighter-like start button, the almighty engine abruptly announces itself, shrieking and bellowing, and echoing off walls and buildings and anything else that happens to be within a couple of hundred metres. It's loud and proud.
How does it drive? Well, it almost always feels like you're trying to take a wild horse for walkies using a dog leash. It just wants to run, sprint, and take your licence and gobble it up quicker than dirt in a Dyson commercial. Speed is what this machine is designed for. And if you're brave enough, speed is what you'll get.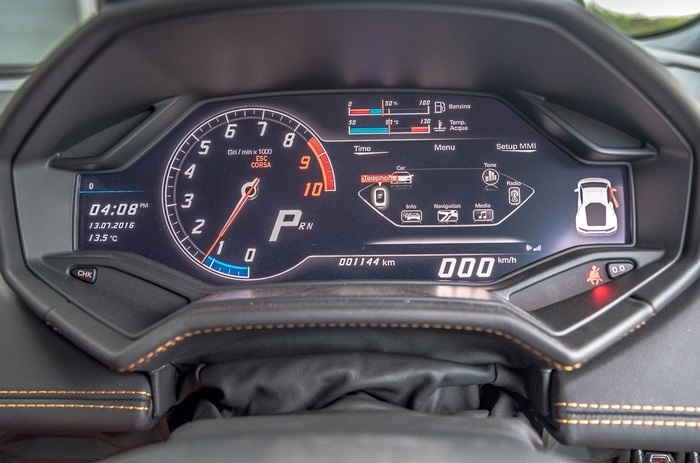 Our verdict
This is a car that does what a supercar should do; it excites you. A lot. It can be driven normally and on a daily basis if need be, thanks to its Volkswagen parent company ensuring the engine and moving bits keep doing their job. But why would you want to drive this like a German hatchback? If life gives you lemons, make yourself a Tom Collins!
If you like the sound of that, talk to one of our experts today.
5 specs you need to know:
Engine: 5.2-litre V10
Transmission and drive: Seven-speed automatic, all-wheel drive
ANCAP safety rating: Not tested
Official fuel economy: 11.9L/100km (15L/100km during test)
Time from 0-100km/h as tested: 3.4 seconds
Pros
Speed
The voice of Pavarotti
Stunning to behold
Italian pedigree
Cons
Boot space
Licence zapper