Review - Jaguar XE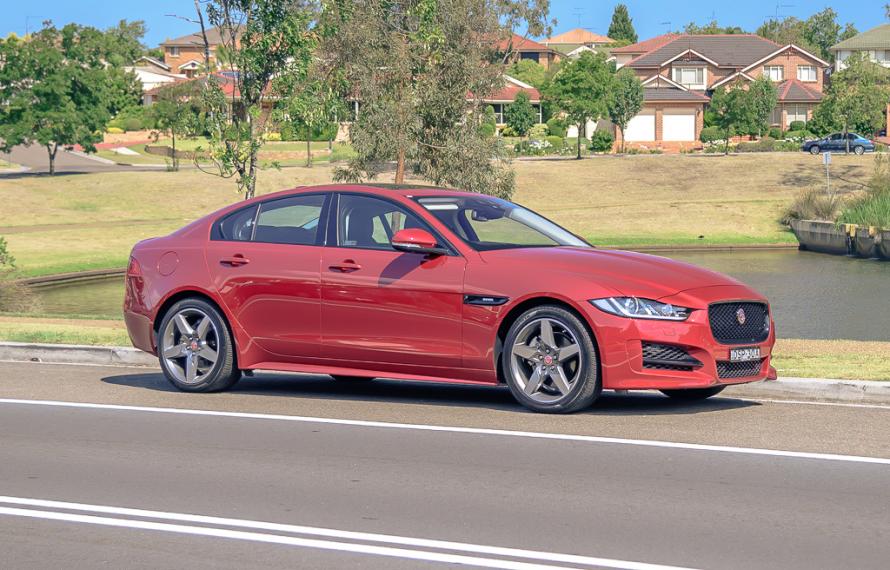 Starting at $104,200 the Jaguar XE S sits at the upper end of the mid-size premium sedan class. Competitors like the Audi S4, the BMW 340i, and the Lexus IS 350 F Sport are largely more economical, but then again, they don't have the brand power that Jaguar does.
The downside to such a high price tag is that you're also looking at extra money for additional features, even the basic ones such as a sunroof, adaptive cruise control, and premium metallic paint. This pushes your initial outlay to around $120,000 or more. And, yes, while there is something very classy about having a bespoke car (much like a three-piece suit), many of the Jaguar XE S rivals come with these extras as standard fit-out.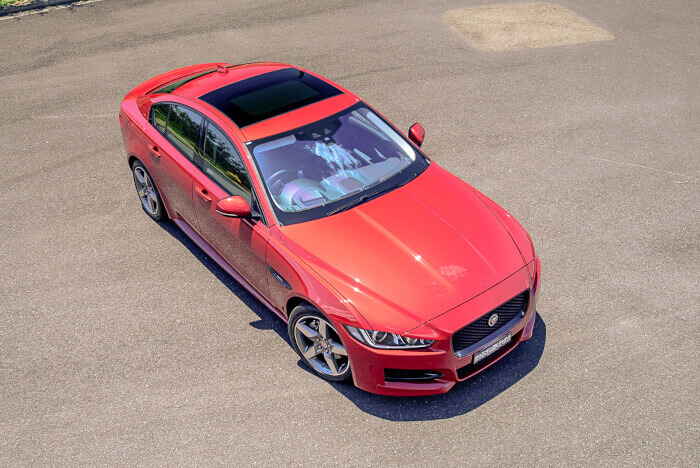 Sophisticated elegance and attention to detail
With all warnings about price and extras officially made, we can happily say that you get what you pay with the Jag XE. The cabin atmosphere is sophisticated, detailed, and highly finished so you do feel as though you're driving a truly expensive wagon.
Door height is a little low, but once you've navigated a graceful entry, you can sit back and enjoy the soft Taurus grain leather and feature suede-cloth inserts for body hugging grip. There's also a 10-way power adjustable front seat, which makes the driver's position ideal and everything within hands reach.
Phosphor blue ambient mood lighting around the cabin will make you feel like you're in a private jet after dark, and, thankfully, there's plenty of room in the second row should you want to indulge that feeling a little more.
More practically, the second row boasts a flip down armrest and cup holders for back passengers. Although there's technically enough space for a third person in the back, there is a middle transmission tunnel, which makes it a tight squeeze.
Business in the front, mobile change station in the back
The Jag XE offers an impressive 450 litres of boot space, which makes it big enough to carry groceries, a pram, and a few bag relatively easily.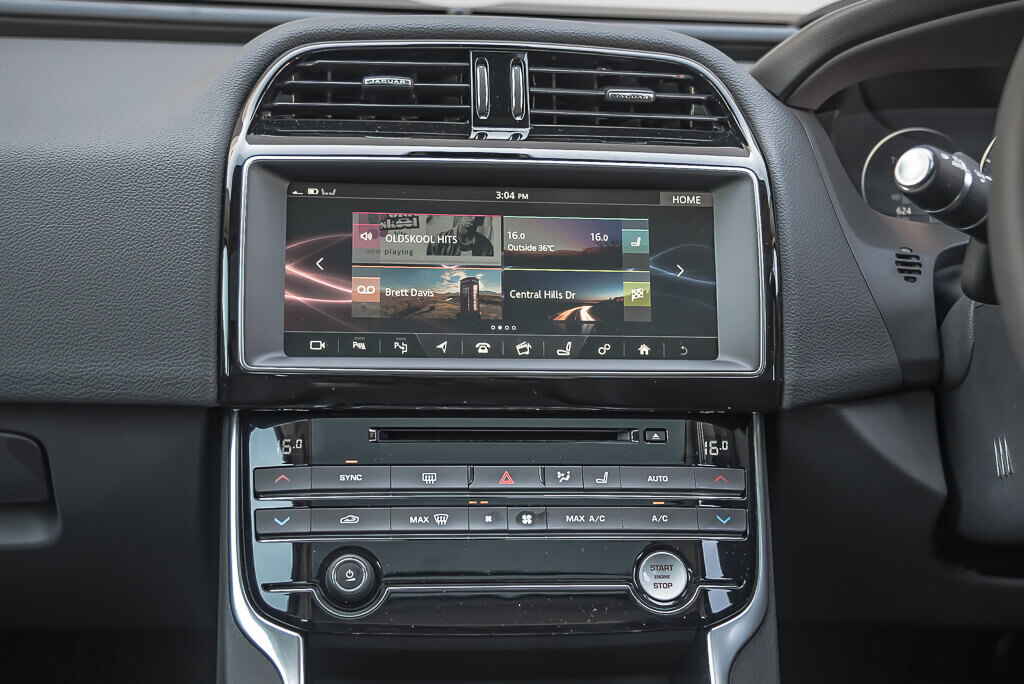 Our verdict
The Jag is all about dynamic and precise driving with full-blown luxury. And that's what it comes down to. Driving this car is seductive. As you show it off to admiring friends, you can casually throw out the fact that it is the most powerful non-hybrid, rear-wheel drive model in its class. Its three litre supercharged V6 engine effectively makes it a sport's car, so even if you're hauling kids you can still pretend you're James Bond on a high-speed chase through Rome.
The engine purrs with power, the acceleration is incredible, gears change just when you want them to, the electric power steering (a first for Jaguar) is precise and reacts immediately, the tyre grip fantastic, and the deceleration impressive. Its agility and grip make it just as much fun to navigate city streets as it is to accelerate on highways.
Finally, and most importantly, the Jag is surprisingly fuel efficient, recording an average of around 9.3L/100km during our weeklong test, and an official average of 8.1L/100km.
All in all, the Jaguar XE S ticks all the feline clichés you can come up with: it's sleek, fast, powerful, seductive, elegant, and smooth. Add to that, comfort, luxury and an eye for detail and you have the whole package. The power, the agility, and the dynamism of the Jaguar XE S combine to make you feel unbeatable.
5 specs you need to know
Engine: 3.0-litre supercharged V6
Transmission and drive: Eight-speed auto, rear-wheel drive
Five star ANCAP rating
8.1L/100km official fuel economy (9.3L/100km during our test)
0-100km/h: 5.26 seconds
Pros
Elegant and aerodynamic design
Luxurious attention to detail
Smooth, powerful engine
Fuel efficient
Responsive steering and sure-footed handling
Cons
The price, especially with additional features.
Getting in gracefully takes a little practice
Low roofline could be a problem for very tall drivers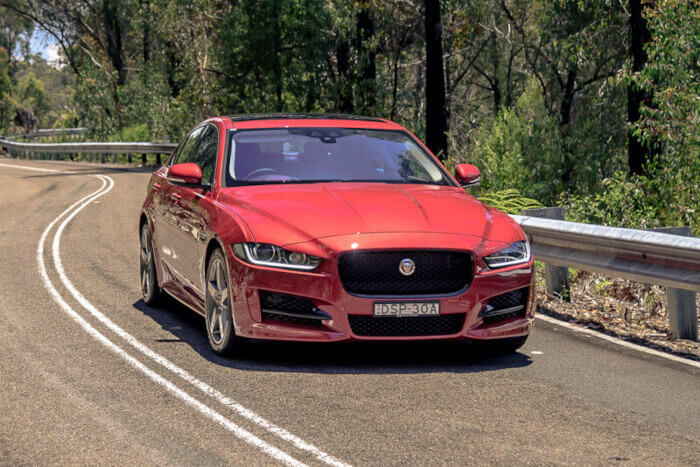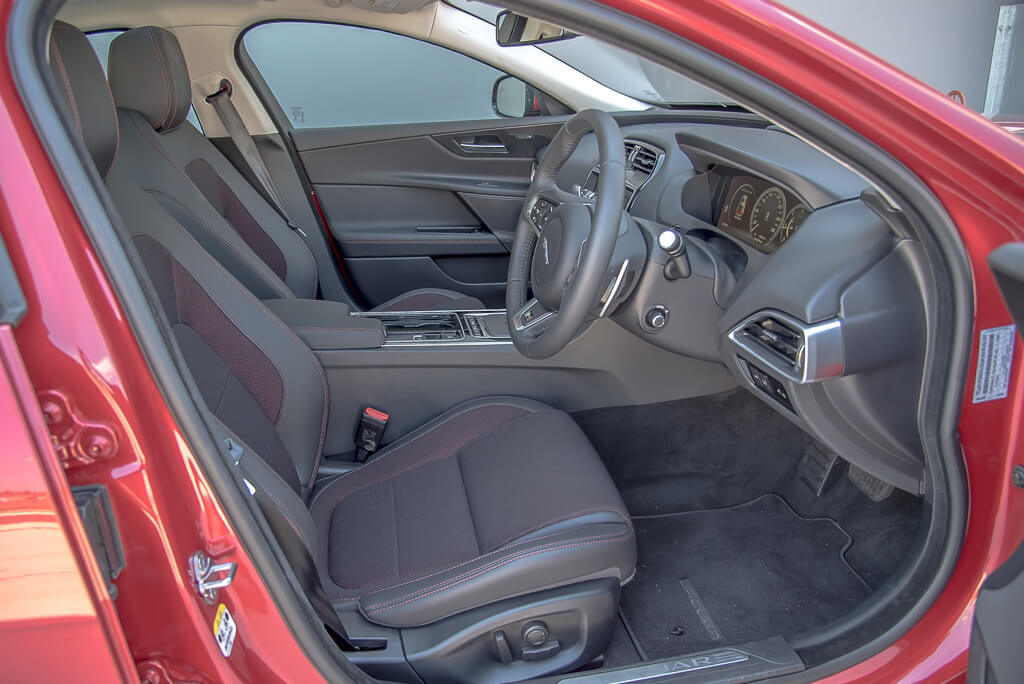 off the NSW recommended retail price of a Audi Q3 40 TFSI S Line on 25 Sep, 2020.
BT Beverley T saved $4,851
off the NSW recommended retail price of a BMW X1 SDRIVE 20I XLINE on 19 Feb, 2021.
off the VIC recommended retail price of a BMW X1 SDRIVE 20i on 11 Mar, 2021.
Savings are based on the difference between the actual driveaway price paid by customers on their new car purchases including stamp duty, government
charges and on-road costs and the Redbook Manufacturer Suggested Retail Price (MSRP) plus stamp duty, government charges and on-road costs.