Review - 2022 Mazda CX-3
AF By Alexi Falson April 22, 2022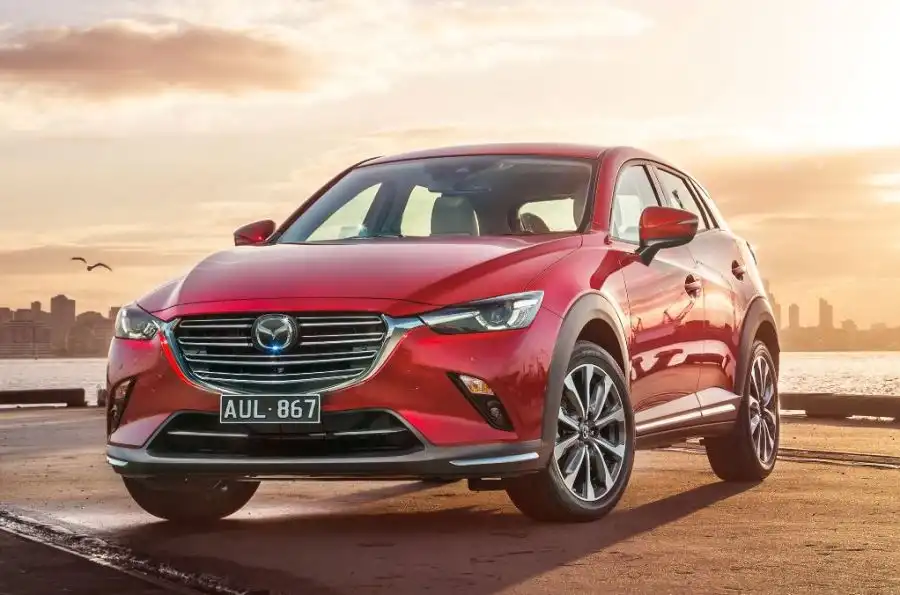 For buyers looking for a cheerful, stylish and user-friendly platform, the CX-3 is a great option that is easy on the wallet, but it's tasked with a tough job to keep up with the competition that are coming thick-and-thin to the compact SUV segment.
With that in mind, let's take a look at the Mazda CX-3 and stack up its value-for-money proposition, and how it stands up against its new-found rivals, and whether or not the compact SUV platform will meet your needs.
Starting Price: $23,190
OnlineAuto Savings: Enquire now
Mazda CX-3 - sTOURING (AWD)

Specifications
| | |
| --- | --- |
| Model Date | 2022 |
| Make | MAZDA |
| Model | CX-3 |
| Series | CX3G |
| Variant | sTOURING (AWD) |
| Body | 4D WAGON |
| Fuel type | UNLEADED PETROL |
| Transmission | 6 SP AUTOMATIC |
| Drive | AWD |
| Engine | DIRFI |
| Engine capacity | 1998 |
| Engine configuration | VARIABLE DOUBLE OVERHEAD CAM / 16 valves |
| Engine RPM | 6000 / 2800 |
| Cylinders | 4 |
| Torque | 195 |
| KW | 110 |
| Fuel tank size | 44.0 |
| Fuel usage specs | 6.7 / 0.0 |
| CO2 | 151 |
| ANCAP security rating | 5 |
For more details and other variants, check Mazda CX-3 car page.
How Much Does It Cost?
The Mazda CX-3 lineup kicks off from $23,190 for the entry-level CX-3 Neo Sport manual, while the automatic will set you back $25,190. The range then moves to the manual and automatic versions of the CX-3 Maxx Sport which are priced at $25,190 and $27,190 respectively.
From here, the range moves to the CX-3 Maxx Sport LE which is priced at $27,940, while the Maxx Sport AWD auto is priced at $29,190. The manual CX-3 sTouring is priced at $31,890 while the AWD sTouring automatic is priced at $33,890.
The CX-3 range tops out in the form of the CX-3 Akari, which costs $36,990 for the Akari Automatic, moving to $37,490 for the LE automatic, while the flagship Akari LE AWD auto is priced at $39,490.
How Much Can OnlineAuto Save You?
Using OnlineAuto's car buying service, you could save by sourcing one of our car specialists to help you find the best value model for you.
What Features Does the Mazda CX-3 Have?
Mazda's entry-level CX-3 Neo Sport comes riding on a set of 16-inch steel wheels, and receives halogen headlights, power-folding mirrors, air conditioning, black cloth upholstery, keyless entry & start, electric parking brake, cruise control, a reversing camera with rear parking sensors and an 8.0-inch infotainment system with Apple CarPlay, Android Auto and DAB+ radio.
Moving to the CX-3 Maxx Sport adds a set of 16-inch alloys, automatic headlights, a leather-wrapped steering wheel and gear lever, climate control, satellite navigation, auto-dimming rear-view mirror, automatic wipers, blind-spot monitoring and rear cross-traffic alerts.
The CX-3 Maxx Sport LE receives Mazda's suede-looking Maztex upholstery, bespoke 16-inch alloys, as well as a black front grille and side mirrors.
Stepping up to the CX-3 sTouring adds 18-inch alloys, as well as LED head, tail and daytime running lamps, as well as black Maztex upholstery, a heads-up display, front parking sensors and some added safety kit.
The CX-3 Akari comes packing a powered sunroof, adaptive cruise control system, surround-view camera and ten-way power-adjustable seats, while the range-topping CX-3 Akari LE receives a Nappa leather interior, interior highlights for the central console, door and dashboard surrounds, and a special set of 18-inch alloys.
Range Features:
16-inch steel wheels
Halogen headlights
Air conditioning
Cruise control
Black cloth upholstery
Keyless entry & start
Reversing camera with rear-mounted parking sensors
8.0-inch infotainment system with Apple CarPlay & Android Auto
16-inch alloys (Maxx Sport)
Leather-wrapped steering wheel and gear lever (Maxx Sport)
Satellite navigation (Maxx Sport)
Auto-dimming rear-view mirror (Maxx Sport)
Blind-spot monitoring and rear cross-traffic alerts (Maxx Sport)
Maztex leatherette upholstery (Maxx Sport LE)
18-inch alloys (sTouring)
LED headlights, tail lights & daytime running lamps (sTouring)
Heads-up display (sTouring)
Powered sunroof (Akari)
Adaptive cruise control (Akari)
Surround-view camera (Akari)
Nappa leather upholstery (Akari LE)
Bespoke 18-inch alloys (Akari LE)
Mazda CX-3 Colours
The Mazda CX-3 is available in a range of colours, including Snowflake White Pearl, Polymetal Grey Metallic, Soul Red Crystal Metallic, Machine Grey Metallic, Ceramic Metallic, Deep Crystal Blue Mica, Eternal Blue Mica, Jet Black Mica and Platinum Quartz Metallic.
Is it Comfortable to Drive?
As far as simplicity goes, the Mazda CX-3 platform has you covered, offering one of the most user-friendly platforms you'll find in the compact SUV segment, while retaining a relatively high level of driving comfort and refinement.
The entire CX-3 range is powered by the same 2.0-litre petrol four-cylinder engine that produces 110kW of power and 195Nm of torque, which might not be much on paper, but translates well into the compact and lightweight package.
Acceleration is smooth, while the option of a six-speed manual or automatic transmission means you can save yourself some money on any particular variant with a manual gearbox.
On the road, the CX-3 is a pleasure to drive, and comes riding on a suspension system that does a great job in ironing out small irregularities on the road while minimising body-roll in the corners.
It's surprisingly fun on the road, offering a heap of personality in both mundane driving situations and when pushed on an open road. Where it really excels, though, is in the confines of the urban jungle.
Around town, the CX-3's lightweight power steering rack and incredibly compact turning circle means that the car is agile, easy to park and makes light work of daily drives like school and supermarket runs.
For those living in the country, the CX-3's platform is surprisingly rugged and it remains confident on rough and bumpy B-roads, which means that the CX-3 is every bit as adaptable as the package is impressive.
Overall, it's hard to fault how the CX-3 performs on a variety of road surfaces both in and out of town, and remains one of the most capable compact SUVs in the segment.
Is it Practical and Spacious?
With its platform borrowed from the significantly smaller Mazda2, the CX-3 is somewhat limited when it comes to family duties, but if you're in the right demographic, it's potentially the perfect commuting companion.
Up front, the CX-3 treats the driver and front passenger to a wonderfully-appointed and well-crafted interior that has made Mazda one of the leaders in terms of interior spaces in recent years. The end-benefit to customers, here, is that you don't need to spend more than you're willing to find an impressive interior design, because Mazda treats its entry-point models with the same attention to detail.
Interior space and comfort in the front of the cabin is exceptional, even for large and tall drivers, while the platform offers a slightly raised driving position that adds to the user-friendliness of the package.
In terms of practicality, the front of the CX-3's cabin features a two-tiered storage area underneath the folding arm rest, with some added storage in a tray behind the gear lever, and enough space in the door bins either side for a large waterbottle.
Where things get a little bit complicated, though, is when you move to the second row of the cabin, which is pretty cramped for adults, to say the least.
The CX-3 is designed primarily for younger buyers, couples and those with young children that don't demand too much in the way of legroom. As a result, sitting in the second row as an adult feels cramped, and while the driver can sacrifice some legroom to make them more comfortable, the lack of headroom is a clear hurdle when it comes to being a true family-friendly package.
There are, however, two ISOFIX anchors on either side of the cabin, with three top tether points on the seatbacks to accommodate three child seats in the second row, making for a perfectly suitable baby-transporter.
In terms of boot space, the Mazda CX-3's platform accommodates 264L of cargo, which expands to 1,174L with the second-row folded in a 60:40 configuration.
Overall, then, it's clear to see that the Mazda CX-3, like any brand of compact SUV, might not meet all your space and practicality needs- but if you don't need to squeeze anyone more than a significant other into the cabin, it remains a great offering.
Is it Safe?
The Mazda CX-3 has been awarded ANCAP's maximum five-star safety rating, scoring 36.4 out of a potential 37 points.
As standard, all CX-3 variants receive autonomous emergency braking with pedestrian detection that works in both day and night-time situations, a reversing camera, rear parking sensors and six airbags.
Key safety features like blind-spot monitoring, rear cross-traffic alerts, driver attention monitoring, surround-view cameras, adaptive cruise control, lane departure warnings and road sign recognition are reserved for mid to high-spec variants.
Is it Fuel Efficient?
The Mazda CX-3 returns a combined cycle fuel economy figure of 6.6L per 100km in the front-wheel-drive manual variant, while the front-wheel-drive automatic is rated at 6.3L/100km.
Opting for an all-wheel-drive platform increases your fuel use to around 6.7L/100km on a combined cycle.
Our Verdict: Is the Mazda CX-3 Worth it?
It's no coincidence that the Mazda CX-3 consistently takes the top spot within the compact SUV segment, presenting buyers with a surprisingly premium driving dynamic and wonderfully-appointed interior for a reasonable price in lower-spec variants.
Around town, the CX-3 makes driving a pleasure, and this only continues as you stretch its legs on an open road or on the highway, making it one of the go-to options within the segment.
As a complete package, the CX-3 is difficult to fault, and with the range kicking off at a reasonable price, we highly recommend adding the CX-3 to your shortlist of compact SUVs, so long as you have realistic plans for utilising the cramped second row.
On that note, if you're in the market for a new car, you can get a free quote and see how much OnlineAuto can save you on your next car, or call us on 1300 719 925
Five Specs You Need to Know
Five-year, unlimited KM warranty with roadside assistance
12-month/10,000km service intervals
Five-star ANCAP safety rating
2.0-litre petrol engine across the CX-3 range
264L boot space; increases to 1,174L with second-row folded
Pros
Wonderful engine and transmission combination
Well-appointed interior design
User-friendly and charmingly fun on the road
Cons
Steep sticker prices for high-end variants
Cramped second row
Some safety equipment reserved for mid and high-spec variants
OnlineAuto Rating:
9/10
Mazda CX-3 Competition
off the NSW recommended retail price of a Toyota Rav4 GXL (2WD) on 21 Oct, 2021.
off the NSW recommended retail price of a Toyota Landcruiser Prado GXL FLAT TAILGATE on 19 Oct, 2021.
off the NSW recommended retail price of a Toyota Hilux SR5 (4X4) on 14 Oct, 2021.