Review - Suzuki Vitara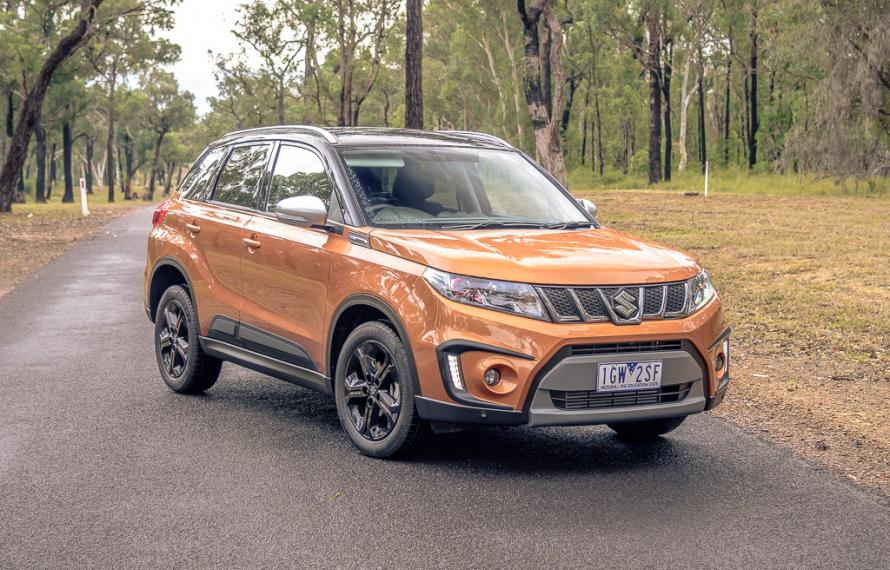 The Good
The Vitara RT-S is a cute car. It has clean lines and the elevated driving position so many of us are looking for these days. The car starts at just $21,990 for the manual and $23,990 for the automatic model. And for that low price you get a surprising amount of bells and whistles thrown in.
Included in the starting price are a nice touch-screen interface system with easy-to-use apps, satellite navigation as standard, and a quality reversing camera. Cruise control is also standard, as are the USB port in the front, two 12V sockets (front and cargo area), digital climate control air-con, factory tinted windows, and Bluetooth with voice recognition.
Add in the high seats with excellent visibility, good legroom and headspace (even in the rear seats), the 375L boot capacity which expands to 1120L with the rear seats folded forward (read: lots and lots and lots of space), and a soulful sounding four speaker stereo… and the Vitara RT-S's popularity begins to make sense.
The Bad
Admittedly there are a few downsides. The inside of the Vitara RT-S is entirely plastic. Ergonomic and well thought out, but still plastic. The seats are made of durable, comfortable fabric. It looks a little basic because it is basic. The value in the Vitara RT-S is found in its fundamentals, not in its trimmings.
But the basic inside is not the only trade off. The 1.6 engine isn't going to give you rapid acceleration (though the manual model has a better shot than the automatic). So if you want a bit more oomph in your car, you may want to investigate the turbo option.
Also the Vitara RT-S is a lightweight car even as compact SUVs go. This means it is a great car for towing crosscountry behind a camper. But when rattling down those freeways under its own power, the crosswinds can push the car around quite a bit.
The lightweight thing does have some advantages. The car is agile and easy to drive and it handles nimbly. And what the Vitara RT-S lacks in zip, it makes up for with fuel economy. The car only uses 5.8L or 6.0L per 100km for the manual and automatic versions respectively.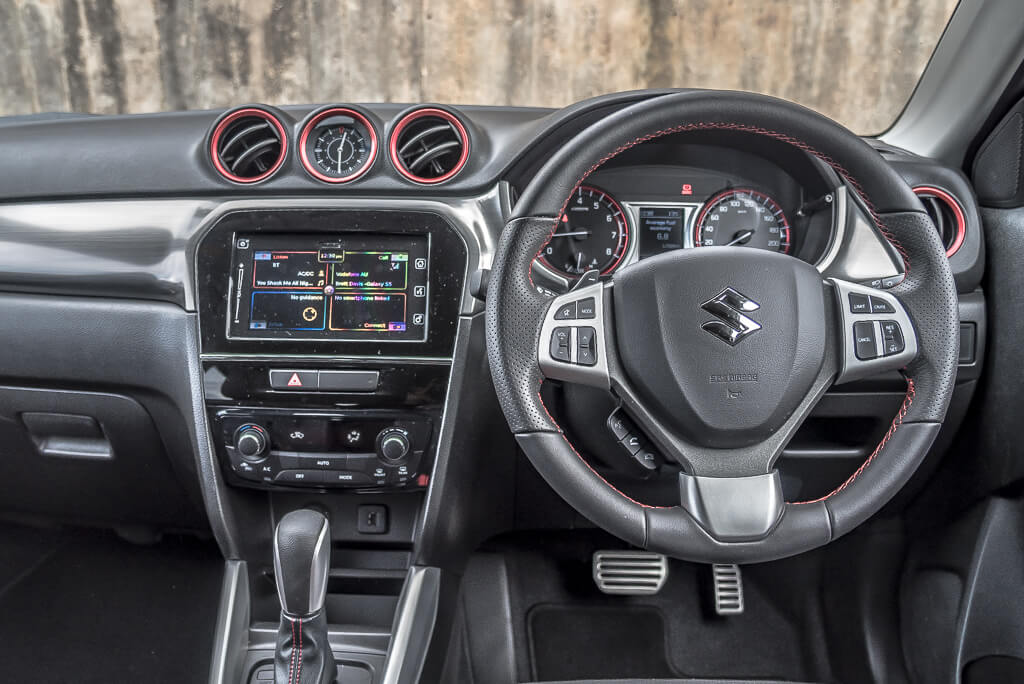 Our verdict
But despite these trade offs, you can't beat the Vitara RT-S on value for money. So if you're looking at the affordable end of the compact SUV end of the market, make sure you check out the Suzuki Vitara RT-S.
Five specs you need to know
Engine: 1.6-litre four-cylinder
Transmission: Five-speed manual~six-speed auto
Drive type: Front-wheel drive
ANCAP: 5 Stars
Official fuel economy: 5.8L/100km~6.0L/100km
Pros
Value for money; very affordable entry price.
Packed with standard features.
Practical cabin.
Easy touch-screen interface.
Exceptional fuel economy.
Cons
Slow compared with key rivals.
Basic interior plastics.
Turbo models can be pricy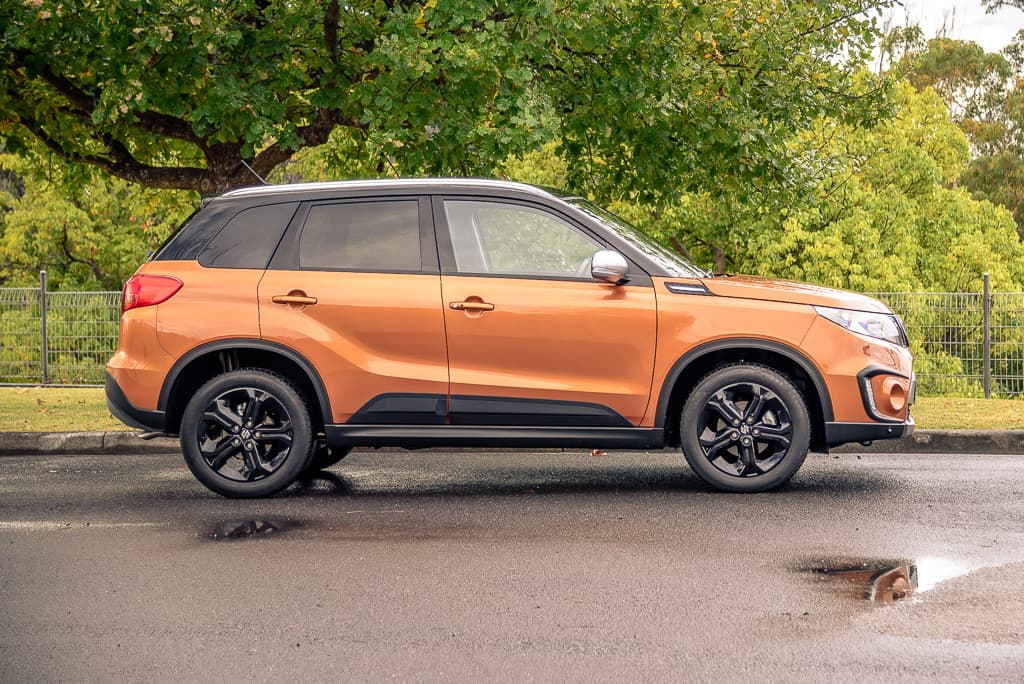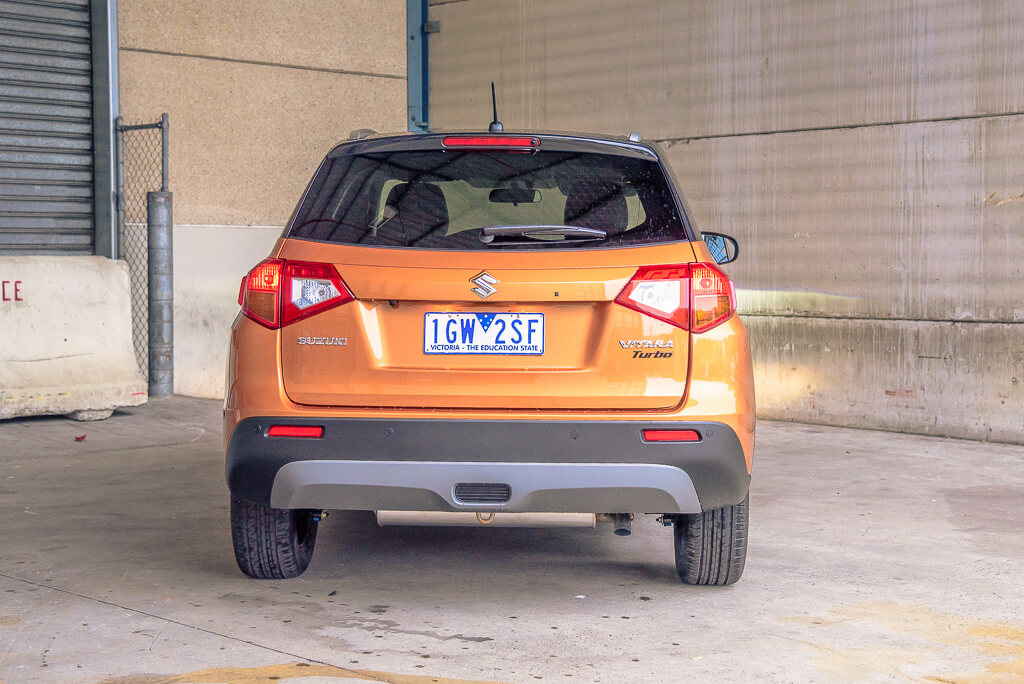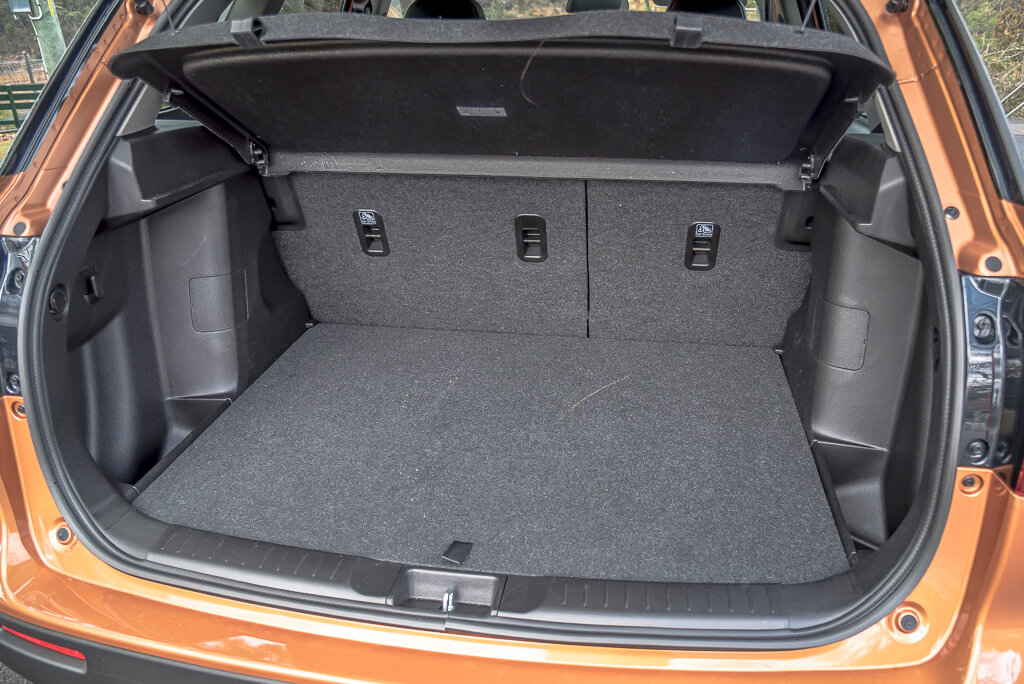 off the QLD recommended retail price of a Kia Stinger GT-LINE 2.0 Litre Turbo on 21 Sep, 2021.
off the NSW recommended retail price of a Kia Seltos SPORTS+(FWD) on 07 Sep, 2021.
off the NSW recommended retail price of a Hyundai Kona Elite (4WD) on 16 Mar, 2021.
Savings are based on the difference between the actual driveaway price paid by customers on their new car purchases including stamp duty, government
charges and on-road costs and the Redbook Manufacturer Suggested Retail Price (MSRP) plus stamp duty, government charges and on-road costs.