The answer, dear drivers, is absolutely nothing. Or almost nothing depending on how big you are and how snug you like your passengers to be.
Indeed, the Lexus CT 200h does not possess the biggest cabin, even within the small car category. It's fine if you're under six feet. Then again drivers on the very short side might find the seats, which are positioned low in line with the CT's profile as a "sporty hybrid", a little difficult. It's a bit of a Goldilocks situation, however nothing those plush electronic chairs can't be adjusted to fix.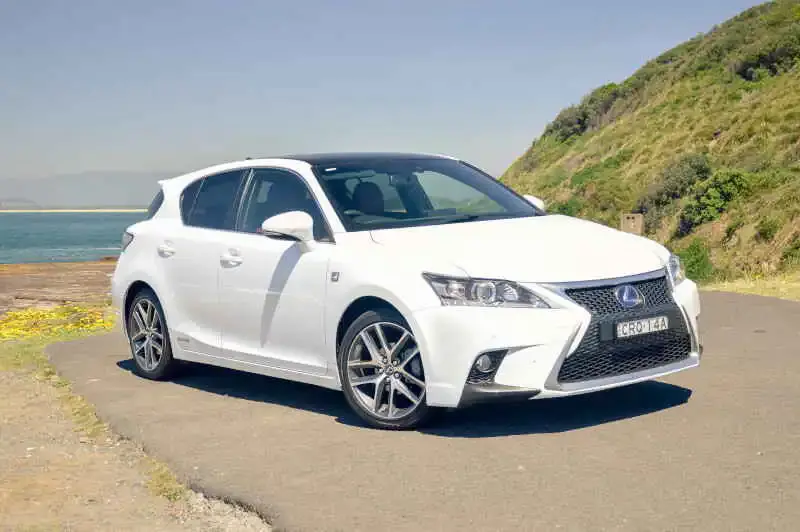 A stand-alone hybrid
True to the brand's reputation as a trailblazer, the Lexus CT 200h stands alone as the only hybrid in the luxury hatch category. This perhaps helps to justify the $45,990 starting price, a figure that sits just above its direct competitors in the form of Audi A3, BMW Series 1, and Mercedes A-Class.
Some critics have denounced Lexus for its failure to offer petrol or diesel options alongside the CT's 1.8L four-cylinder hybrid engine. However, in our time of Tesla cars and solar energy, wishing for a petrol alternative is like wondering why they don't use lead-based paint in children's toys anymore.
What's inside?
The CT 200h offers all of the premium trims you'd expect from a luxury vehicle. Good quality and sustainably sourced materials are used on every surface. Leatherette seats can be heated at the front, as well as adjusted electronically.
All variants come with a six speaker audio system, satellite radio, Bluetooth, and USB port. There's also push-button start and a proximity key for people who usually have their hands full. Optional upgrades include a 7-inch touchscreen, navigation, parking sensors, rearview camera, and Lexus' Remote Touch Infotainment System (a toggle-like navigation device that has received mixed reviews due to its sensitivity and general usefulness).
The boot is sized at a very comfortable 375 litres (985 litres if you fold down the rear seats) – certainly enough space for the weekly shop.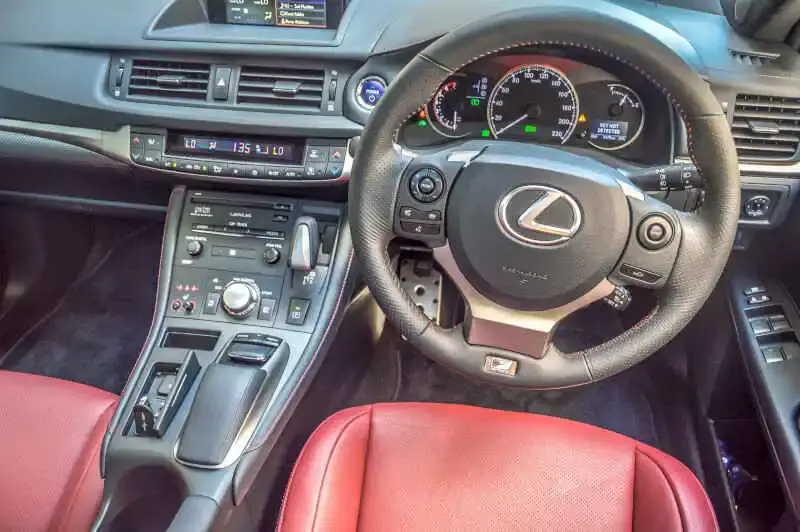 Our verdict
The CT 200h is an intelligent car that is best suited as a luxury inner-city runaround. Despite its lowered seats and revvy feel, even the sports variant of the CT 200h isn't a sports car. It will travel in the comfortable and solid fashion you might expect from a Lexus, but will begin to lag when the tempo is upped. This really isn't a problem unless you expect to race this particular machine.
One of the most important aspects of the CT 200h is its fuel efficiency, which is officially recorded at 4.1L/100km, but more realistically sits at around 5.L/100km. Ultra-economical enthusiasts can even drive in EV mode, which uses no petrol at all but doesn't necessarily exceed car park speeds.
5 specs you need to know
1.4L hybrid engine
Compact size with a premium finish inside and out
Base models start at $45,990
Signature spindle-grille layout at the front makes it unmistakably a Lexus
CT actually stands for compact touring. Makes sense!
Pros

Premium interiors
Fuel efficient
Compact size
Good boot space
Excellent after-sale service and warranty.
Cons
Slightly higher price point than other luxury hatches
Lower anchors on the rear seatbelts can make them difficult for passengers (especially younger ones) to find and fasten
CT 200h is comparable to a Prius in terms of engine capacity and efficiency. So if you're looking to save a bit of dough, you might want to consider the cheaper (albeit less plush) option.