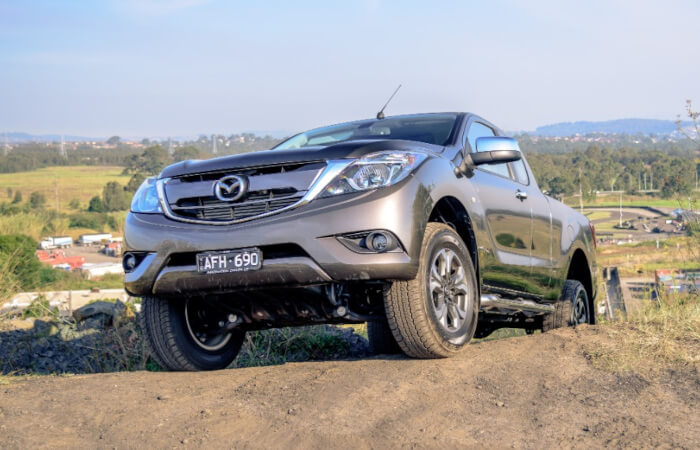 Style and comfort combined for work or play
The BT-50 comes in a number of models to suit a range of needs, with the popular mid-range XTR accounting for about 35 per cent of sales in Australia, and for good reason. It has plenty of lifestyle features as standard, including sat-nav, rear-view camera, auto wipers and headlights, cruise and trailer-sway control, and full Bluetooth connectivity. The in-built LCD touchscreen is fiddly, however, with functionality that feels a little overcomplicated and not as intuitive as it should be. Graphics on the in-screen menus also appear slightly outdated.
The Freestyle cab offers two rear seats, which are great for adults on relatively shorter trips, but may not be overly practical for those with young children or toddlers that need car seats and prams. Ute-loving families will appreciate two child seat anchorage points, and can take comfort in the fact that seats are hard-wearing and able to withstand dirty fingers and spills.
Working it in style off- and on-terrain
For work or fun, the strong, reliable and heavy-duty Mazda BT-50 certainly talks the talk and walks the walk on power, versatility and comfort.
The BT-50 is one of the most powerful in its class. All 4×4 models have a 3.2-litre turbo-diesel five-cylinder Ford engine (in six-speed manual or automatic), while entry 2WD models get a 2.2 diesel. Both come with 17-inch alloy wheels.
Like most utes, there's a bit of bounce when you take the BT-50 on the open road, but it doesn't compromise on stability. It also lets you hook around corners and tackle tight roundabouts confidently. What's more important is the BT-50 is a fantastic purpose-built all-terrain vehicle that lets you choose between high- or low-range 4WD to climb over sudden mounds, tackle those tricky tracks and wade through water levels of up to 800mm.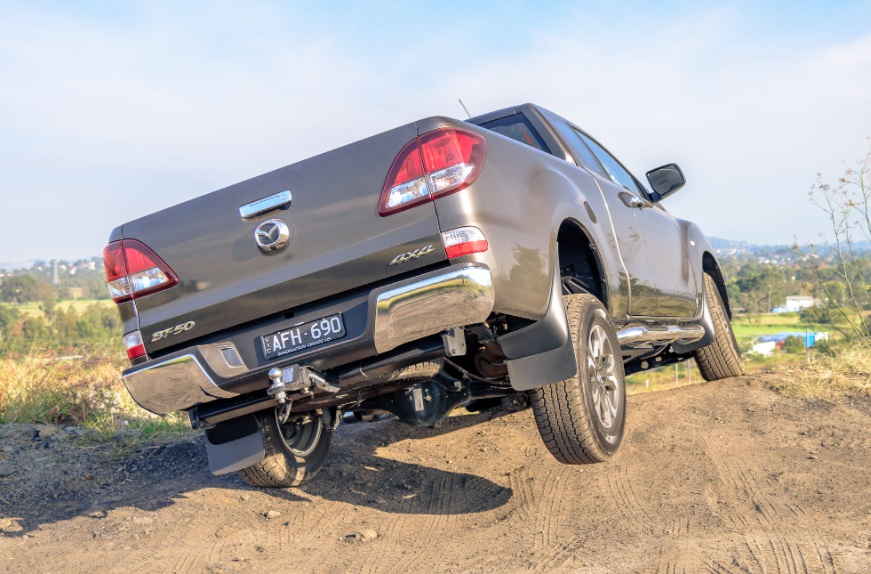 Our verdict
The Mazda BT-50 is versatile, comfortable and powerful, making it a great companion for the hard-working woman or adventure-seeking family. Its durability and style also make it one of the more sophisticated utes today – though the interior could be more modern.
It certainly ticks most of the boxes when it comes to reliability and stability – both off and on the tarmac – and it offers impressive steadiness as well as top-of-the-range power and performance.
5 specs you need to know
Engine: 3.2-litre turbo-diesel five-cylinder.
Transmission and drive: Six-speed auto and part-time four-wheel drive, locking rear diff.
ANCAP safety rating: Five stars (scored 35.72 out of 37).
Official fuel economy: 9.2L/100km.
Time from 0-100km/h as tested: 10.40 seconds.
Pros
Outstanding performance and handling.
Off-road and on-road stability and power.
Five-star ANCAP safety rating.
Durable interior.
Cons
Outdated interior design and layout.
On the pricier end of the ute market.
Complex and fiddly touchscreen.