The Peugeot 308 GTi 250 is a pretty car. Long and low with stylish aerodynamic body lines, it pulls off the sleek hatchback look. Not always an easy feat. The car starts at $44,990 and - annoyingly there is no automatic option.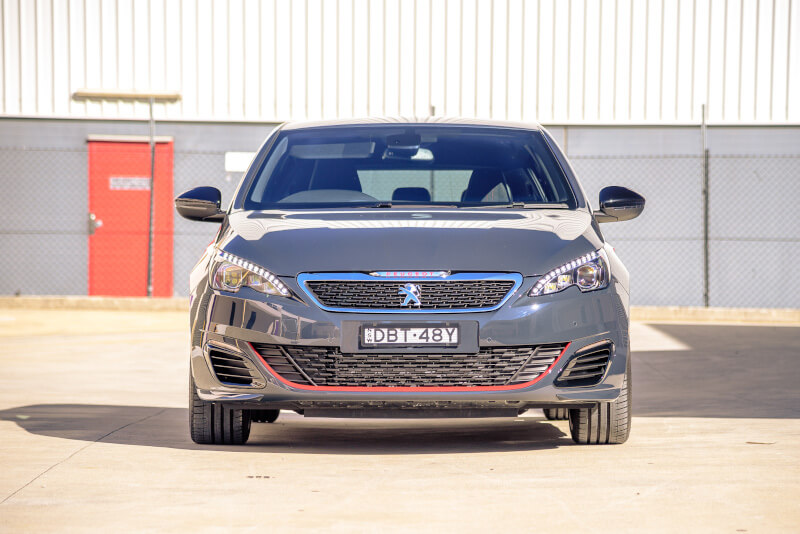 The interior
The 308 GTi 250 comes with great standard features. You get a touch-screen interface infotainment system with sat-nav, two USB ports and 6.9GB of on-board storage, a rear-view camera, speed-limiting cruise control, dual-zone climate, and sporty seats.
The sports seats are the only swing and miss part of the interior. They're thick and chunky and seem to shrink the space inside the cabin. Especially in the rear seats. And despite all that padding, they're not even that comfortable to sit in.
Aside from the seats, the 308 GTi 250's cabin is wonderfully styled. The dash has been kept simple and clutter free. The small steering wheel and high positioning of the seats means you can see instrument cluster over the wheel rather than having to look through it. The elegant dashboard design coupled with the black leather, red stitching and silver accents gives the entire interior a cool sporty feel.
Add some pretty impressive boot space (420L turning into 1228L when the rear seats fold forward) and you have a strong, stylish contender in the hot hatchback race. And the 308 GTi 250 can race.
Our verdict
This car is one of the most powerful hot hatchbacks on the market and it's 1.6 turbo engine really hauls. Between the zippy acceleration and the small steering wheel, a fun video-game arcade flashback is almost guaranteed.
Luckily along with the fantastic engine comes an expertly designed electronic brake distribution system. Lending this wild ride some much needed stability. Also on the driving plus side, the 308 GTi 250 handles corners like it was designed by a company with five World Rally Championships behind it.
Oh wait, it was.
The 308 GTi 250's restrained, sophisticated hatchback exterior disguises a secret rally car's soul. And it's an absolute joy to drive. The only sour note comes when you switch on the Sport mode. The cheesy speaker-induced engine noises that flood the cabin are a major no no.
So if you're looking for a hot hatchback with some distinctive French flair, then you ought to consider the Peugeot 308 GTi 250 as a serious contender.
Yes, it is priced $4k higher than the Volkswagen Golf GTI, it's older and arguably more distinguished rival. But with 34 international design awards behind it - plus a certain je ne sais quoi - the 308 GTi 250 is in the hot hatchback race with a more than a fighting chance.
5 specs you need to know
Engine: 1.6-litre turbo four-cylinder
Transmission: Six-speed manual
Drive type: Front-wheel drive
ANCAP: Five stars
Official fuel economy: 6.0L/100km,0-100km/h: 6.40 seconds
Pros
Handles like a high-octane dream.
Impressive engine power.
The stylish French design.
Good range of standard features.
Great fuel economy.
Cons
No automatic option.
Cheesy fake engine sound in Sport mode.
Priced $4k above VW Golf GTI.