The Subaru BRZ recipe is simple: a lightweight body paired with a perky engine and a rear-wheel drive system.
The recipe for the BRZ S is equally as simple, adding some more luxurious touches for buyers looking for a more premium and civilised take on the BRZ. Is the upgrade worth it? Read on to find out.
Subaru BRZ S Competition
Starting Price: $41,590
OnlineAuto Savings: Enquire now
How Much Does It Cost?
Retail prices for the Subaru BRZ kick off from $41,390 for the BRZ S Manual, with prices rising to $45,390 for the BRZ S Automatic.
Keep in mind that these prices are subject to change, and do not include on-road costs.
How Much Can OnlineAuto Save You?
Using our online car buying service, one of our auto experts can assist you in finding the greatest value model for you.
Subaru BRZ (S)

Specifications
| | |
| --- | --- |
| Model Date | 2023 |
| Make | SUBARU |
| Model | BRZ |
| Series | MY23 |
| Variant | S |
| Body | 2D COUPE |
| Fuel type | PREMIUM UNLEADED PETROL |
| Transmission | 6 SP AUTOMATIC |
| Drive | RWD |
| Engine | PDFI |
| Engine capacity | 2387 |
| Engine configuration | VARIABLE DOUBLE OVERHEAD CAM / 16 valves |
| Engine RPM | 7000 / 3700 |
| Cylinders | 4 |
| Torque | 250 |
| KW | 174 |
| Fuel tank size | 50.0 |
| Fuel usage specs | 8.8 / 0 |
| CO2 | 201 |
| ANCAP security rating | 5 |
What Features Does the Subaru BRZ S Have?
Atop the standard Subaru BRZ, the BRZ S picks up a set of sports seats wrapped in a mix of leather and suede, with the added bonus of heated seats.
Other than that, though, the BRZ S comes packing the same specs you'll find in the normal BRZ.
This means that 18-inch alloys, LED headlights, keyless entry & start, adaptive cruise control (for automatic variants), dual-zone climate control and an 8.0-inch infotainment system with Apple CarPlay & Android Auto are fitted as standard.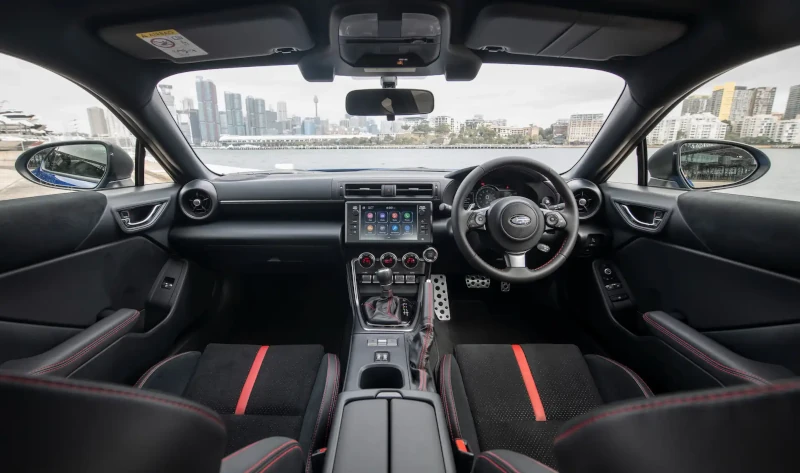 Subaru BRZ S Range Features:
18-inch alloys

LED headlights

Adaptive cruise control (automatic only)

Keyless entry & start

Rear-view camera with rear parking sensors

Dual-zone climate control

Leather & suede sports seats

Heated front seats

8.0-inch infotainment system with Apple CarPlay & Android Auto
Is the Subaru BRZ S Fun to Drive?
As far as fun on four wheels goes, the BRZ S is one of the ultimate value picks for buyers looking for a fun and affordable sports coupe.
While it doesn't come packing ground-breaking power figures, the lightweight construction, rear-wheel drive platform and seemingly perfect weight distribution make it just about the most fun you can have on the road for the money.
With its 2.5-litre four-cylinder sitting under the bonnet, the BRZ S produces 174kW of power and 249Nm of torque and sprints to 100km/h in around 7.0 seconds which, on paper doesn't sound impressive, though the experience behind the wheel is far more engaging.
"Buy the manual and enjoy one of the last rear-wheel drive coupes on the market." Dan, OnlineAuto vehicle specialist
That's largely because the BRZ positions you so low down on the road and feels like it's able to change directions on a dime, while the lack of abundant power means it's also super forgiving if you make a mistake at speed.
The handling is exceptional, the steering feels immediate and responsive, the brakes work well thanks to the lightweight construction and the BRZ's fun-loving nature is all too apparent when you're pushing up to speed.
Around town, Subaru's attention to the BRZ's performance figures means that it rides quite firm, even on smooth city streets, though our guess is that few owners will care once they flatten the throttle pedal.
Thankfully, the BRZ's compact proportions make it super easy to drive around town, with its lightweight steering rack and small stature translating to easy parking, making for a reasonably user-friendly sports coupe.
Is it Fuel Efficient?
As a sports coupe, fuel efficiency wasn't a huge priority for Subaru, with the BRZ S sipping fuel at a rate of 9.5L/100km in the manual, which drops to 8.8L/100km in the BRZ S automatic.
Compared to a number of its rivals, the BRZ is on the thirstier side of the spectrum and begs the question of how much a turbocharger could help it out with both power and fuel efficiency.
Is it Practical and Spacious?
The Subaru BRZ S makes no apologies for being a purely driver's car - and this extends to the amount of space and the limited onboard practicality… it's a sports coupe, after all.
It's all a very familiar layout to the previous BRZ, with Subaru actually lifting things like the seats and most of the dashboard from the original, though the seats now sit lower to help accommodate taller buyers.
Behind the wheel, there's a set of digital dials for the tachometer and red highlights everywhere from the seats to the steering wheel and gear lever stitching, with some rotary dials sitting atop silver switches for the climate inputs.
All up, there's nothing groundbreaking about the BRZ's interior, though our guess is that buyers will be happy Subaru paid more attention to how it drives rather than how it looks inside - otherwise it may sit in a different price bracket entirely.
"Will put a smile on your face but lack of space is flagrant; while technically a four-seater, it will suit no more than two adults," Arnauld - OnlineAuto vehicle specialist
The seats do well to hold you in place through high-speed corners without being too firm or rigid, making long-distance drives a reality in the BRZ.
On those long drives, you might notice a lack of practical touches in the BRZ's cabin, though you'll still find a storage area that doubles as a large cup holder in the centre console, door bins on either side of the cabin and a split-fold armrest with storage inside.
While it's technically billed as a four-seater, you'll be hard-pressed to find any adults willing to sit in the rear of the BRZ's cabin, which is more suited to particularly young kids and, surprisingly, child seats thanks to its pair of ISOFIX anchors and top tether mounts.
Finally, the BRZ's boot space figures stand at a very compact 201L, though you might be surprised that bulky cargo can fit inside the rear thanks to the second row folding flat, though the spare tyre does chew up some vacant space.
Is it Safe?
The latest Subaru BRZ is yet to be given an official ANCAP safety tick, while the previous model received a five-star rating.
Curiously, the amount of safety equipment you can expect to receive depends on if you're ticking the box on the manual or the automatic.
Standard safety kit for the manual includes blind-spot monitoring, rear cross-traffic alerts and lane-change assistance, while you'll have to upgrade to the BRZ S Automatic for Subaru's EyeSight safety kit like forward and reverse autonomous emergency braking, adaptive cruise control and lane-departure alerts.
Our Verdict: Is The Subaru BRZ S Worth it?
It's hard to deny just how impressive the Subaru BRZ S platform is, which offers some of the purist driving thrills for the price.
It's immensely fun and approachable for all levels of drivers, from track-experienced legends to those dabbling with performance motoring for the first time.
Having said that, there's not quite enough equipment on offer in the S to justify the upgrade from the standard BRZ, in our opinion, which means you're likely better served by the entry-level BRZ.
If you're tossing up your options for an affordable sports car package, don't hesitate to reach out to one of our car-buying specialists who can help find you the best possible price.
Five Specs You Need to Know
Five-year, unlimited-kilometre warranty

2.5-litre four-cylinder petrol produces 174kW/249Nm

8.8L (automatic) to 9.5L/100km (manual) fuel economy figures

No official ANCAP safety rating, yet

201L boot space; rear seats fold flat