Review - Audi Q7
AF By Alexi Falson July 05, 2022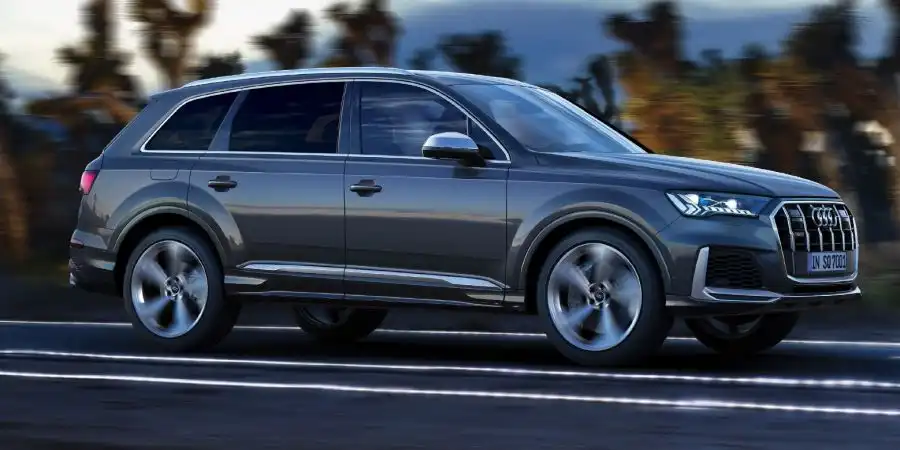 Audi was one of the first European manufacturers to move into the space of family-friendly SUVs in a serious way, and as a result, the company has a huge number of options for the buying public. This raises a key question, though: is it a worthwhile option to step this high into Audi's range of SUVs, though, or are you more suited to something lower down in the lineup to save yourself some money?
Let's find out how the Audi Q7 performs as a standalone vehicle within Audi's already crowded SUV range, and see how it stacks up against some of its key competitors in the luxury SUV space.
Starting Price: $103,300
OnlineAuto Savings: Enquire now
Audi Q7 (55 TFSI S LINE QUATTRO MHEV)

Specifications
| | |
| --- | --- |
| Model Date | 2022 |
| Make | AUDI |
| Model | Q7 |
| Series | 4M MY22A |
| Variant | 55 TFSI S LINE QUATTRO MHEV |
| Body | 4D WAGON |
| Fuel type | PREMIUM UNLEADED/ELECTRIC |
| Transmission | 8 SP AUTOMATIC TIPTR |
| Drive | AWD |
| Engine | TDFI |
| Engine capacity | 2995 |
| Engine configuration | VARIABLE DOUBLE OVERHEAD CAM / 24 valves |
| Engine RPM | 5000 / 1370 |
| Cylinders | TV6 |
| Torque | 500 |
| KW | 250 |
| Fuel tank size | 0.0 |
| Fuel usage specs | 9.4 / 0.0 |
| CO2 | 215 |
| ANCAP security rating | 5 |
For more details and other variants, check Audi Q7 car page.
How Much Does It Cost?
The Audi Q7 range kicks off in the form of the Q7 45 TDI Quattro, which is priced at $103,300. The Q7 range then moves to the 50 TDI Quattro, which is priced at $114,300, and moves to the 50 TDI Quattro S Line, which is priced at $121,300. Opting for the Q7 55 TFSI Quattro S Line brings the price to $121,300, while Audi's range-topping SQ7 TDI Quattro is available from $162,500.
Keep in mind that these prices are subject to change, and do not include on-road costs.
How Much Can OnlineAuto Save You?
Using OnlineAuto's car buying service, you could save by sourcing one of our car specialists to help you find the best value model for you.
What Features Does the Audi Q7 Have?
Audi's entry-level Q7 45 TDI comes riding on a set of 19-inch alloy wheels, and receives Matrix LED headlights with LED daytime running lamps and adaptive high-beams, a powered boot lift, leather upholstery, three-zone climate control, ambient lighting, power-adjustable heated seats, keyless entry and start, adaptive air suspension, a surround-view camera and semi-autonomous parking system, adaptive cruise control, a 12.3-inch digital driver's display, as well as a pair of 10.1-inch and 8.6-inch screens for the infotainment and climate control systems featuring Apple CarPlay, Android Auto, DAB+ and satellite navigation, paired with a ten-speaker sound system.
Opting for the 50 TDI adds a larger set of 20-inch alloys, as well as a head-up display, panoramic glass sunroof, four-zone climate control and an electric-sliding steering column.
50 TDI and 55 TFSI S Line variants are treated to a set of 21-inch alloys, as well as a set of sport seats up front, Valcona leather upholstery, upgraded ambient lighting package, stainless steel pedals and rear privacy glass.
Finally, the range-topping SQ7 comes riding on 22-inch alloys, and receives an upgraded sporty adaptive air suspension system, as well as four-wheel steering, Matrix LED headlights with Audi's laser light package and soft-closing doors.
Range Features:
19-inch alloy wheels

Matrix LED headlights, LED daytime running lamps and adaptive high-beam

Adaptive air suspension

Adaptive cruise control

Powered boot lift

12.3-inch digital driver's display

10.1-inh and 8.6-inch touchscreens

Wireless Apple CarPlay, Android Auto, DAB+ and satellite navigation

Semi-autonomous parking assistant

Leather upholstery

Three-zone climate control

Heated front seats

20-inch alloy wheels (50 TDI)

Head-up display (50 TDI)

Panoramic sunroof (50 TDI)

21-inch alloy wheels (S Line variants)

Valcona leather upholstery (S Line variants)

Front sport seats (S Line variants)

22-inch alloys (SQ7)

Adaptive sport air suspension (SQ7)

Matrix LED headlights with Audi's Laser Lights (SQ7)

Four-wheel steering (SQ7)
What Colours is the Audi Q7 Available in?
The Audi Q7 range comes in Carrara White as standard, with metallic paint finishes also available in Floret Silver, Galaxy Blue, Glacier White, Myth Black, Navarra Blue and Samurai Grey.
Is it Comfortable to Drive?
Audi's Q7 range provides an exceptionally comfortable driving dynamic, but it's worth noting just how many engine options there are in the lineup, all of which feature a form of mild hybrid technology thanks to a 48-volt battery. For the majority of drivers, the performance of the entry-level 45 TDI will prove more than enough for all of your needs, although if you plan on towing large objects, it might be worth stepping up to the 50 TDI. Audi's range of turbo petrol and diesel engines are an absolute masterpiece of engineering, offering a heap of power that is delivered in a smooth, non-stop wave thanks to the eight-speed automatic transmission. For anyone looking to beat sports cars off a set of traffic lights, the power of the SQ7 is no doubt the pick of the range, but slightly excessive when you consider the suitability of the base engine lineup.
On the road and as a complete package, Audi's Q7 sets an incredibly high standard for how large SUVs should drive. The smooth wave of power from the line is matched by an adaptive air suspension system that works wonderfully at holding the car flat through corners, while easing up over bumps and potholes, making for an exceptionally smooth driving dynamic. The package is difficult to fault, and makes the process of daily driving and long distance road trips a sublime, comfortable and smooth proposition.
Around town, however, the sheer size of the Q7 can be a little unsettling for new drivers, however, the lightweight steering rack and all the technology assistance makes for a user-friendly driving experience. If you lack confidence, Audi's semi-autonomous parking assistant can help you squeeze into tight parallel parks, while the surround-view camera means you won't have any unsuspected surprises while reversing into a crowded car park.
On the highway, the Q7 is insanely comfortable, and makes for a relaxing, yet powerful, long distance tourer. Simply set the adaptive cruise control system and you can let the car do the majority of the heavy-lifting. On that note, for those looking to get out-and-about in their Q7, the range is rated with a towing capacity of 3,500kg, which means it matches the specs of its rivals in terms of sheer towing power.
As a complete package, then, it's clear to see that the Q7 range maintains Audi's stellar reputation for relaxing, smooth and comfortable driving, even in the base model. For those looking for added power, the options are there, however, it's reassuring to know that all of your needs are well-and-truly met by the entry-level 45 TDI variant.
Is it Practical and Spacious?
It should come as no surprise that the Audi Q7 is an overachiever when it comes to space and practicality for large, growing families. It's important to note, however, that there are some limitations when it comes to the interior packaging compared to its rivals, particularly when it comes to the third row of seating.
Up front, however, the driver and front passenger are treated to a beautifully-crafted interior featuring a tiered dashboard design that incorporates a series of touchscreen displays. This makes for a relatively straight-forward and uncluttered design that allows the driver to focus on the road in front of them, rather than being confronted by a series of buttons. The driver and front passenger are separated by a large central tunnel that plays host to a large folding armrest for storage, with a number of options for storing loose items and bottles, including the side door bins and a large glove box.
Move to the rear of the cabin and you'll find a set of extremely comfortable seats that can both slide and recline to help the second-row passengers get completely comfortable. There's a huge amount of both leg and headroom for those seated in the second row of the cabin, which is perfectly suited to the tallest of teenagers and adults alike. This design also allows passengers to sacrifice some legroom for the third-row of the cabin, which is actually more necessary than you might have imagined.
While the Q7 is undoubtedly a competent seven-seat SUV, it's important to note that space is actually quite limited in that third row compared to some of the existing lineup of luxury seven-seat SUVs. While there's no issues with headroom, anyone larger than a teenager will struggle to get completely comfortable in the rear of the Q7's cabin due to the limited legroom on offer. While this isn't unique to the Q7, as it is common in a number of seven seat SUVs, it's something to keep in mind if you have a growing family.
Thankfully, though, growing families will welcome the easy-to-access ISOFIX anchors and top tether mounts throughout the cabin, as well as the large amount of cargo storage on offer in the Q7's boot. Officially, boot space is rated at a massive 740L, which expands to 2,050L with the seats folded down. This means that the Q7 remains unphased by a crowded school run, trip to the shops and even holiday road trips while loaded with cargo.
Is it Safe?
Audi's Q7 range has received a five star safety rating from ANCAP when it was tested back in 2015, scoring 94 out of 100 for adult protection, 88 out of 100 for child occupant protection, 70 out of 100 for road user protection and 76 for safety assistance technologies.
As standard, the entry-level Q7 45 TDI comes packaged with autonomous emergency braking, blind spot monitoring, safe exit warnings, lane keep assistance and departure warnings, rear cross-traffic alerts, turn assistance and a heap of airbags. This makes the Q7 an exceptionally safe and feature-packed seven-seat SUV when it comes to safety equipment as standard while matching each of its key competitors.
Is it Fuel Efficient?
With a range of different engines available in the Q7 range, fuel efficiency depends on which variant you're opting for. The entry-level 45 TDI is rated at 7.0L per 100km on a combined cycle, which drops to 6.8L per 100km in the 50 TDI. Opting for the 55 TFSI brings the fuel economy figure up to 9.4L per 100km, while the range-topping SQ7 is rated at 7.6L per 100km on a combined cycle.
Our Verdict: Is the Audi Q7 Worth it?
Audi's Q7 range is a wonderful reminder that a large, practical seven-seat SUV can perform just as smoothly as one of the company's sedans or hatches. It performs remarkably well in all situations, from crowded city streets all the way through to open highways, where it remains easy to pilot and confidence inspiring for drivers new to the world of large seven-seat SUVs.
Nearly every aspect of the Q7 as a complete package is a reflection of Audi's high expectations for its passenger vehicles, which means you can be confident in your purchase. On that note, if you're in the market for a new car, you can get a free quote and see how much OnlineAuto can save you on your next car, or call us on 1300 719 925
Five Specs You Need to Know
Three-year, unlimited KM warranty

12-month/15,000km service intervals

Mild 48-volt hybrid technology across engine range

Fuel economy between 6.8L - 9.4L per 100km

740L boot space; expands to 2,050L with seats folded
Pros
Exceptionally smooth powertrain and transmission combinations

Sleek interior design

Technology and feature-packed entry-level model

Spacious front and second-row cabin
Cons
Limited space in third-row of cabin

Limited warranty coverage

Expensive options list
OnlineAuto Rating:
8/10
Audi Q7 Competition
off the NSW recommended retail price of a Toyota Rav4 GXL (2WD) on 21 Oct, 2021.
off the NSW recommended retail price of a Toyota Landcruiser Prado GXL FLAT TAILGATE on 19 Oct, 2021.
off the NSW recommended retail price of a Toyota Hilux SR5 (4X4) on 14 Oct, 2021.