Review - Audi Q8
May 05, 2021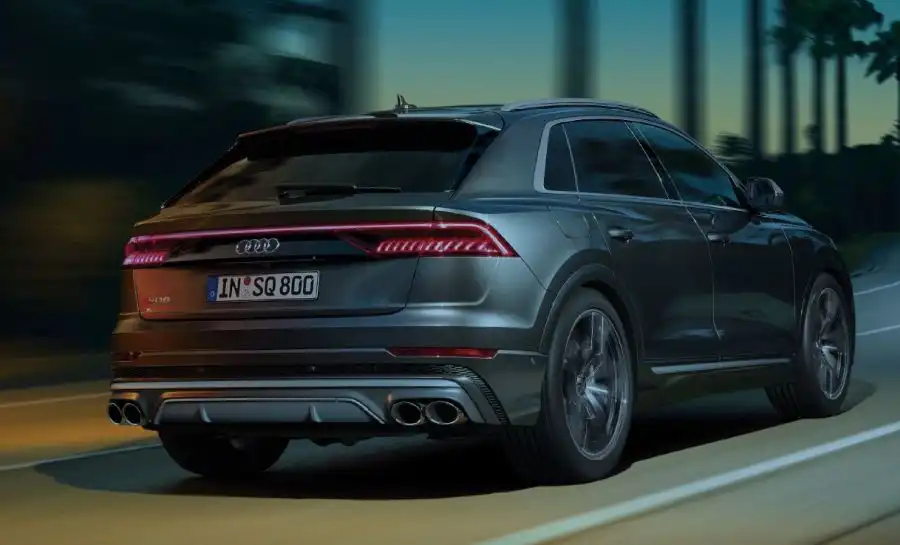 When BMW dropped its coupé-cross-SUV, the collective jaws of the automotive world dropped. It was an extremely bold statement, with some even doubting its long-term viability as a sensible option. Now, however, we've had both Mercedes-Benz and Audi enter the ring with their own versions of a coupé-styled SUV. Today, we'll be talking about the latter: the Audi Q8 range.
With a total of six SUVs within the Audi lineup, it's important that the Q8 separates itself not only from the competition, but makes a significant-enough impression that it shines within Audi's lineup itself. One question remains, though: does it?
Let's find out.
Starting Price: $129,600
OnlineAuto Savings: Enquire now
How Much Does It Cost?
The Audi Q8 lineup kicks off at $129,000 for the entry-level 50TDI diesel and 55TFSI petrol models. The range then moves up to the SQ8 TDI which is priced from $165,500, and reaches its peak with the Q8 RS sport-focussed range-topper which is priced at $208,500.
How Much Can OnlineAuto Save You?
Using OnlineAuto's car buying service, you could save by sourcing one of our car specialists to help you find the best value model for you.
What Features Does the Audi Q8 Have?
The entire Audi Q8 range is jam-packed with features, technology, luxuries and special touches. The base models 50TDI and 55TSI receive 21-inch alloys, LED headlights, adaptive suspension with damper controls, a powered tailgate, 10.1-inch top and 8.6-inch bottom infotainment displays with Apple CarPlay and Android Auto, a 12.3-inch virtual cockpit for the driver, Valcona leather upholstery, 10-speaker sound system, DAB+ digital radio, adjustable heated and ventilated seats, power mirrors and keyless entry.
Stepping up to the SQ8 adds 22-inch alloys, matrix LED headlights, red brake calipers, adaptive sport air suspension, metallic paint, S Sport seats, valcona leather upholstery with diamond stitching, three-spoke steering wheel, four-zone climate control and ambient lighting.
The range-topping RSQ8 receives a number of sporty additions to the styling, HD matrix LED headlights, 23-inch alloys, front and rear heated seats, RS Sport seats with honeycomb stitching, as well as an RS leather-wrapped steering wheel.
Range Features:
21-inch alloys as standard
Adaptive suspension with damper control
12.3-inch Audi Virtual Cockpit with 2 x infotainment screens
Power tailgate
Adaptive sport air suspension (SQ8 and above)
Matrix LED headlights (SQ8 and above)
23-inch alloys (RSQ8)
Is it Comfortable to Drive?
It's difficult to fault a car like the Audi Q8 when it comes to its driving dynamics. Audi's team of engineers have truly created a masterpiece of relaxed and refined driving, regardless of the road conditions, thanks to that adaptive suspension and the overly-competent chassis. In the Q8, Audi has created a supremely comfortable, yet agile and sporty car that can behave differently, depending how you set it up.
The ability to choose from either comfort, dynamic or even come up with your own 'individual' driving mode is more than a simple gimmick, and has a remarkable impact on how the Q8 behaves on the road. That suspension system also helps to minimise body-roll through the corners when you're moving at speed, so occupants in the rear remain undisturbed.
Depending on which engine you opt for in the Q8, performance ranges from admirable in the base model 50TDI and 55TFSI options, to absolutely insane in the flagship RSQ8; all Q8's come with mild hybrid technology with a 48-volt lithium-ion battery cell. Realistically, though, buyers will gravitate toward the more entry-level engines, which provide ample amounts of power effortlessly, paired with a silky-smooth transmission that you'll struggle to notice working away in the background.
In all, the Q8 performs better than perhaps its weight and size should allow, and that's one of the greatest compliments you can give a large SUV.
Is it Practical and Spacious?
The Q8 has been designed as a coupé-inspired SUV, in much the same way that BMW's X6 aims to provide the practicality of an SUV, crossed with a sleek and sporty coupé body. As a result of this, there are some practical sacrifices you'll make stepping into a Q8, but they're far from a deal-breaker. It's also worth noting that the Q8 is a five-seater, despite it sitting above the seven-seat Q7 within Audi's lineup.
First impressions of the cabin is that Audi is one of the leading designers of quality, usable and luxurious interiors. The driver and front passenger have more room than they'll ever need, and the same applies to passengers in the rear of the cabin who have ample amounts of leg and knee-room. The same can't be said for the headroom on offer for taller passengers, but it is still undeniably comfortable.
That coupé styling has, though, hindered the overall boot space. The no-doubt stylish sloping roof line cuts into the depth of the boot itself. As a result, the Q8 can't swallow up the same bulky or taller items that other SUVs would have no problem with, but there is still a lot of cargo space. Specifically, there's 605L of cargo storage in the rear, which expands to 1755L with the rear-seats folded down.
Is it Safe?
ANCAP has awarded the Audi Q8 with the maximum Five Star ANCAP Safety Rating, and Audi has also bundled a large amount of technology to keep you safe as standard, even in the entry-level models. This safety package includes a swathe of airbags, autonomous emergency braking, lane-keep assist, lane-departure warning, blind-spot monitoring, adaptive cruise control, automatic parking, 360-degree cameras with kerb-view, parking aid with front-and-rear sensors, turn assist, as well as collision avoidance assist.
Overall, Audi has assembled an impressive amount of safety equipment in the Q8 range.
Is it Fuel Efficient?
Fuel economy depends on which Q8 you opt for, with the diesel-powered models offering the greatest fuel economy of the range. The base petrol-powered 55TSI is officially rated at 9.8L per 100km, while the base diesel model 50TDI returns figures of 6.9L per 100km. Stepping up to the SQ8 brings economy figures to 7.8L per 100km, while the range-topping Q8RS is rated at 12.1L per 100km.
If fuel economy is a big priority for your choice of Q8, looking at the base diesel model (55TSI) looks to be your best option.
Our Verdict: Is the Audi Q8 Worth it?
The choice of buying a car like the Audi Q8 largely comes down to a battle between the heart, and the mind. Funnily enough, the heart almost always wins with cars in this price bracket. In that respect, the Q8 will leave no driver uninspired, and no passenger unimpressed by the sheer quality and luxury on offer, and is in many ways, a difficult car to fault. Our only recommendation is that you take a serious look at the base-model 50TDI before running to the more expensive and less economical powerhouses up the lineup.
Get a free quote and see how much OnlineAuto can save you on your next car, or call us on 1300 719 925
Five Specs You Need to Know
6.9L per 100km for 50TDI
12L per 100km for Q8RS
12.3-inch Driver Display Screen
Adaptive Suspension with Damper Control
10.1-inch Top & 8.6-inch Bottom Screen
Pros
Interior is a masterpiece of design
Economy figures for 50TDI
Adaptive suspension massively improves all-round driving dynamics
Cons
Expensive options for a car of this price
Poor fuel economy for 55TFSI
Three-year warranty