Review - BMW 1
AF By Alexi Falson August 10, 2021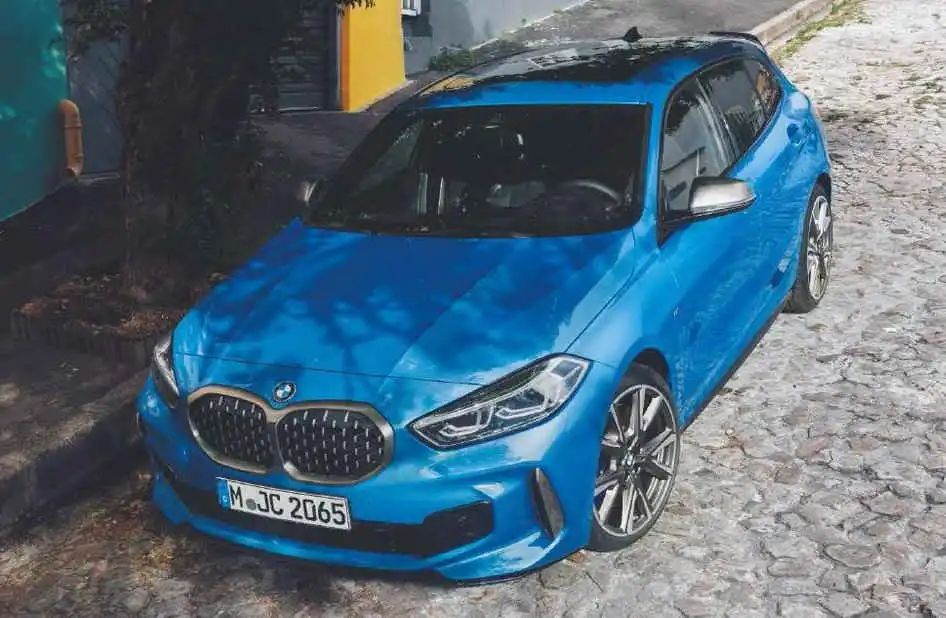 Entry-level models can, at times, prove frustrating for buyers because they miss out on key features, and are constantly reminded that they should have opted for a more expensive model in the lineup.
Today we're going to take a close look at the BMW 1 Series range as a whole, map out what you're getting in the cheapest, entry-level variant and see just how well suited it is to your needs and your lifestyle. With that mind, let's see just how good the BMW 1 Series really is.
Starting Price: $45,990
OnlineAuto Savings: Enquire now
BMW 1 (28ti)

Specifications
| | |
| --- | --- |
| Model Date | 2021 |
| Make | BMW |
| Model | 1 |
| Series | F40 |
| Variant | 28ti |
| Body | 5D HATCHBACK |
| Fuel type | PREMIUM UNLEADED PETROL |
| Transmission | 8 SP AUTO STEPTRONIC |
| Drive | FWD |
| Engine | TDFI |
| Engine capacity | 1998 |
| Engine configuration | VARIABLE DOUBLE OVERHEAD CAM / 16 valves |
| Engine RPM | 5000 / 1500 |
| Cylinders | T4 |
| Torque | 380 |
| KW | 180 |
| Fuel tank size | 50.0 |
| Fuel usage specs | 6.8 / 0.0 |
| CO2 | 156 |
| ANCAP security rating | 5 |
For more details and other variants, check BMW 1 car page.
How Much Does It Cost?
The BMW 1 Series lineup kicks off in the form of the 118i, which is priced from $45,990. The range then moves to the more powerful BMW 1 Series 128ti, which comes with a price tag of $56,900. BMW's 1 Series lineup then moves to the M135i xDrive Pure, which is priced from $63,990, while the range-topping BMW 1 Series, the M135i xDrive is priced at $69,990. Keep in mind that while these prices are correct at the time of publishing, they are subject to change and do not include on-road costs.
How Much Can OnlineAuto Save You?
Using OnlineAuto's car purchasing service, take advantage of the expertise of one of our car specialists to assist you in finding the best value model for you.
What Features Does the BMW 1 Series Have?
While the 1 Series might be the cheapest offering in BMW's lineup, the company has done a great job in packaging the entry-level model with a huge range of features. As standard, the 1 Series 118i comes fitted with 18-inch alloy wheels, automatic LED headlights, cruise control, two 10.25-inch screens - one for the driver and one for the infotainment system with satellite navigation, DAB+ and Apple CarPlay - as well as wireless smartphone charging, six-speaker audio system, automatic wipers, reversing camera with rear-mounted sensors, power folding mirrors, semi-autonomous parking, ambient lighting, and mix of cloth and leatherette for the interior upholstery, and a leather-wrapped steering wheel.
Stepping up to the 1 Series 128ti adds a bespoke set of 18-inch alloys, keyless entry & start, adaptive high-beam lights, dual-zone climate control, powered front seats, a 9.2-inch head-up driver's display, upgraded M Sport brakes with red brake calipers, limited-slip differential on the front axle, as well as red accents for the exterior and interior.
Opting for the M135i xDrive Pure gets you a set of 19-inch alloys, all-wheel drive system, M Sport brakes with blue brake calipers, 16-speaker Harman Kardon sound system and a Dakota leather interior finish. The M135i xDrive finishes the lineup with a set of 18-inch forged alloys and black finishes for the mirrors, front grille and exhaust pipe surrounds.
Range Features:
18-inch alloys
2 x 10.25-inch screens; one driver's display, one infotainment system
Automatic LED headlights
Semi-autonomous parking
Reversing camera with rear mounted sensors
Adjustable ambient lighting
Limited slip differential (128ti)
9.2-inch head-up driver's display (128ti)
Keyless entry & start (128ti)
Dakota leather upholstery (M135i xDrive)
All-wheel drive system (M135i xDrive)
19-inch forged alloys (M135i xDrive)
BMW 1 Colours
| | |
| --- | --- |
| Alpine White | Misano Blue |
| Black Sapphire | Storm Bay |
| Melbourne Red | Mineral Grey |
Is it Comfortable to Drive?
While it might be the cheapest offering within BMW's lineup, the 1 Series lineup, and the entry-level model, the 118i does a great job in upholding BMW's reputation as a premium automaker. The 1 Series range is powered by a range of extremely efficient engines, paired with smooth transmissions that give the driver no option but to relax on their commute home, or holiday road trip. The 118i does feel, at times, that it could use some extra power compared to its bigger, more powerful siblings in the 1 Series lineup, but that's not to say that it's under-powered. It offers a wonderfully light feel through the steering wheel, which, combined with its short wheelbase, means that the 1 Series is right at home when performing tight manoeuvres through the urban jungle, and squeezing into tight car parks.
The 128ti receives a significantly more powerful engine, while the M135i goes absolutely crazy in terms of power, offering far more than the average driver will ever need, but is a welcome addition when getting up to speed quickly and smoothly thanks to that transmission. One aspect that might take you by surprise is the firm ride quality that European cars tend to transmit back to the driver on rough Australian roads, but overall, the 1 Series is a fabulous little car to drive.
Is it Practical and Spacious?
As BMW's cheapest and smallest car, the 1 Series might not necessarily be your first pick as a spacious or practical family car, but it still tries its best. In the front of the cabin, the driver and front passenger are treated to a meticulously-crafted interior design that absolutely nails driving ergonomics and occupant comfort. Everything in the cabin has a quality feel to it, from the switchgear to the cubby holes and arm rests.
BMW has, for years now, said it would never adopt a front-wheel drive platform, however with the latest 1 Series the company did exactly that, and it's come with a benefit of more occupant space in the cabin. Tall drivers will have absolutely no problem getting comfortable, although this doesn't apply to passengers in the rear of the cabin. While there's no problem for rear occupant legroom, headroom may be tight for tall passengers on longer journeys.
In terms of boot space, the 1 Series has 380L of cargo storage on offer, with boot space that extends to 1200L with the rear-seats folded down. Translated into real-world practicality, that means the 1 Series has a surprisingly large boot for the segment, and can accommodate large, bulky objects without a problem with the rear seats folded. Overall, this is a car more suited to the lifestyle of a single driver or couple with young children, however, it can be put to work and hold its own for a car of this size when it comes to practicality.
Is it Safe?
The BMW 1 Series has been awarded ANCAP's maximum five star safety rating, scoring 83% for adult occupant protection and 89% for child occupant protection. As standard, all BMW 1 Series models come packaged with rear cross-traffic alerts, lane-departure warnings, forward and reverse autonomous emergency braking and blind-spot monitoring, front and rear parking sensors, rear-view camera and semi-autonomous parking assist that will help prevent low-speed scratches and bumps while parking.
Is it Fuel Efficient?
Economy figures for the BMW 1 Series range from impressive to underwhelming in the more powerful variants. The entry-level 118i returns a combined cycle figure of 5.9L per 100km, which is perfectly acceptable for a car of this size, while the more powerful 128ti is rated at 6.8L per 100km, which is perhaps more than you'd expect for a compact car; it is powerful, though. Finally, BMW's range-topping 1 Series models, the M135i xDrive are officially rated at 7.5L per 100km, which sits dangerously-close to the land of thirsty engines, but the engine is an absolute powerhouse, so we can forgive it.
If economy is a key concern, opt for the 118i over its more powerful siblings.
Our Verdict: Is the BMW 1 Series Worth it?
The BMW 1 Series is proof that you don't necessarily need to buy the most expensive vehicle within a company's lineup to be happy with your purchase. For the majority of buyers, the high level of build quality, driving dynamics and features on offer in the entry-level 118i will keep you happy for years to come, while performance-enthusiasts might want to opt for the 128ti or M135i. Keep in mind that while the 1 Series does its best in servicing the needs of a growing family, if you have kids either on the scene already, or arriving shortly, you'd be more suited to a larger car.
For the rest of drivers, though, you'll enjoy each and every drive behind the wheel of the BMW 1 Series. On that note, if you're in the market for a new car, you can get a free quote and see how much OnlineAuto can save you on your next car, or call us on 1300 719 925
Five Specs You Need to Know
Prices range between $45,990 - $69,990
3-Year, Unlimited KM Warranty
Front wheel drive as standard; all-wheel drive on xDrive variants
380L boot storage; expands to 1200L
Adaptive cruise cruise control remains optional extra
Pros
Superb drive quality, comfort and engagement
Generous features list for entry-level 118i
Exceptional interior build quality & ergonomics
Cons
Expensive options list
Firm ride on Australian B-roads
Limited warranty period compared to rivals
OnlineAuto Rating:
7.5/10
BMW 1 Competition
BT Beverley T saved $4,851
off the NSW recommended retail price of a BMW X1 SDRIVE 20I XLINE on 19 Feb, 2021.
off the VIC recommended retail price of a BMW X1 SDRIVE 20i on 11 Mar, 2021.
off the VIC recommended retail price of a BMW X1 SDRIVE 20i on 11 Mar, 2021.
Savings are based on the difference between the actual driveaway price paid by customers on their new car purchases including stamp duty, government
charges and on-road costs and the Redbook Manufacturer Suggested Retail Price (MSRP) plus stamp duty, government charges and on-road costs.