Review- Mazda MX-5
April 08, 2021
When it comes to soaking up the rays and being one with the elements, a convertible is impossible to beat.
Even the most ordinary drive to the shops can be transformed into a special occasion with the flick of a switch. The Mazda MX-5 has always been a favourite with its affordable price point, engine performance and beautiful design. The latest updates ensure it improves driving pleasure.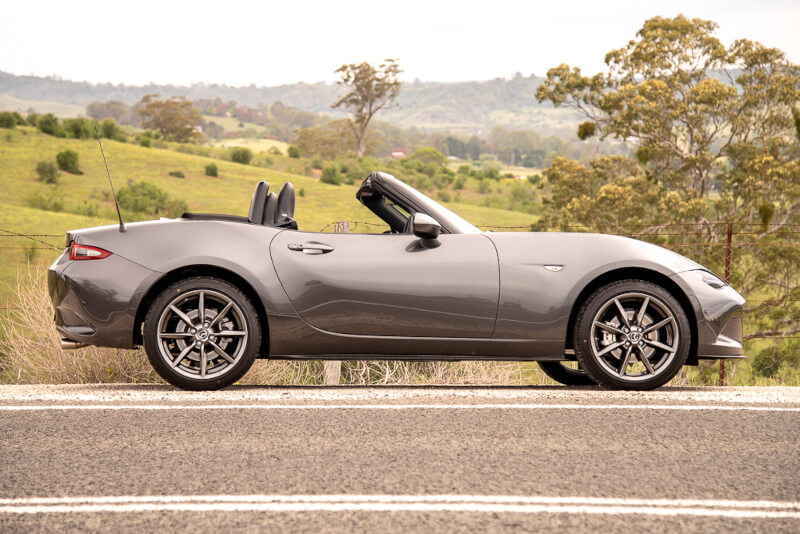 The sporty interior
The interior of the new MX-5 feels contemporary, showcasing a modern, sporty and suave decor. It feels well-built and well-designed. Most of the interior functions and controls, including the MZD Connect system, are in the foreground for further convenience. The new adjustable steering wheel column also enhances driving comfort.
There are heaps of features which come standard across all variants. These include rear view cameras, built-in navigation, a manual hand break (a rarity these days), MZD Connect system and Mazda's i-ACTIVESENSE safety package which includes autonomous emergency braking and traffic sign reading technology. If you opt for a sportier variant, you'll get a nine-speaker Bose stereo. You can also get Android Auto and Apple CarPlay for your phone to connect as an optional extra.
Be one with the machine
Driving the MX-5 gives one of the greatest joy on the road. The car feels light and nimble with precise and responsive steering on corners. You feel safe and secure as it is very easy to control and manage.
The new engines in all of the variants are lively, feisty and responsive. Changes to the muffle have helped to produce a nicer note and grunts and grumbles at lower speed. Its improved power may not look a lot on paper but in reality, you can feel the difference and that extra push makes the already exciting car, exhilarating. Amazingly the new upgraded power does not sacrifice fuel efficiency, in fact the MX-5 is very eco-friendly averaging around 6.8L/100KM for the 2.0L and even less for the 1.5L which is superb. If you choose to opt for the manual transmission the car becomes far more engaging. Shifting gears are buttery smooth and accurate. However, this doesn't mean the automatic transmission isn't great, it knows exactly where you want the gears to be and it feels wonderful.
Verdict
The new MX-5 continues its reputation as a favourite sports car and it comes with no surprise. With a more powerful engine, the MX-5 becomes more sensational than it ever was. Additionally, the new safety features make you feel more safe and secure. Definitely a car worth considering when you're looking for an exciting sports car.
Pros:
Extra power
Driving experience
Interior design and quality
Excellent real-world fuel economy
Easy lift-back roadster roof
Cons: