Review - Mercedes-AMG A45
AF By Alexi Falson July 13, 2021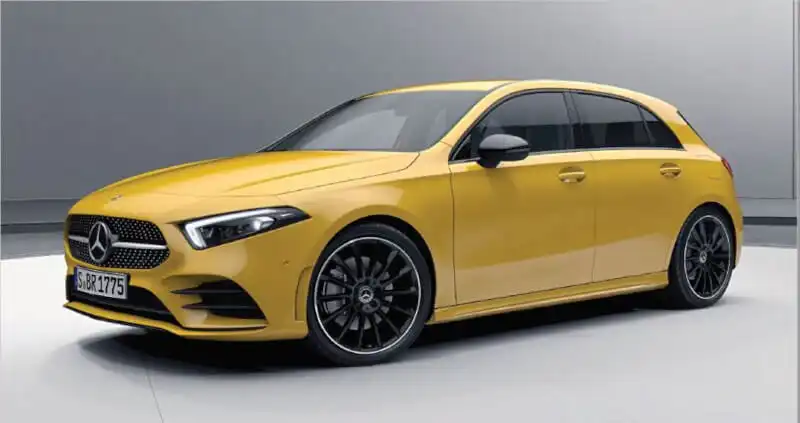 In this review, we're going to cover its performance, what it's like to drive every day, and how it stacks up in terms of important long-term ownership credentials like features, practicality and fuel economy.
Just how good is the Mercedes A45 S AMG 4MATIC+? Let's find out.
Starting Price: $94,100
OnlineAuto Savings: Enquire now
Mercedes-AMG A45 (S 4MATIC+)

Specifications
| | |
| --- | --- |
| Model Date | 2021 |
| Make | MERCEDES-AMG |
| Model | A45 |
| Series | W177 MY22 |
| Variant | S 4MATIC+ |
| Body | 5D HATCHBACK |
| Fuel type | PREMIUM UNLEADED PETROL |
| Transmission | 8 SP AUTO DUAL CLUTC |
| Drive | AWD |
| Engine | TDFI |
| Engine capacity | 1991 |
| Engine configuration | VARIABLE DOUBLE OVERHEAD CAM / 16 valves |
| Engine RPM | 0 / 0 |
| Cylinders | T4 |
| Torque | 500 |
| KW | 310 |
| Fuel tank size | 51.0 |
| Fuel usage specs | 8.9 / 0.0 |
| CO2 | 202 |
| ANCAP security rating | 5 |
For more details and other variants, check Mercedes-AMG A45 car page.
How Much Does It Cost?
The Mercedes A45 S AMG 4MATIC+ is priced from $94,100 before on-road costs. For 2021 and beyond, Mercedes has removed the standard A45 from its lineup, and offers the flagship A-Class in Australia solely as the A45 S. Mercedes also has a slightly less powerful version of the A-Class available, in the form of the A35 AMG, which is priced from $71,700. If you're interested in a more affordable, but remarkably hot Mercedes hatch for around $20,000 cheaper, you can check out our review of the A35 AMG here - Mercedes-AMG A35 Review
How Much Can OnlineAuto Save You?
You could save money by getting one of OnlineAuto's car buying agents to assist you in finding the greatest value model for you.
What Features Does the Mercedes A45 S AMG Have?
As the A45 S AMG sits atop the A-Class lineup, it comes jam-packed with performance, occupant comfort, entertainment and safety features. The full list is too long to mention in one review, but the highlights include a set of black 19-inch alloys, AMG bodykit, twin performance exhaust system, upgraded brakes, adaptive sports suspension, LED head and tail lights, adaptive cruise control, autonomous steering functions, a set of two 10.2-inch screens with voice command, Apple CarPlay and Android Auto support, Burmester sound system, panoramic sunroof, wireless smartphone charging, 64-colour ambient lighting, carbon fibre and leather interior highlights, as well as heated seats and a host of safety equipment which we'll cover later in this review.
Range Features:
AMG bodykit
Performance brakes and exhaust system
Adaptive suspension dampers
19-inch alloys
2 x 10.2-inch displays with Apple CarPlay, Android Auto
Adaptive cruise control
Panoramic sunroof
LED head and tail lights
Mercedes-AMG A45 (S 4MATIC+) Colours
| | |
| --- | --- |
| Sun Yellow | Night Black |
| Denim Blue | Mountain Grey |
| Polar White | Cosmos Black |
| Iridium Silver | |
What's the A45 S AMG 4MATIC+ Like to Drive?
While the A45 S AMG might be the cheapest fully-fledged AMG in the Mercedes lineup, it is no less impressive than significantly more expensive cars from the AMG stables. The 310kW and 500Nm of power on offer from that 2.0-litre turbocharged four-pot, combined with Mercedes intelligent AWD system and sports suspension means the A45 performs exceptionally well in both straight line acceleration, and around high-speed bends. The performance is mind-bending, and will leave no buyer disappointed at its ability to sprint off the line and leave other cars in the dust.
Typically, when a car is positioned aggressively as a performance vehicle, they often perform horribly when it comes to everyday driving and commuting situations. The A45 is most definitely an exception to this rule, however, thanks to Mercedes smart adaptive suspension, which has three different modes for the driver to select: comfort, sport and sport plus. In sport, the car stiffens up for maximum performance, while comfort softens up the suspension and allows the car to absorb the bumps without transmitting them to the cabin. This means that the A45 has two distinctly different personalities, and can transform from a relaxing and luxurious commuter to a fire-breather with the touch of a button.
Is it Practical and Spacious?
While practicality might not be the strongest point for the smallest car in Mercedes' lineup, the A-Class body still offers an impressive amount of occupant space for its proportions. The front of the cabin has been designed with luxury and performance in mind, meaning there's exotic materials like carbon fibre weaving their way through the leather and soft suede upholstery. The layout is purposeful, with AMG sport seats and a tonne of buttons through the centre console, but still offers a range of storage spots for phones, small water bottles and loose items.
Overall, the front of the A45 S AMG's cabin is no doubt the place to be, but passengers in the rear of the cabin won't be complaining too much, with a modest amount of legroom on offer and enough space to squeeze in a child seat. In terms of rear cargo storage, there is 370L of boot space in the A45 S, which is around 40L more than the previous generation, and this extends to 1210L with the rear-seats folded down.
Is it Safe?
The Mercedes A45 S AMG has been awarded ANCAP's maximum five-star safety rating, and comes packaged with a huge array of active safety technologies. Included in the A45 S AMG is a set of nine airbags, autonomous emergency braking, adaptive cruise control with lane keep and lane change assistance, semi autonomous parking features and a 360-degree camera to help out while parking and in tight maneuvers. All up, the A45 S AMG is feature-packed when it comes to safety, and thanks to its five-star ANCAP rating, represents an extremely safe hot hatchback.
Is it Fuel Efficient?
It goes without saying that you can't have the world's most powerful four-cylinder engine without making some sacrifices somewhere, and the A45's economy goes to prove this. It's officially rated at 8.3L per 100km on a combined cycle, but in the real world this figure is likely to climb above 9L per 100km, depending on your commute and your driving style. For an engine of this size, that's a relatively thirsty powertrain. Having said that, though, it's a performance engine that has been designed to prioritise power over economy, and it well and truly achieves its primary goal.
Our Verdict: Is the Mercedes A45 S AMG Worth it?
The Mercedes A45 S AMG is a hugely impressive car that overshadows its competitors like the Audi RS3, but fails to offer the same pure driving dynamic as the rear-wheel drive BMW M2. Regardless, the A45's engine and extremely sophisticated drivetrain and suspension setup mean that the performance on offer in the A45 is truly accessible to all drivers, regardless of their skill. In light of this, the A45 S AMG should be well-and-truly considered a true performance car, and if you're looking at capturing some of the magic for yourself, you can get a free quote here and see how much OnlineAuto can save you on your A45 S AMG, or call us on 1300 719 925
Five Specs You Need to Know
World's most powerful turbo four-cylinder engine (310kW/500Nm)
Adaptive Suspension System (Comfort, Sport, Sport Plus)
All-Wheel Drive System with Torque Vectoring
8.3L per 100km economy
Five-Year, Unlimited KM Warranty
Pros
Unbelievable acceleration and handling
Luxurious, well-crafted interior
Feature-packed offering means no need for optional extras
Cons
Firm ride quality
Space limited for adults in rear of cabin
Not the most practical hatch on the market
OnlineAuto Rating:
8.5/10
Mercedes-AMG A45 Competition
off the VIC recommended retail price of a Mercedes GLA 250 4 Matic on 22 Jan, 2021.
off the NSW recommended retail price of a Mercedes GLE 300 D on 04 Feb, 2021.
off the QLD recommended retail price of a Mercedes GLC 300E 4matic on 05 Mar, 2021.
Savings are based on the difference between the actual driveaway price paid by customers on their new car purchases including stamp duty, government
charges and on-road costs and the Redbook Manufacturer Suggested Retail Price (MSRP) plus stamp duty, government charges and on-road costs.