Review - Renault Kangoo
AF By Alexi Falson December 13, 2021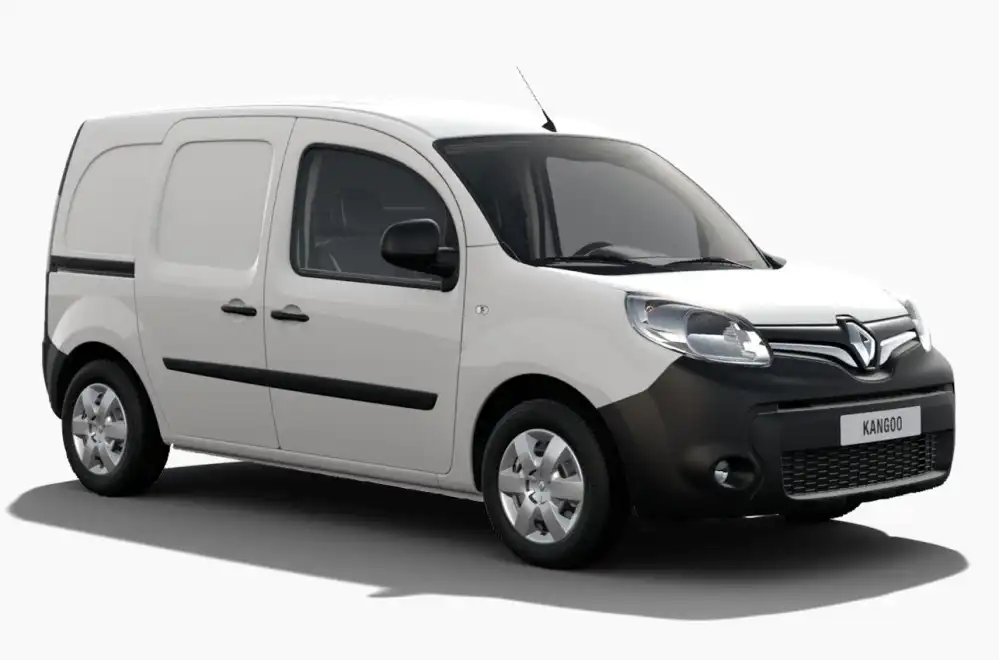 On paper, the Renault Kangoo looks to be one of the value picks of the entire small van segment, but it's essential we find out whether there's true value on offer in this cut-price workhorse, or if it's one to forget.
With that in mind, let's take a look at how the Renault Kangoo compares to the rest of the small cargo van segment, and see whether or not it can help you with your cargo-moving and work-related needs, and is deserving of a spot on your shortlist.
Starting Price: $26,290
OnlineAuto Savings: Enquire now
Renault Kangoo (COMPACT 1.2)

Specifications
| | |
| --- | --- |
| Model Date | 2021 |
| Make | RENAULT |
| Model | KANGOO |
| Series | X61 MY21 |
| Variant | COMPACT 1.2 |
| Body | 3D VAN |
| Fuel type | PREMIUM UNLEADED PETROL |
| Transmission | 6 SP AUTO DUAL CLUTC |
| Drive | FWD |
| Engine | TDFI |
| Engine capacity | 1197 |
| Engine configuration | DUAL OVERHEAD CAM / 16 valves |
| Engine RPM | 4500 / 2000 |
| Cylinders | T4 |
| Torque | 190 |
| KW | 84 |
| Fuel tank size | 56.0 |
| Fuel usage specs | 6.5 / 0.0 |
| CO2 | 147 |
| ANCAP security rating | 4 |
For more details and other variants, check Renault Kangoo car page.
How Much Does It Cost?
The Renault Kangoo lineup kicks off in the form of the Kangoo Compact short wheelbase with a manual gearbox, which is priced at $26,290. The Kangoo Compact range then moves to the short wheelbase automatic variant, which is priced at $27,790.
The Kangoo range then stretches out to long wheelbase variants of the body shape, which are priced at $32,490 for the automatic Kangoo Maxi, while the electric-powered Kangoo Maxi Z.E long wheelbase is priced at $50,290.
How Much Can OnlineAuto Save You?
Using OnlineAuto, Australia's leading car broker service, you could save by letting one of our car specialists to help you find the best value model for you.
What Features Does the Renault Kangoo Have?
Both the long and short wheelbase variants of the Kangoo Compact comes riding on a set of 15-inch steel wheels, and comes packaged with a leather-wrapped steering wheel accompanied by cloth upholstery, black plastic bumpers for the front and rear ends, electric folding mirrors, rubber cargo floor mats, twin-tube steel cargo protection bars, a reversing camera with rear-mounted parking sensors, a rear-view mirror that displays the reverse camera, adjustable steering column, hill start assist, engine stop-start technology, a set of fog lights, automatic headlights, cruise control, air conditioning and an audio system featuring Bluetooth, AM/FM radio, CD and MP3 compatibility, as well as a full-sized spare tyre.
Opting for the all-electric Kangoo Z.E adds a set of 15-inch Brigantin wheels, Tangena upholstery finish, black headlight surrounds, passenger compartment preconditioning - for heating and ventilation - a set of Z.E Electric decals, a large 15-litre glovebox, Z.E voice commands to warn pedestrians, a Model 3 Type 2 standard charging cable and a standard charge capability between 3-7kW.
Renault's Trade Pack adds a non-slip timber floor finish, timber side protection panelling and a set of LED ceiling lights, while the Business Plus Pack adds a set of 15-inch alloys, automatic climate control, tinted rear windows for the barn doors and a satin chrome two-tone bumper.
Range Features:
15-inch steel wheels

Automatic headlights

Leather-wrapped steering wheel

Fabric upholstery

Cruise control

Electric folding mirrors

Reversing camera

Rear-mounted parking sensors

Rear-view mirror that doubles as digital display

Black protective bumpers for front and rear

Twin-tube cargo protection bars

Adjustable steering column

Fog lights

Bluetooth, AM/FM radio, MP3 and CD Player

Rubber cargo floor mats

15-inch Brigantin wheels (Kangoo Z.E)

Tangena upholstery (Kangoo Z.E)

Model 3 Type 2 standard charging cable (Kangoo Z.E)

3-7kW Standard charge capability (Kangoo Z.E)

Non-slip timber floors (Trade Pack)

LED ceiling lights (Trade Pack)

15-inch alloys (Business Plus Pack)

Automatic climate control (Business Plus Pack)

Satin chrome two-tone bumper (Business Plus Pack)
Renault Kangoo (COMPACT) Colours
| | |
| --- | --- |
| Mineral White | Carmen Red |
| Urban Grey | Jet Black |
| Oyster Grey | Highland Grey |
Is the Renault Nice to Drive?
The Renault Kangoo is a refreshing take on the small cargo van segment, providing real-world practicality in a relatively compact package that is easy to drive and, at times, even entertaining. This is largely thanks to the reduced bodyweight, perky petrol engines in the short wheelbase variant, and torque-filled diesel units for the long wheelbase, both of which aren't afraid to work their little hearts out as you pick up speed. As a result, the driver feels more engaged with their machine, which proves more entertaining while weaving through traffic and squeezing into tight cargo-loading areas and carparks.
While it might not necessarily be as refined to drive as its main rival, the Volkswagen Caddy, in a number of ways it's a more entertaining vehicle to pilot, and every bit as comfortable on short trips around town and long highway miles. Importantly, the Kangoo receives a relatively lightweight steering rack, which makes it easy to pilot at low speeds and doesn't require huge amounts of effort to maneuver.
Around town, the Renault Kangoo feels perfectly suited to the urban environment, which is no coincidence, considering just how experienced Renault is with their city cars. While it might retain its proportions as a van, the Kangoo manages to skip its way over bumps and pivot around tight corners without the added worries of many cargo-based vehicles. While long wheelbase variants no doubt add some length to the equation, the Kangoo as a complete package remains user-friendly while driving around town, and will likely prove the perfect addition to your work-horse needs around town.
Keep in mind that the all-electric Kangoo Z.E is limited to 130km/h, so travelling for extended periods on the highway will drain the battery faster than you might expect, considering how hard that little electric motor is working.
What are the Cargo Dimensions of the Renault Kangoo?
The Kangoo's ability to get the job done for your needs depends on which variant you opt for, with the short and long wheelbase offering different cargo-carrying capacities. The short wheelbase Compact measures in at 4,213mm long, 2,138mm wide, 1,815mm high and has a wheelbase of 2,697mm. Specific to the cargo bay, there is 1,476mm of length, 1,218mm width and 1,251mm height on offer.
These proportions for the short wheelbase variant of the Kangoo translate to a load volume of 3,000L, with a payload capacity rated at 675kg. The Kangoo is also rated at 1,050kg of braked and 660kg of unbraked towing capacity.
Opting for the long wheelbase Kangoo Maxi variant means the body measures in at 4,597mm long, 2,138mm wide, 1,828mm high and offers a wheelbase of 3,081mm; which is 384mm longer than the base model. The cargo bay offers 1,862mm of length, 1,218mm width, 1,251mm of height and an increased total load capacity of 4,000L. Payload capacity also increases in the Kangoo Maxi to 795kg, while the braked and unbraked towing capacity also rises to 1,050kg and 750kg respectively.
Is it Safe?
The Renault Kangoo has been awarded a four-star ANCAP safety rating, scoring 12.73 out of 16 for front and 14 out of 16 for side impacts, achieving an overall score of 27.73 out of a possible 37.
All Kangoo variants come packaged with anti-lock brakes with emergency brake assistance, cruise control, rear parking sensors, driver and passenger airbags, a rear-view camera, electronic stability control and hill start assist.
Is it Fuel Efficient?
The Renault Kangoo Compact meets Euro 5 standards, while the Maxi and diesel variants are rated at Euro 6. This translates to a real-world fuel consumption figure of 6.2L per 100km for the Compact manual, 6.5L per 100km for the automatic and 5.4L per 100km for the diesel-powered Kangoo Maxi. In terms of fuel economy, the Renault Kangoo trails the Volkswagen Caddy's 4.9L per 100km combined cycle figure.
How Far Does the All-Electric Renault Kangoo Z.E Travel on a Single Charge?
The Renault Kangoo Z.E is fitted with a 33kWh lithium-nickel-manganese-cobalt battery pack that works alongside a synchronous rotor coil electric motor that pushes out 44kW/225Nm of torque. Renault says that the all-electric Kangoo Z.E can travel 200km on a single charge, consuming electricity at around 159Wh per kilometer.
In terms of charging, using a standard Type 2 charge cable, you'll fully-charge the Kangoo Z.E. in around six-hours at home.
Our Verdict: Is the Renault Kangoo Worth it?
The Renault Kangoo is a timely reminder that while small working vans need to retain their practical underpinnings, they can indeed have a sense of personality about them. Perhaps the most enticing part of the Kangoo as a complete package are the prices, which undercut the Volkswagen Caddy by thousands of dollars in some cases. For that reason alone, the Renault Kangoo is well-deserving of a spot on your shortlist for your next small van. On that note, if you're in the market for a new car, you can get a free quote and see how much OnlineAuto can save you on your next car, or call us on 1300 719 925.
Five Specs You Need to Know
Five-year, unlimited KM warranty

12-month/15,000km service intervals

Four star ANCAP safety rating

3,000L of storage in Kangoo Compact; 4,000L in Kangoo Maxi

All-electric variant available with 33kWh battery & 200km range
Pros
Attractive list prices

Genuine real-world practicality and work-horse potential

Entertaining driving dynamic around town
Cons
Lacks active safety technologies

Not as fuel efficient as Volkswagen Caddy

Dated infotainment options compared to rivals
OnlineAuto Rating:
7.5/10
Renault Kangoo Competition
off the NSW recommended retail price of a Toyota Hilux Rouge (4x4) on 21 Jun, 2021.
off the NSW recommended retail price of a Ford Ranger WILDTRAK X 2.0 (4x4) on 16 Mar, 2021.
off the NSW recommended retail price of a Toyota Hilux SR5 on 08 Mar, 2021.
Savings are based on the difference between the actual driveaway price paid by customers on their new car purchases including stamp duty, government
charges and on-road costs and the Redbook Manufacturer Suggested Retail Price (MSRP) plus stamp duty, government charges and on-road costs.