Review - Toyota C-HR
March 28, 2021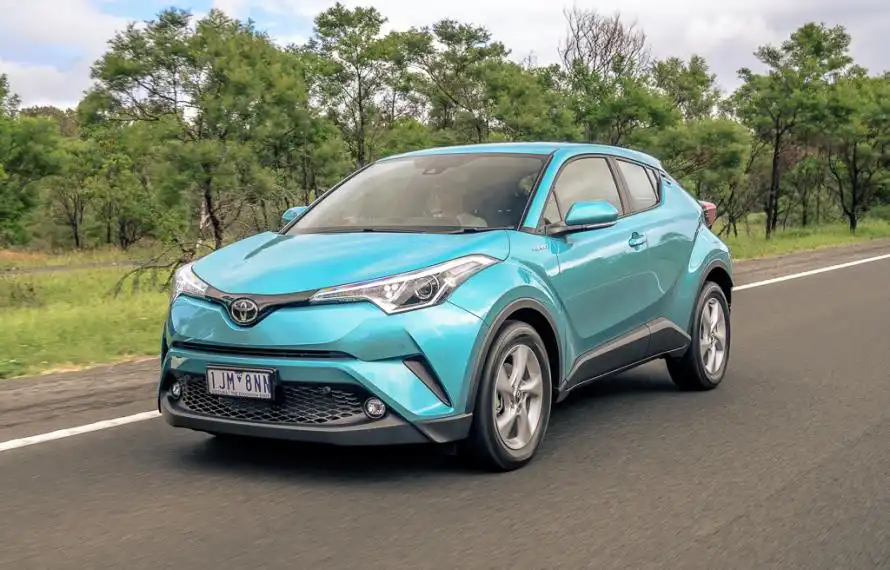 The small SUV market has a head-turning newcomer. A bold statement of a vehicle, the Toyota C-HR could breathe new life into not only the small SUV market, but the Toyota marque itself.
Concept car styling makes real impact
'Exciting' is not the first word that springs to mind when considering a Toyota. Reliable? Yes. Comfortable and cost effective? Absolutely. But the C-HR inspires a change in impressions.
While Toyota's bestselling Corollas and Camrys tend to blend in with the crowd, the C-HR was designed to stand out. With its rounded coupe-like roof and angular front and rear bumpers, it's a genuinely fresh look in the small SUV segment. Its eye-catching alloy wheels give it a tough and sporty edge, and its range of standout colours such as electric teal and hornet yellow further prove this is no wallflower's vehicle.
The interior is sleek and modern, with high-quality leather used on the steering wheel and seats in the Koba model. The only letdown is the infotainment unit, which seems dated with its old graphics and clumsy navigation system.
Despite its petite size, it's roomy in the back and the rear seats handily fold flat to fit extra cargo.
Standout looks and performance
The C-HR uses the Toyota New Global Architecture (TNGA) platform, which is set to be rolled out across the entire Toyota range. Its benefits are well demonstrated in the Koba. The soft suspension allows it to ride comfortably over even the bumpiest roads, and the handling is super responsive. Overall, it's a comfortable ride that feels luxurious and sounds whisper-quiet.
While it's a great city car – the 1.2-litre turbo engine is perfect for city conditions with enough grunt when you need it – it's just as happy with some weekend highway cruising.
For tricky parking jobs, the front and rear parking sensors are magic, and the rear cross-traffic alert is especially handy in busy parking lots.
The adaptive cruise control on the steering wheel works well and the fuel economy is decent. It's worth noting, however, that the C-HR takes only premium unleaded (95 RON minimum), which may bump up your fuel bill.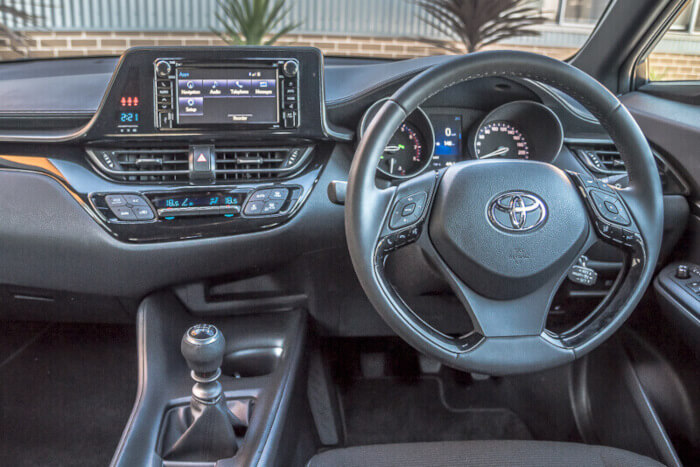 Our verdict
The Toyota C-HR combines sporty utility with a distinct look and is super easy to drive. Pricing starts from $26,990 for the base manual 2WD and rises to $35,290 for the Koba AWD CVT tested here (excludes on-road costs).
5 specs you need to know
Engine: 1.2-litre turbo four-cylinder.
Transmission and drive: CVT automatic, all-wheel drive.
ANCAP safety rating: Five stars.
Official fuel economy: 6.5L/100km.
Time from 0-100km/h as tested: 12.26 seconds.
Pros
Spacious and modern interior.
Eye-catching styling that stands out from others in its segment.
Sporty handling ensures a comfortable ride.
Cons
Infotainment system is dated.
Styling might not be to everyone's taste.
Slow acceleration from 0-100km/h.