Designed as a cheerful little hatch perfect for the urban jungle, the Citroen C3 gives the buying public a slice of European motoring at an affordable price that has no trouble in standing out from the crowd.
Just how good is the Citroen C3, then, and how does it stack up as a value proposition? Let's take a closer look to find out.
Citroen C3 Competition
Starting Price: $32,267
OnlineAuto Savings: Enquire now
How Much Does It Cost?
The Citroen C3 lineup is available here in Australia in a single variant, the C3 Shine, which is priced at $32,267.
Keep in mind that prices are subject to change and do not include on-road costs.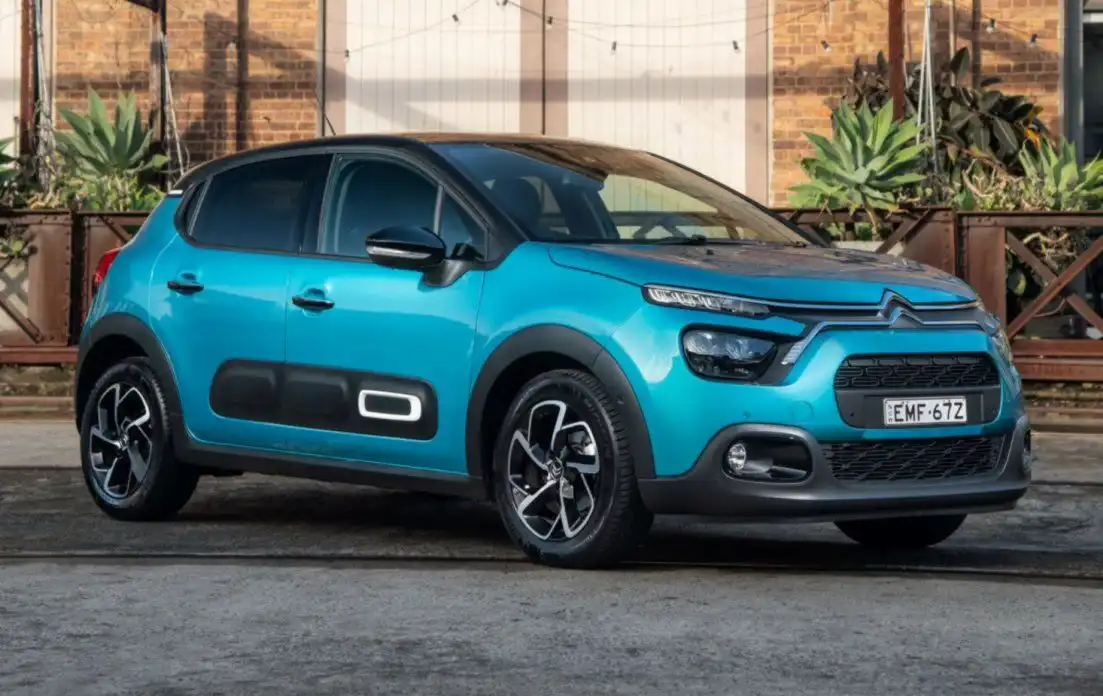 How Much Can OnlineAuto Save You?
Using OnlineAuto's car buying service in Australia, you could save by using one of our car experts to help you find the best new car for you.
Citroen C3 (SHINE 1.2 PURETECH 82)

Specifications
| | |
| --- | --- |
| Model Date | 2023 |
| Make | CITROEN |
| Model | C3 |
| Series | B618 MY23 |
| Variant | SHINE 1.2 PURETECH 82 |
| Body | 5D HATCHBACK |
| Fuel type | UNLEADED PETROL |
| Transmission | 6 SP AUTOMATIC |
| Drive | FWD |
| Engine | TDFI |
| Engine capacity | 1199 |
| Engine configuration | VARIABLE DOUBLE OVERHEAD CAM / 16 valves |
| Engine RPM | 5500 / 1500 |
| Cylinders | T3 |
| Torque | 205 |
| KW | 82 |
| Fuel tank size | 45.0 |
| Fuel usage specs | 5.2 / 0 |
| CO2 | 118 |
| ANCAP security rating | 4 |
What Features Does the Citroen C3 Have?
The Citroen C3 Shine comes riding on a set of 16-inch alloys, and receives LED headlights with LED daytime running lamps, climate control, keyless entry & start, cloth upholstery with a leather-wrapped steering wheel, a rear-view camera with front & rear parking sensors, cruise control, heated power-folding mirrors and a 7.0-inch infotainment system with Apple CarPlay & Android Auto.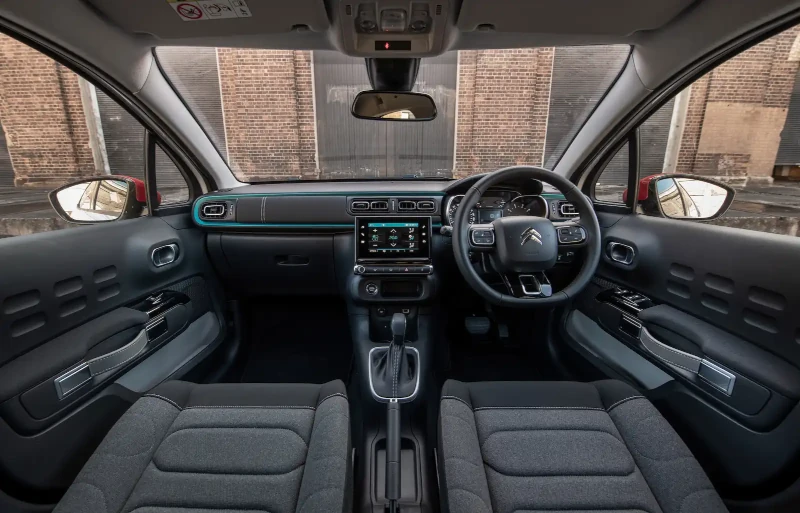 Range Features:
16-inch alloys

LED headlights with daytime running lamps

Climate control

Keyless entry & start

Cloth upholstery with a leather-wrapped steering wheel

Rear-view camera with front & rear parking sensors

Cruise control

Heated, power-folding mirrors

7.0-inch infotainment system with Apple CarPlay & Android Auto
Is the Citroen C3 Comfortable to Drive?
While it doesn't have a heap of power at its disposal, it takes just a few minutes behind the wheel of the Citroen C3 around town to see what all the fuss is about.
It comes powered by a petite 1.2-litre turbocharged three-cylinder petrol engine producing 81kW of power and 205Nm of torque, which powers the front wheels via a six-speed automatic transmission only.
That means that you won't be burning anyone off a set of traffic lights, though there is a healthy amount of torque - at quite low in the rev range - to help push you up to speed and overtake when needed.
Where the C3 really shines, though, is just how easy it is to pilot around the urban jungle, thanks largely to its agile handling, narrow footprint and short wheelbase that make it incredibly easy to point, shoot and park in pretty much any place you can fit it.
On the topic of parking, the C3 picks up some ingenious bumpers on the doors that both add a design flair and keep your paintwork protected from clumsy neighbours in a car park, which is a lovely little touch.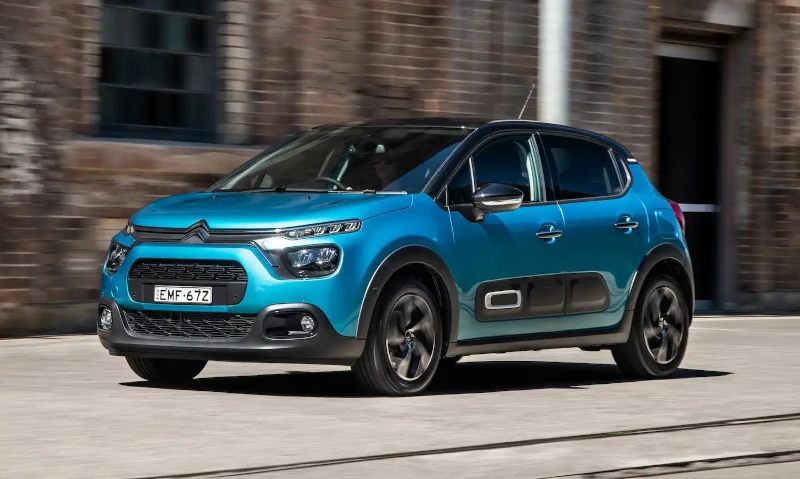 The ride quality is impressively packaged for Australia, with Citroen's expertise in suspension hardware becoming clear when you hit pot holes and irregularities on the road without too much disturbance inside the cabin.
When you leave the city and hit the open road, the C3's limitations rise to the surface, though it can match its most competitive rivals in terms of handling long-distance trips at high speeds with a decent amount of confidence.
All up, the Citroen C3 is a difficult car to fault, particularly when put to the test in the city - where Citroen designed it to excel, and make every journey through the urban jungle a smooth and simple affair.
Is it Fuel Efficient?
Citroen's tiny little 1.2-litre turbocharged three-cylinder works wonders when it comes to fuel economy, offering combined cycle fuel economy figures of 5.2L/100km, putting it on par with some of the best non-hybrid hatchbacks on the market for fuel efficiency.
Is it Practical and Spacious?
Due to its pint-sized footprint, the Citroen C3 is limited in terms of space and practicality, though it does pretty well considering its stature.
Tall drivers can rest assured that the seating position in the front of the cabin offers more than enough headroom to get comfortable without feeling claustrophobic.
The seats look unique and feel great, with the front of the C3's cabin offering a variety of shapes, textures and design elements that give it some serious character.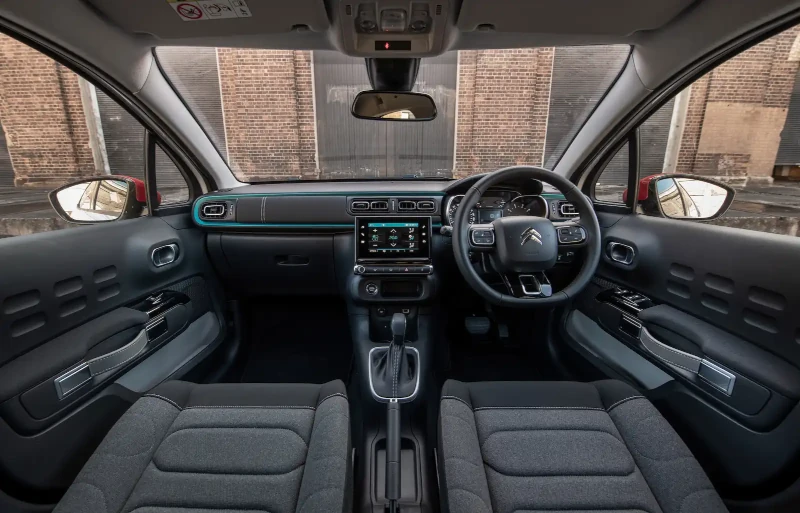 One thing we will note, though, is that these charming designs have come at the expense of ample, usable storage elements in the front of the cabin, with just a small storage tray at the base of the dash, a pair of cup holders and some petite door bins on offer.
Move to the rear and things, as you might expect from a vehicle of this size, get pretty cramped, though it's no more cramped than its rivals in the small car segment.
You can fit adults in the rear, though things are much more comfortable for a set of kid-sized legs in the back of the cabin, with the bench offering a pair of ISOFIX anchors and top tether mounts.
Finally, the Citroen C3 has a boot measuring 300L, which is actually on the more generous side of the segment, making it a bit of a hit-and-miss in terms of space and practicality.
Is it Safe?
The Citroen C3 Shine has been awarded a four-star ANCAP safety rating, scoring 88% for adult protection, 83% for child protection, 59% for pedestrian protection and 58% for safety assist.
Citroen is making up for its four-star ANCAP rating with a decent amount of active safety equipment fitted to the C3 as standard, including AEB braking, blind-spot monitoring, driver attention monitoring, lane-departure alerts, traffic sign recognition and six airbags.
Our Verdict: Is The Citroen C3 Worth it?
If you're after a charming little hatch that takes all of the stress out of a busy city commute, the Citroen C3 is a super promising option deserving of a spot on your shortlist.
While the interior lacks some storage options, the Citroen C3 wastes no time asserting its fun-loving and user-friendly nature behind the wheel, and feels at home in the urban jungle.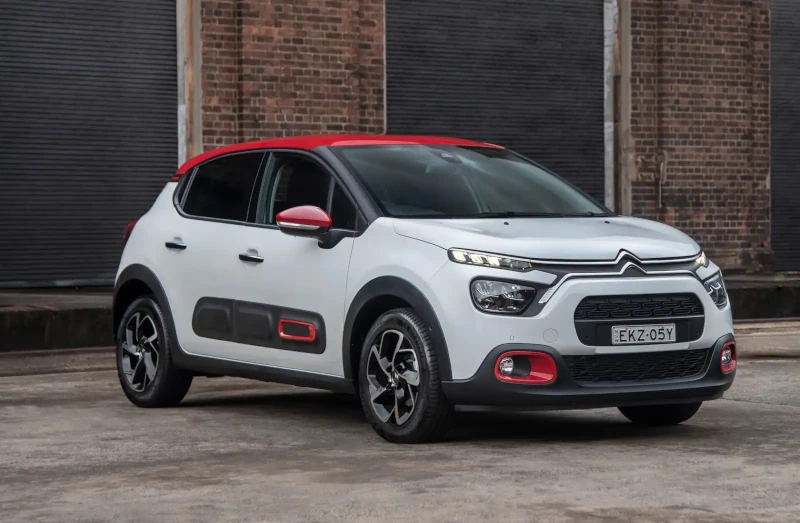 If you're tossing up your best options for your next car, be sure to reach out to one of our automotive specialists who can help find you the best possible price on your dream car.
Five Specs You Need to Know
Five-year/unlimited-kilometre warranty

Five-years roadside assistance

300L boot space

Four-star ANCAP safety rating

5.2L/100km fuel economy figures