Over that time, Mazda has been perfecting its recipe for the compact car segment with the Mazda3, which remains one of the most compelling value propositions for the segment.
With prices rising and buyers continuously moving toward SUV packages, let's take a closer look at how well the latest Mazda3 performs and see how it stacks up on the road here in Australia.
Mazda 3 Competition
Starting Price: $30,320
OnlineAuto Savings: Enquire now
How Much Does It Cost?
The Mazda3 range kicks off from $30,320 for the entry-level Mazda3 G20 Pure, with prices rising up to $31,870 for the G20 Evolve, and up to $34,520 for the G20 Touring.
Stepping up to the G25 Evolve SP brings the price up to $34,520, while the G25 GT is priced at $38,420 and the range-topping G25 Astina is priced at $42,320.
Keep in mind that these retail prices are subject to change and do not include on-road costs.
How Much Can OnlineAuto Save You?
Using OnlineAuto's car buying service in Australia, you could save by using one of our car experts to help you find the best new car for you.
Mazda 3 (G20 PURE)

Specifications
| | |
| --- | --- |
| Model Date | 2023 |
| Make | MAZDA |
| Model | MAZDA3 |
| Series | 300P |
| Variant | G20 PURE |
| Body | 5D HATCHBACK |
| Fuel type | UNLEADED PETROL |
| Transmission | 6 SP AUTOMATIC |
| Drive | FWD |
| Engine | DIRFI |
| Engine capacity | 1998 |
| Engine configuration | VARIABLE DOUBLE OVERHEAD CAM / 16 valves |
| Engine RPM | 6000 / 4000 |
| Cylinders | 4 |
| Torque | 200 |
| KW | 114 |
| Fuel tank size | 51.0 |
| Fuel usage specs | 6.2 / 0 |
| CO2 | 146 |
| ANCAP security rating | 5 |
For more details and other variants, check Mazda 3 car page.
What Features Does the Mazda3 Have?
Mazda's entry-level Mazda3 G20 Pure comes riding on a set of 16-inch alloys and receives automatic LED headlights, adaptive cruise control, push-button start, black cloth upholstery with a leather-wrapped gear lever and steering wheel, a rear-view camera with rear parking sensors, a 7.0-inch instrument cluster and an 8.8-inch infotainment system with Apple CarPlay & Android Auto.
Making the move up to the Mazda3 G20 Evolve adds a set of 18-inch alloys, dual-zone climate control, an auto-dimming rear-view mirror and a set of rear air vents, while the G20 Touring picks up leather upholstery with powered driver's seat, wireless Apple CarPlay & Android Auto, a wireless smartphone charging pad, keyless entry and two USB-C ports.
The Mazda3 in G25 Evolve form picks up a set of black 18-inch alloys atop a black grille design, cloth upholstery with red highlights, an auto-dimming rear-view mirror and powered side mirrors atop the wireless connectivity, a wireless charger and USB-C ports.
Stepping up to the Mazda3 G25 GT adds black leather upholstery with a heated steering wheel, front seats and side mirrors, special 18-inch alloys and an upgraded 10.25-inch infotainment display.
Finally, the range-topping Mazda3 Astina picks up adaptive LED headlights, a panoramic sunroof, black or burgundy leather upholstery, a surround-view camera and some upgraded safety equipment we'll cover later in the review.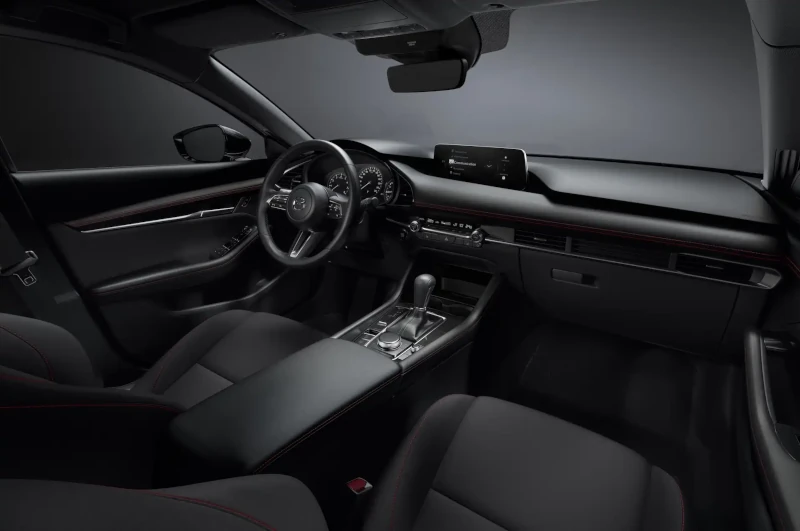 Range Features:
16-inch alloys

Automatic LED headlights

Adaptive cruise control

Black cloth upholstery with leather-wrapped steering wheel & gear lever

Rear-view camera with rear parking sensors

8.8-inch infotainment system with Apple CarPlay & Android Auto

18-inch alloys (G20 Evolve)

Leather upholstery (G20 Touring)
Wireless Apple CarPlay & Android Auto, wireless smartphone charging (G20 Touring)

10.25-inch infotainment display (G25 GT)

Adaptive LED headlights (G25 GT)

Panoramic sunroof (G25 GT)

Black or burgundy leather upholstery (G25 GT)

Surround-view camera (G25 GT)
Is the Mazda3 Comfortable to Drive?
In a world of bland A-to-B compact cars, the Mazda3 platform shines bright thanks to its approachable nature and charismatic handling that makes for a wonderful daily driver.
The base engine is far from exciting, though it gets the job done thanks to 114kW of power and 200Nm of torque that is thrown to the front wheels via a six-speed automatic.
On the road, this offers some moderate acceleration up to speed and some smooth gear shifts from the automatic transmission, making it well-behaved and impressively refined.
If you can stretch the budget, upgrading to Mazda's 2.5-litre four-cylinder 'G25' engine gives the package a much-needed boost up to 138kW of power and 252Nm of torque and makes for by far the most exciting engine option of the two.
"While the base engine is very forgettable, the overall driving experience is so charming and intuitive around town, you'll barely notice the lack of grunt."
Around town, the Mazda3 platform is simply fantastic, with its nimble wheelbase and lightweight steering making for a remarkably easy city car that is user-friendly to park and navigate traffic.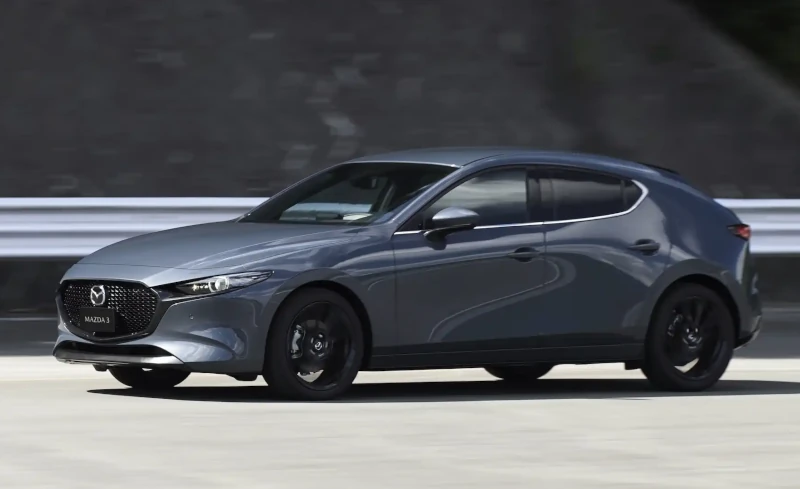 On moderate bumps, the Mazda3 remains unphased, with the package feeling far more refined than its pricetag might suggest on some of the smoother roads around town.
As you pick up speed, the steering remains approachable but offers a decent amount of feedback that gives the Mazda3 some serious charm and makes it far from a dull driving experience.
On the open road, the Mazda3 remains smooth and stable, particularly for a front-wheel-drive platform, while the suspension works away at keeping the front end stable under the pressure of rougher Australian B-roads.
Is it Fuel Efficient?
Mazda has stuck with a mix of 2.0-litre and 2.0-litre four-cylinder engines for the Mazda3 range, which means fuel-efficiency figures can't keep up with some of its turbocharged and hybrid rivals, though it remains fairly frugal.
Fuel economy figures for the base G20 stand at a very impressive 5.8L/100km in the sedan, increasingly slightly to 5.9L/100km in the hatchback, while the range-topping G25 range is rated at 6.5L/100km in the sedan and 6.6L/100km in hatchback form.
Is it Practical and Spacious?
We say it time and time again with Mazda's cars, but the quality and execution of the interior really help to justify the Mazda3's rising price tags and set it apart from key rivals.
Up front, the driver and passenger pick up black cloth upholstery as standard, with premium touches of a leather-wrapped steering wheel and gear lever atop a generous amount of headroom and a fully-adjustable driving position.
The bulky centre console gives the Mazda3's cabin a more refined nature, with some cupholders and added storage options sitting behind the gear lever and a decent amount of storage underneath the folding armrest.
"The Mazda3 retains its class-leading interior design with a heap of practical touches, while the sedan's 444L trumps the hatchback's 295L of cargo space."
The dashboard rises in a tiered design that separates the infotainment display from the air vents in a design that makes a feature piece of space that would otherwise go unused and adds to the sleek design of the cabin.
Move to the second row of the cabin and there's a decent amount of head and legroom on offer for even tall rear passengers, though the bulky pillars have eaten up the amount of light reaching the rear of the cabin and can make it feel more enclosed than some rivals.
Each of the Mazda3's outboard seats comes fitted with a pair of ISOFIX anchors and top tether mounts to accommodate forward- and rear-facing child seats, while boot space figures rise from 295L in the hatchback to a much more usable 444L in the sedan.
Is it Safe?
The Mazda3 has been awarded ANCAP's maximum five-star safety rating, scoring 98% for adult protection, 89% for child protection, 81% for pedestrian protection and 76% for safety assist.
As standard, the entry-level Mazda3 Pure comes fitted with forward and reverse autonomous emergency braking, blind-spot monitoring, adaptive cruise control, lane-departure alerts, lane-keep assist, rear cross-traffic alerts and traffic sign recognition.
Stepping up to higher Mazda3 variants adds a surround-view monitor, front cross-traffic alerts, front-mounted parking sensors, driver monitoring and cruising and traffic jam support.
Our Verdict: Is The Mazda3 Worth it?
As a complete package, the Mazda3 remains near faultless, and while it won't get the heart thumping, it comprehensively ticks all the important boxes that compact car buyers are looking to cover.
Inside, the cabin is impressively practical in a very stylish manner, while the charismatic handling has a lot to offer for more experienced drivers, while remaining user-friendly for those building confidence behind the wheel.
If you're in the market for a new car, you can get a free quote and see how much OnlineAuto can save you on your next car, or call us on 1300 719 925
Five Specs You Need to Know
Five-year, unlimited-kilometre warranty

12-month/15,000km service intervals

Five-star ANCAP safety rating

295L boot space in hatchback increases to 444L in sedan

5.8 - 6.6L/100km fuel economy figures (G20 vs G25)