You may have heard of electric cars costing upwards of $100,000 but this practical Mitsubishi Outlander plug-in hybrid (PHEV) starts from just $50,490
There was once a time when buying an SUV that can handle your family's adventuring needs meant more trips to the fuel station and less money in your account at the end of the week. This Outlander PHEV may have come from opposite world, since it even makes tiny hatchbacks look like gas guzzlers.
That's because the Outlander is an electric car, but with a petrol engine on board to take over and charge up the batteries when the need arises.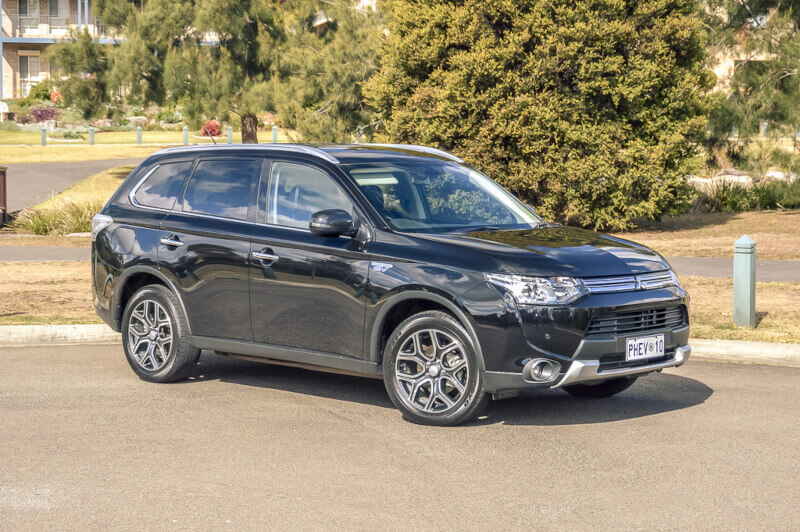 Technology that leaves you buzzing 24/7
Although the idea of driving a car with all this technology might seem complicated, it's just like driving a normal car, except with a combined fuel economy rating of 1.9L/100km, you'll be seeing petrol stations a lot less than before. There's all the features you'd expect from a modern SUV with a 5 star ANCAP rating, such as Apple CarPlay and Android Auto, smart key, adaptive cruise control and city emergency braking.
You can plug the PHEV into your home powerpoint for a 6.5-hour charging time, which gives you 54km of electric only mileage, or you can obtain a special fast charger capable of 80 per cent charge in an astonishing 25 minutes, less than the running time of a TV sit-com.
This means staying local is on your daily agenda, the petrol engine rarely has to kick in, but it's always on the ready if you want to venture out of town.
That VIP feeling
Best of all, an increasing number of shopping centres, such as Westfield are providing EV only car spaces near the entrance, so you can fill the massive boot (463 litres, or 1602L with rear seats folded) with the biggest, bulkiest items you can now dream of with your petrol savings.
Although the Outlander PHEV has all the bells and whistles you could imagine, the $55,490 Exceed adds even more trinkets. The seats become wrapped in delicious leather, there's a 360 degree camera for flawless parking every time, blind spot warning and rear cross traffic alert, for those extra pair of eyes when backing out.
Mitsubishi's famous five year warranty with 1 year free roadside assistance and capped price servicing the same cost as the normal petrol version almost seem too good to be true.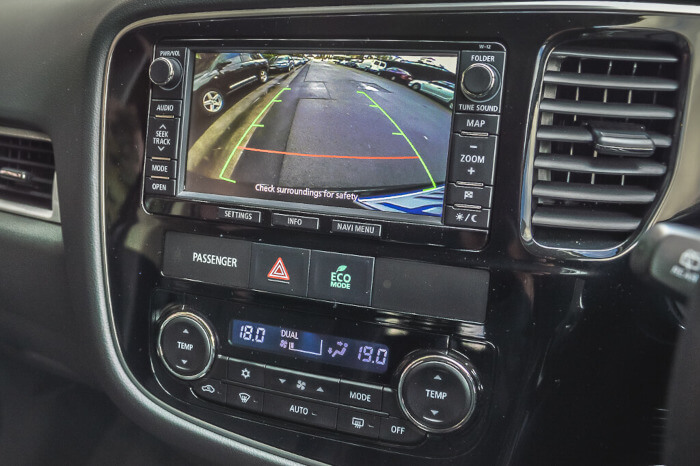 Our verdict
We now live in a time where saving the environment is not an expensive exercise full of compromises. With the Mitsubishi Outlander PHEV, you get all the practicality of a normal SUV, all the space and luxury plus you don't need a physics degree to drive it. It's solidly built and backed by one of Australia's biggest warranties, so taking a leap into the future has never been more welcoming.
5 specs you need to know
Engine: Two electric motors and 2.0-litre four-cylinder
Transmission and drive: One speed fixed gear
ANCAP Rating: Five stars
Official fuel economy: 1.9L/100km (6.5L/100km during our test)
0-100km/h as tested: 8.9 seconds
Pros
Very smooth and quiet drive
Feels more premium than the regular Outlander
Can be a very economical daily commuter if you live close to work
Looks pretty cool and imposing, especially in black
Only affordable plug-in hybrid SUV on the market
Technology
Cons
Dull throttle response
Not all that economical on the highway