While SUVs might dominate overall sales charts, Australian buyers are sticking with vans and minivans when it comes to meeting the needs of large families, those looking to convert their van into a comfortable camper van or strictly for moving large loads of cargo.
Manufacturers have obviously taken note of this demand, with a number of the biggest names in the business either updating their van lineups or even introducing brand-new entrants to the world of vans and minivans.
With that in mind, let's take a look at some of the best options in the world of vans and minivans here in Australia.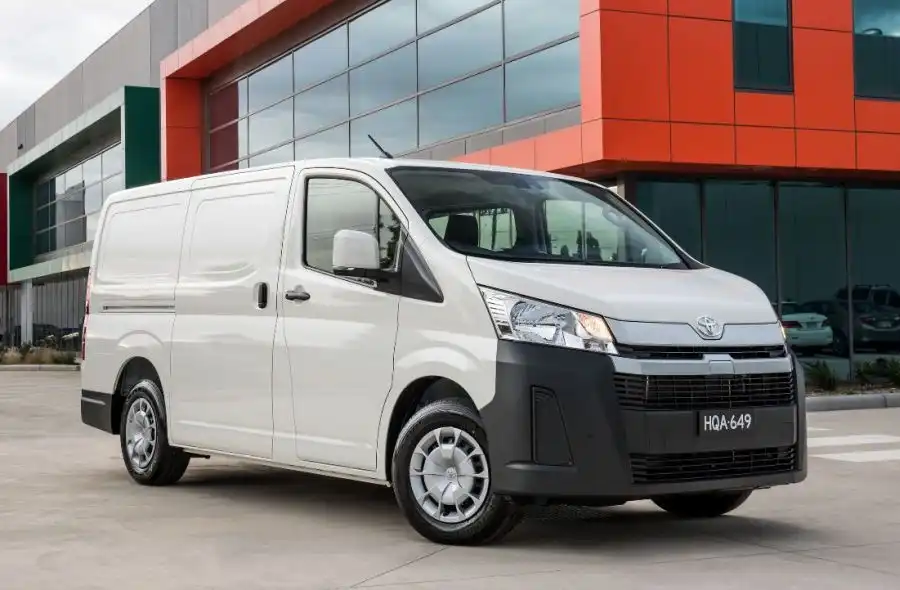 One of the most iconic names in the world of vans, the Toyota HiAce has seen its petrol engine dropped from the lineup, due to customers gravitating largely toward the diesel powertrain.
In its latest form, the HiAce range is priced between $44,230 for the entry-level LWB van with a manual transmission to $72,230 for the SLWB GL Bus with an automatic transmission, with everything from cargo van, commuter bus and crew van configurations available.
This means that there's a HiAce variant for pretty much every type of buyers, coming ready for action to move everything from a tray loaded with cargo to a comfortable passenger-ferrying platform.
The updated engine lineup means that the 2.8-litre turbo-diesel four-cylinder powers the entire range, throwing 130kW of power and 420Nm of power in the manual variant - 450Nm of torque in the automatic variant - to the rear wheels.
Standard equipment for the HiAce range includes 16-inch wheels, leather-wrapped steering wheel, 8.0-inch infotainment system with Android Auto and Apple CarPlay, while the higher-spec Commuter GL receives 16-inch alloys, powered sliding doors, faux leather upholstery and a set of LED running lamps.
The Ford Transit is perhaps the most famous name in the world of vans, and now in its fourth generation, Ford has continued to expand its Transit lineup with more options than you can shake a stick at.
The Transit range receives a 2.0-litre turbo-diesel four-cylinder across the range, which prices 125kW of power and 390Nm of torque, with power put to the wheels via a ten-speed automatic. Some of the larger cargo-focussed variants receive a slightly more powerful version of this engine which helps to get heavy loads up to speed without a fuss.
It's hard to keep count of just how many configurations of the Transit platform are available, however, the smaller Transit Custom line-up is more focused on the needs of small businesses while the Transit long wheelbase and Jumbo variants massively increase interior space with up to 15,000L of cargo storage available.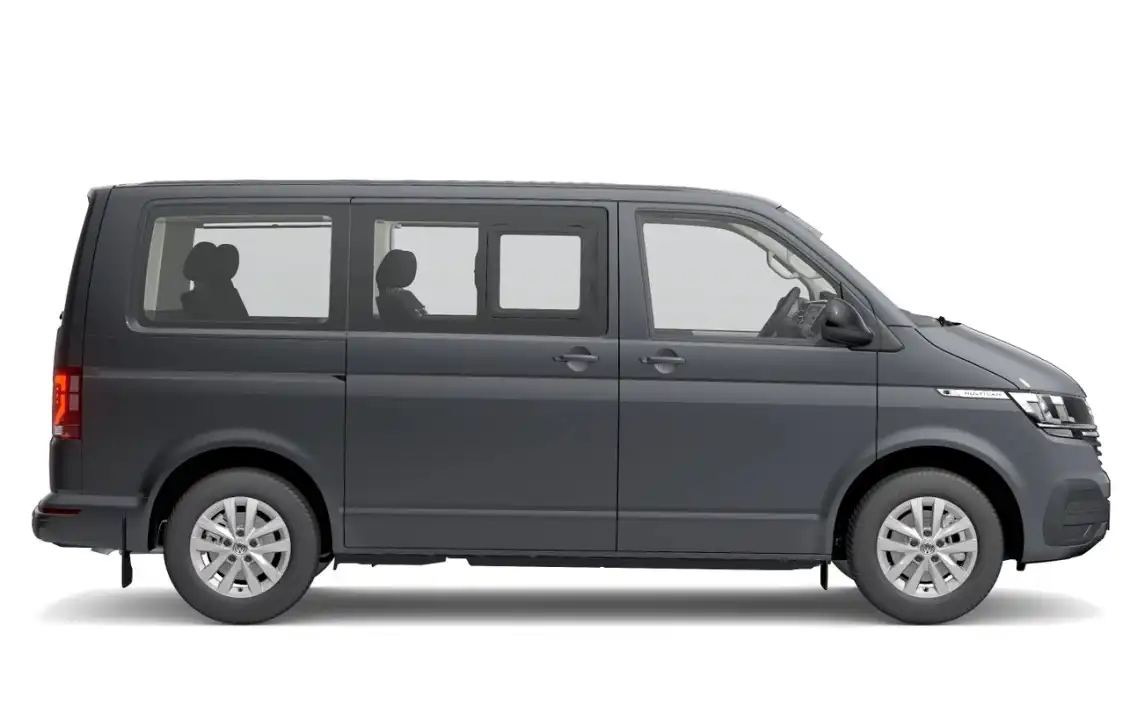 As the name might suggest, Volkswagen's van platform comes in a range of shapes and sizes, offering a heap of flexibility for buyers looking to convert their van into a camper, family chariot, or cargo transporter.
The VW Multivan lineup kicks off from $60,090 for the entry-level TDI340 Comfortline and maxes out in the form of the long-wheelbase TDI450 Comfortline Exec, both of which are powered by a turbo-diesel engine and receive a seven-speed dual-clutch transmission.
The short-wheelbase Multivan lineup measures in at 4,904mm long with a 3,000mm wheelbase, while the long-wheelbase variants measure in at 5,304mm long with a wheelbase of 3,400mm, with the Multivan offering a heap of adventure-ready equipment and options.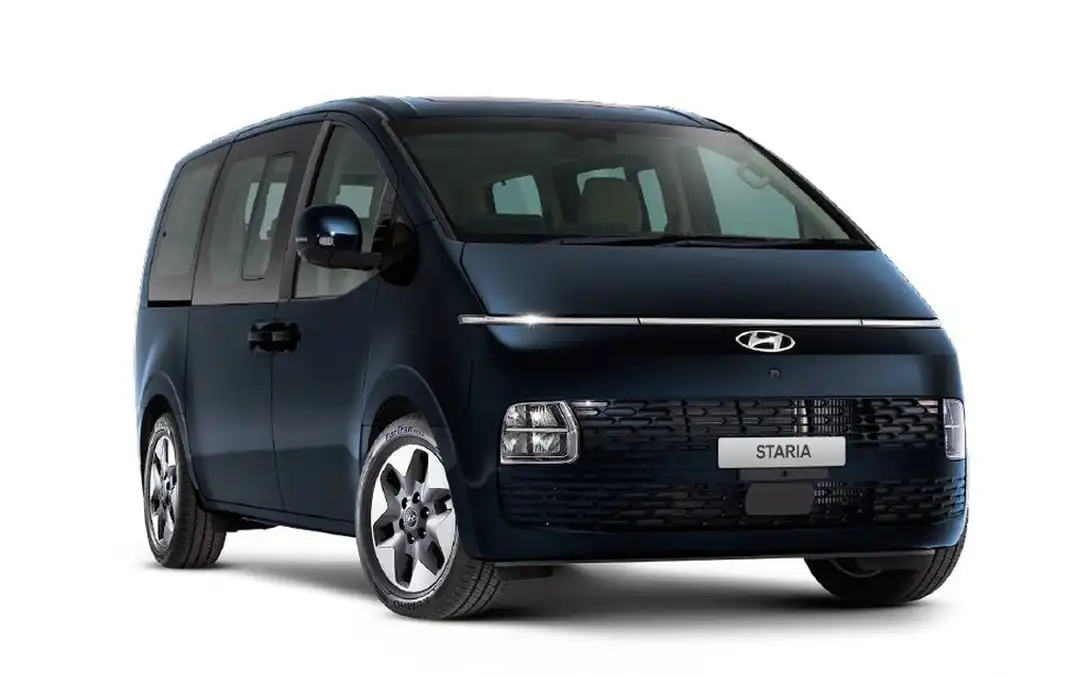 Hyundai's take on the minivan platform comes in the form of its stylish and futuristic Staria lineup.
Measuring in at 5,253mm long with a wheelbase spanning 3,273mm, the Staria's large platform lends itself perfectly to the needs of Australian families while also offering a commercial-focussed Staria Load variant for those in need of a spacious workmate.
The Staria Load lineup is priced from $47,990 and offers seating for two up front, or the option of a five-seater crew van. In a two-seat layout, the Staria Load can accommodate three fully-loaded Euro pallets measuring 1,200mm x 800mm thanks to its 4,935L cargo capacity.
For families, the standard Staria platform is a futuristic take on the standard minivan that gives passengers a spacious cabin filled with practical elements and a heap of entertainment and safety features for the price.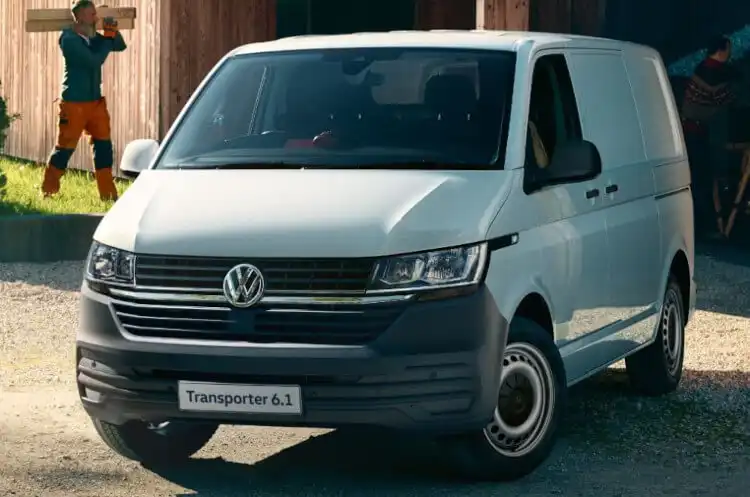 While the VW Multivan is directed more at adventurous couples or large families looking for a comfortable camper for weekends away, the VW Transporter lineup targets buyers looking to move large loads of cargo and even comes with the option of a tray over the rear axle.
Prices start from $41,990 for the short-wheelbase van while the long-wheelbase variant is priced from $47,990. The Crewvan variant is priced from $54,490 and the Transporter Chassis with a factory tray is priced at $58,490.
The Transporter range features 2.0-litre turbo-diesel engine with varying outputs depending on the variant, all of which receive a seven-speed dual-clutch transmission and the option of VW's 4Motion all-wheel drive system.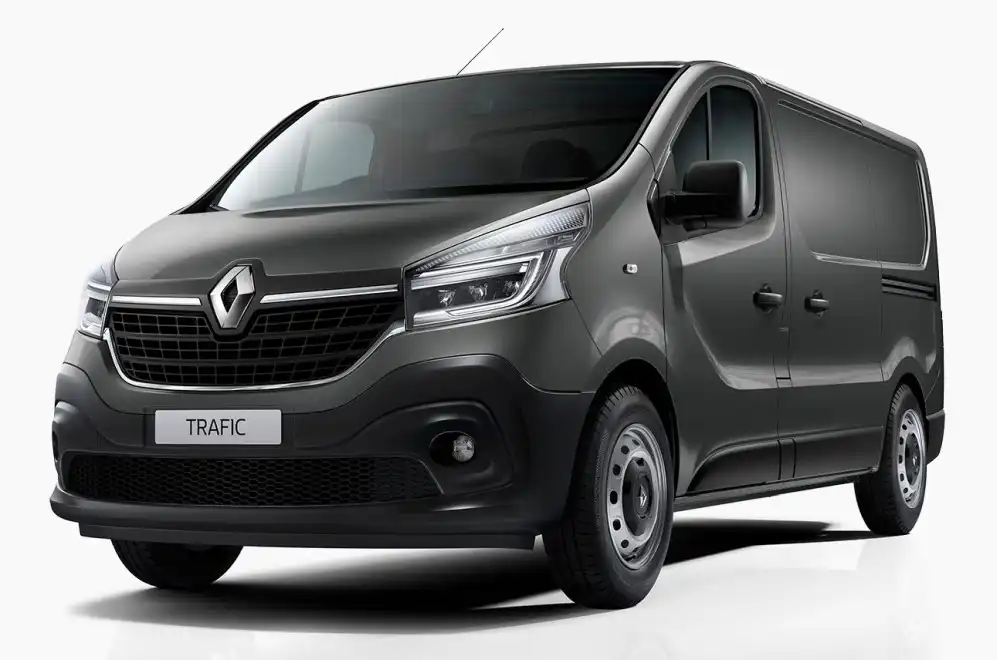 Renault's Trafic range is one of the most affordable entry-points into the van segment, which in its latest form, offers two length variants across a trio of diesel powertrains.
Priced from $36,990, Renault's short-wheelbase Trafic Pro with a manual transmission is a cost-effective cargo van that is powered by a 1.6-litre turbo-diesel kicking up 85kW of power and 300Nm of torque, while the Trafic Premium produces between 103-125kW of power and 340-380Nm of torque.
The Short-wheelbase Trafic Pro measures in at 4,999mm long while the long-wheelbase stretches out to 5,399mm long, with a cargo bay measuring in at 2,537mm long in the base model and 2,937mm in the largest variant.
Standard equipment on the Trafic Pro includes LED headlights, a leather steering wheel and fog lights, while the Premium variant receives a 7.0-inch infotainment system with Apple CarPlay & Android Auto.
Peugeot's entrant to the world of vans comes in the form of the competitively-priced Expert range, which comes with no less than seven powertrain and wheelbase configurations to meet a range of commercial needs.
The Expert range is powered by two versions of the same 2.0-litre turbo-diesel unit, one kicking up 110kW/370Nm in the base model, while the Sport lineup pushes out 130kW of power and 400Nm of both, which is available with both a manual and eight-speed automatic transmission.
The short-wheelbase version measures in at 4,959mm long while the longer version measures 5,309mm; both of which retain a wheelbase of 3,725mm that translates to a cargo volume rated at 5,300L in the base model and up to 6,100L in its bigger sibling.
The base model receives a 1.4-tonne payload capacity, with easy access into the rear of the van provided by a set of barn doors at the rear and a pair of sliding side doors.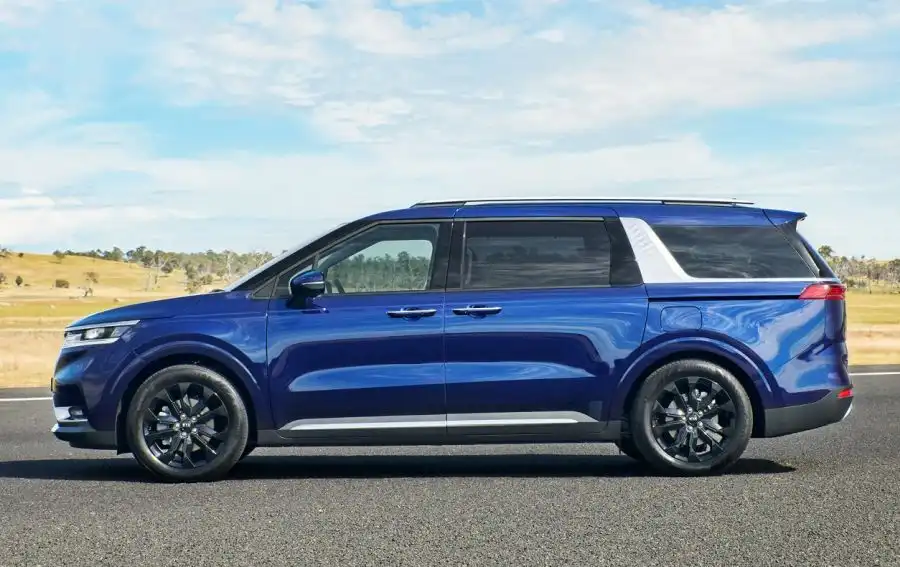 We'll start our list with one of the leading entrants in the family-friendly minivan segment, the Kia Carnival, which offers Australian parents a heap of space, practicality and features for the money.
Kia has given the Carnival a significant update in recent months, with the addition of more equipment and interior space than ever before, with the lineup priced from $46,880 for the base Carnival S, stretching out to $66,680 for the range-topping Carnival Platinum Diesel.
Engine options include a V6 petrol producing 216kW of power and 355Nm of torque, as well as a 2.2-litre turbo-diesel producing 148kW of power and 440Nm of torque which power the front wheels via an eight-speed automatic transmission.
The Carnival's platform can comfortably accommodate eight people, with easy access to the second and third rows provided by a pair of sliding doors, while higher-spec variants can have two sunroofs that add to the sense of space inside the cabin.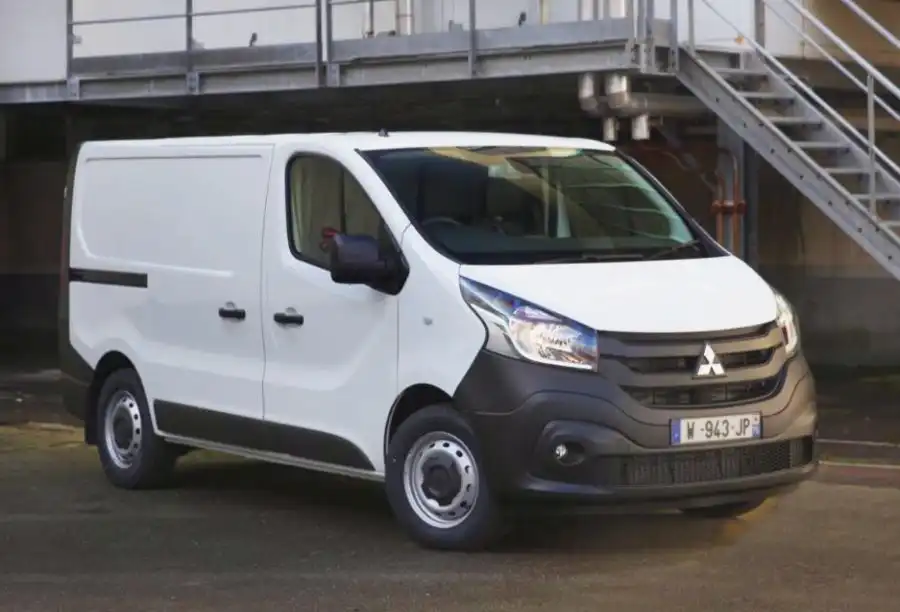 The Mitsubishi Express has been a staple of the Australian van landscape for years now, and in its latest form, Mitsubishi has made the Express an even more attractive value for money proposition.
Priced from $38,490, the Mitsubishi Express range offers buyers a choice of two different bodies and a pair of engine options across the range, with two model grades covering both the short and long-wheelbase variants.
Up front, there's a choice of a 1.6-litre diesel producing 103kW of power and 340Nm of torque alongside a turbo-diesel kicking up 125kW of power and 380Nm of torque, which is no doubt the pick of the bunch if you're planning on moving large loads of cargo.
The shortest variant measures in at 4,999mm long with a wheelbase of 3,098mm and cargo capacity volume of 5,200L, while its bigger brother measures in at 5,399mm long with a wheelbase of 3,498mm that translates to a volume figure of 6,000L.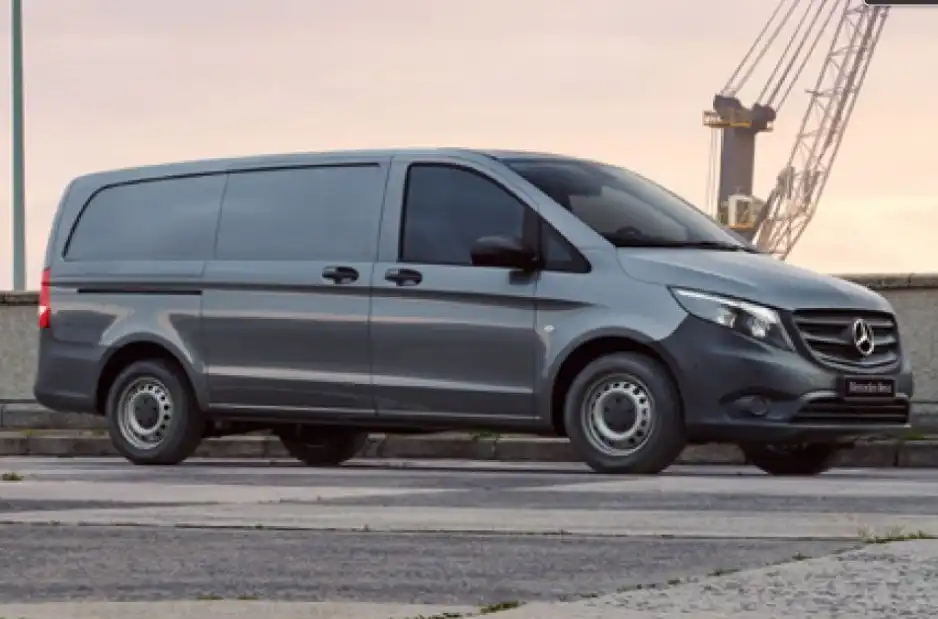 Mercedes-Benz has updated its Vito van lineup for the latest model year with a choice of panel vans and crew cab variants that are focused on moving cargo, but also provide a great platform that lends itself perfectly for a camper van conversion.
Mercedes' cheapest panel van, the Vito 110 short-wheelbase is priced from $44,058 and stretches out to $68,038 for the 119 long-wheelbase van, while the cheapest Crew cab is priced from $62,664 and stretches out to $72,921.
Power is supplied by a pair of turbo-diesel engines that produce 84kW/270Nm in the base model and increase to 120kW/380Nm for mid-range models and peak at 120kW/380Nm for the flagship 119 lineup; all of which are offered with a manual or nine-speed automatic transmission.
Standard equipment for the entry-level Vito 111 includes 16-inch wheels, a pair of sliding doors, automatic headlights, climate control and a 7.0-inch infotainment system with Apple CarPlay & Android Auto, while higher-spec variants gain adaptive cruise control, comfort seats and parking sensors.
Request a Free Quote
If our list has got your imagination running, click here to get a free quote on your dream car, or to get in contact with our team of car-buying experts.