Family car doesn't equal minivan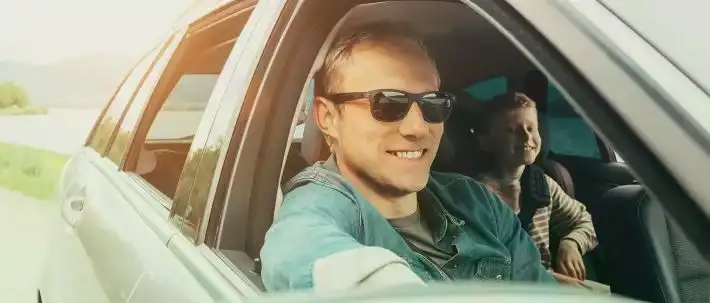 As a Young Parent are you looking for a stylish family car? Or maybe you consider yourself a Cool Parent wanting a car that blends in at both Saturday Soccer and the carpark of that new fancy restaurant in the city.
Our experts have popped the pram in the boot, fitted the car seats and hit the road to come up with our top car picks, where style meets practicality and it doesn't equal a minivan!
Subaru XV
Based on the Subaru Impreza, the XV is well matched top the adventurous type. The somewhat Jurassic Park theme of the exterior gives a hint at its rugged values.
Because it's a Subaru it's got a nice amount of safety tech, including what Subaru calls a second pair of eyes to help with emergency braking and keeping you in your lane. It's a car that looks just as cool sitting in the driveway of your city house as it would on your farm on the weekends. You get the necessities, like dual-zone climate control, a media screen with USB and Bluetooth connectivity, extra rear USB power outlets, 17-inch alloy wheels, reversing camera, cruise control, proximity locking/unlocking, seven airbags and that famous Subaru symmetrical all-wheel-drive system.
The controls are easy to learn, with no nasty surprises and buyers will be attracted to the simplicity of the dash layout, and information available on the instrument cluster.
Read the full Subaru XV review
BMW X3
The X3 is noticeably more practical and user-friendly than previous models, whilst still keeping its stylish look. For example, the instrument cluster is now pretty much fully digital and there is now front and front-top view camera displays which automatically come on when you're trying to park.
BMW have drastically improved the safety tech. There's now autonomous emergency braking, lane departure and blind-spot warning, and a standard built-in SIM card with automatic emergency call. Adaptive cruise control with stop-and-go traffic function and autonomous-like comprehensive steering assist is also available.
It presents superb handling, a very practical cabin with lots of real-world-applicable conveniences and technologies, packaged together with decent pricing. Basically, it's difficult to find another vehicle out there that can match all of this, at this price point.
Mazda CX-5
From the moment you enter the cabin, you notice a high quality environment for this class and standard features list is extensive in most variants.
All of the must-have items are standard, including a rear-view camera, Bluetooth, digital radio, automatic on/off LED headlights (at least for Touring and GT), auto wipers, GPS sat-nav, cup holders galore, and dual-zone climate control. Going for the GT gets you a power tailgate, and, thanks to the 2018 update the Touring receives the latest head-up display system.
The seats are extremely comfortable, with a leather option practical and easy to clean. Seating space in the front and rear is at the forefront of the class too, helping the CX-5 remain as one of the best family-friendly cars on the planet.
Read the full Mazda CX-5 review
Hyundai Tucson
The Tucson is a fresh SUV loaded with features, offering low running costs with a five-year/unlimited kilometre warranty, a neat and user-friendly interior, and a smart exterior design. It feels sophisticated without being complicated for this segment, and is comprehensive and detailed enough i n most of the important areas.
The standard power-operated tailgate ensures simple opening and closing at the touch of a button. Inside is a big enough boot to cater for the most ambitious of shopping expeditions. The boot floor is the perfect height too, so you can slide things straight in without needing to do any bothersome lifting.
Read the complete Hyundai Tucson review
Lexus NX
Love your creature comforts? You'll love the Lexus NX Sports. With almost everything you could want included in the base model, this is an SUV that takes luxury cars to the next level.
We love the Lexus simply because almost everything you could possibly want is standard; front and rear power seats, radar cruise control, surround-view cameras, sat-nav, large LCD interface, plus an electric sunroof and 14-speaker stereo so you can pump those tunes while you get your daily dose of Vitamin D.
The Lexus delivers comfort in spades. The back seat easily fits three adults (or three rapidly growing children) and the cabin is tall, which means lots of headroom for everyone involved.