The Definitive Checklist For Australians Buying a New Car
AF By Alexi Falson October 29, 2021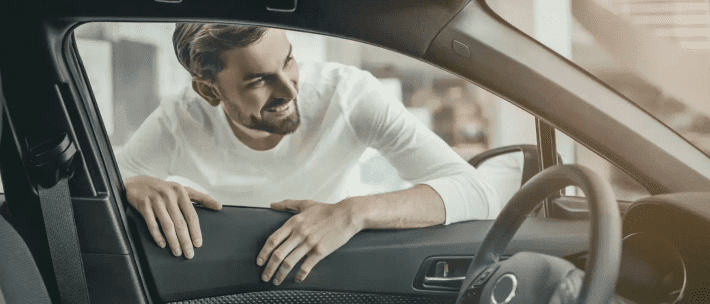 Taking the plunge and buying a new car is a massive financial decision, but you'll be pleased to find out you can save yourself a considerable amount of both stress and money when you're prepared for the process.
Avoiding the stress and rushed decision making can help you mitigate some of the most common pitfalls of buying a new car, so today, we're going to give you a comprehensive list of what to check when buying a new car, with our vehicle buying checklist.
When it comes to your next purchase, preparation is the most significant weapon in your arsenal, and will help to keep you level-headed in a world that can often result in hasty decisions that can prove costly over time. With that in mind, let's work our way through the new car buying checklist and discover some ways you can save yourself the stress of a rushed purchase potentially thousands of dollars in the process.
Determine Your Budget
Of course, the journey toward your next vehicle starts with an honest assessment of your financial position, and how much money you can comfortably put toward the purchase. At the very least, you'll have a clear picture of where you stand in the market, which will help you in the process of researching, finalising a shortlist and negotiating the best possible price from your next car.
Financial best practices state that you can comfortably spend anywhere between 10-15% of your annual income outright on a new vehicle, which can stretch out to around 20-30%, depending on your circumstances and financing options.
Do Your Research
While we might be guilty of sounding like your highschool teacher, here, the process of buying the best possible new vehicle at the best price starts with some considerable time researching. Taking a look at the market in general, as well as the different options in your chosen category gives you an objective overview of the segment, and should be the starting point of whittling-down your shortlist of preferred vehicles and manufacturers.
If you're unsure of where to start, reading reviews of cars that you're interested in is a great way to escape the marketing spin directly from the manufacturer, offering an unbiased opinion of a new car's price, features, practicality and fuel economy, as well as how it stacks up against its competitors. OnlineAuto's comprehensive library of reviews is a great place to kick off your research, with reviews from professional automotive journalists that translate all that industry jargon into digestible information that should be the bedrock of your research process.
Check for Upcoming Replacements or Significant Updates
When you're at the point that you have either a shortlist of contenders, or a clear idea of the type of car you'd like to upgrade to, it's essential that you check for any significant updates coming in the next few months, or whether that model is due for a completely new generation in the near future.
Typically, year-to-year updates are relatively superficial, offering some small aesthetic tweaks or some added interior features, however, waiting it out for a new generation can prove one of the best decisions you'll make. This is due to the fact that a completely new generation of vehicle often introduces a number of extremely important updates. New engines with improved fuel economy, new chassis technologies, entertainment and comfort features and even safety equipment are the usual headlines of a new generation, and you, as the buyer, stand to benefit immensely by waiting it out for a replacement, rather than purchasing what's available right now at the dealership.
Eliminate Brand Loyalty From The Equation
If you're absolutely committed to sticking with your manufacturer of choice, feel free to skip to the next part of our checklist. If you're interested in getting the best possible vehicle at the cheapest price, however, you might want to eliminate any brand loyalty or biases and see what the competitors are up to. Competition in the automotive industry is fierce, and as a result, the consumer benefits immensely from the one-upmanship that often occurs between manufacturers. Shopping around and looking at cars you might not have initially considered is a great way to step into a new car with more equipment or a more attractive ownership program than your preferred manufacturer.
Figure Out Which Features Are Important
There's a mind-boggling amount of vehicle equipment and features out on the market, which is a very intentional device on the part of the manufacturers to actually get customers spending more money than they might have originally planned on their new car. The important thing to remember, here, is that not all car features are created equal, and avoiding the urge to step higher up into the range can save you thousands on some potentially superficial upgrades.
The best way to navigate the loud, crowded world of trim levels and features is to take a look at a vehicle's entire range, and get an understanding of what's on offer in the entry-level vehicle, and which features are on offer as you upgrade. Of course, you are the best judge of which features you need from your next car, so take a look at spec sheets and make sure your bases are covered in the model you're looking at.
Look for any Plate Clearances
As manufacturers introduce new and updated models to their range, the dealerships that are responsible for moving these vehicles are, at times, pressed for space on their lots and offer huge savings on the previous year's model simply to accommodate new stock. One of the simple ways you can get the best price on your next car is to keep an eye open for plate clearance deals, which are often in the first few months of the year. During plate clearances, drive-away prices are often significantly cheaper when compared to its replacement, in spite of the fact they're often identical vehicles. For this simple reason, being aware of upcoming plate clearance sales is one of the easiest ways to grab your dream car- for a bargain.
Negotiate Price
Now, for everyone's least favourite part of the new car buying process: negotiating the best possible price. It's important to remain realistic when talking price with a seller, because new cars have a manufacturer's suggested retail price (MSRP) that they will take into account. The aim as a buyer is to reach a price that reflects the best savings for you on on the dealers price, while still providing the seller with an incentive to sell the vehicle to you. As they have inventory to manage as well as their own business overheads, they have an opportunity cost which they factor in to each negotiation.
While it's impossible to give you a step-by-step walkthrough of the negotiating process, the most important thing you can do here is to have done your research. If the seller gets the impression you can be manipulated, they will often pull out every trick in the book to squeeze you.
Keep in mind the points we talked about earlier, in relation to plate clearances, model updates and completely new generations coming for specific vehicles, which can also give you some added leverage during negotiations. Say, for example, a dealer is firm on the price of a vehicle that is set to be updated or replaced entirely in the near future. If you're aware of the external factors surrounding replacements and the need for dealers to move stock ahead of a new model's introduction, you can verbalise this and have genuine reasons to negotiate them down on price.
At the very least, you're going to appear knowledgeable to the seller, which reduces the chances that you'll be taken advantage of.
Consider Extended Warranties, Prepaid & Capped Price Servicing
Once the negotiation phase is out of the way, you're nearing the final turn on your race to a bargain. But before you finish that race, it's time to consider long-term ownership programs, which can vary dramatically from manufacturer to manufacturer. These can also be used as potential bargaining chips in your negotiations, too, if the dealer remains firm on the price of a car, but you will only continue with the transaction if they can throw in some added ownership perks.
For more information on prepaid and capped price servicing packages, we've covered it in a previous article which you can read here.
Do Car Loan Brokers Conduct Credit Checks?
In the process of applying for a car loan, you give the car loan broker approval to check your credit history, including your current credit score, to give them an idea of your applicability for a car loan. This is also part of the identity verification process, which means there can be what's known as 'hard' and 'soft' credit checks. Car loan brokers do indeed conduct credit checks on loan applicants to ensure firstly that they are exactly who they say they are, to avoid any identity theft or fraud, as well as ensure the financial suitability for the loan in question.
Is Pre-Approval a Hard Credit Enquiry?
There are two types of credit enquiries in the financial world, a 'hard' and a 'soft' enquiry. A soft credit enquiry, otherwise known as a soft credit check does not impact your overall credit score due to the fact that it is not linked to any specific application for credit or a loan. A hard credit enquiry, on the other hand, is conducted when a customer applies for credit or a loan, for a car or a house. In the process of checking your suitability for that loan, a lender will request to review your overall credit score with a 'hard enquiry,' which is recorded and can impact your overall credit score if multiple loan applications are submitted and eventually denied.
Can You Get a Loan Denied After Pre-Approval?
While it is considered unusual for a loan to be denied after the pre-approval phase, it remains a possibility if the lender in question believes you will struggle to pay back the desired funds, or if you have changed jobs in the recent past. It should be noted that securing pre-approval for a loan is no guarantee that you have secured the loan, so be cautious in your approach and wait until your settlement has been finalised before you make any concrete financial moves.