What is the Best Family Car in Australia in 2021?
AF By Alexi Falson July 16, 2021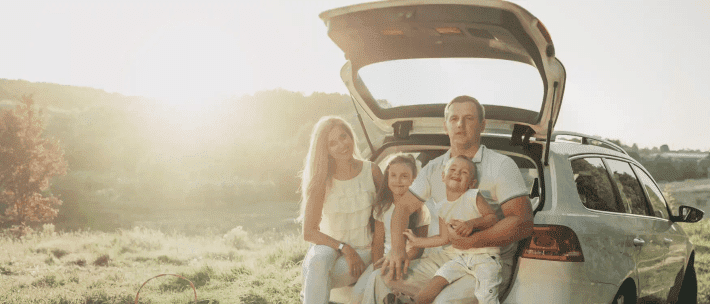 On average, we hold onto our cars for anywhere between 7-12 years, so you want to make sure your purchase can grow with your family, and has cutting-edge technology that can stand the test of time.
Today, we're going to unpack all your different options, and see whether the best car for your family is a wagon, SUV or sedan, as well as give you a list of essential features to look out for in your new family car.
What Features Should You Consider in Your Next Family Car?
If you're looking at purchasing a new family car, we think that there are five determining factors that should help steer your decision, to ensure your purchase is the best, safest and most comfortable option for your next family car.
Safety
Arguably the most important consideration while purchasing a family car is just how well it will keep your family safe. Thankfully, in 2021, family cars are packed to the brim with safety technology that helps to keep your car - and your family - away from most avoidable accidents. ANCAP's safety ratings are a great place to start, as well as comparing just how much safety equipment the manufacturer is willing to throw into their entry-level models. Keep in mind that some manufacturers reserve features for more expensive models, so comparing the market in terms of safety features could save you more than just money down the line.
Infotainment
Considering the average Australian holds onto their car for nearly a decade, you want to make sure your next family car is fitted with the latest infotainment system so it doesn't feel too dated in the near future. The infotainment system is the screen in the middle of your dashboard, home to entertainment and information on the car - hence the term, infotainment. Make sure that your next vehicle has been fitted with Apple CarPlay and Android Auto connectivity, which helps to future-proof your infotainment system in the future. While the hardware remains the same, having either Apple or Android support means that as the services are updated through software, you'll be using a quick, modern and simple infotainment system in your car, even as it ages.
Ownership Programs
The process of purchasing a new car is made significantly easier when you know that the manufacturer is confident in their product, and the warranty is the best indication of just how long they think the car will hold up without any unexpected and costly issues. Make sure you take a manufacturer's warranty into account when looking at your next family car, as well as looking at any capped-price servicing deals they're offering with the purchase. The average car warranty stands at around five-years, with some manufacturers now offering seven and even ten-year warranties on their new vehicles. If you'd like to learn more about capped price servicing, we've covered it in a previous article which you can access here.
The main takeaway here is to keep an eye out for warranties offering at least five, if not seven years in their warranty terms, as well as capped-price servicing deals that can save you thousands.
Comfort
Keeping a growing family content on a school run or long holiday road trip comes down to far more than the features the car has been fitted with… it's dependent on how comfortable the car is, which is determined mostly by its suspension setup. All cars handle differently, but certain types of cars behave in a similar way, thanks to their suspension. Typically, a wagon-body or an SUV will have more comfortable suspension fitted, which is why they've become such popular cars for families. With that in mind, as you're looking at all the options on the market, don't forget just how important it is to take the car for a test drive and see just how comfortable it is. Try to find some bumps on the road and steer the car over them, approach roundabouts just a little faster than you normally would to see how firm the ride is, and spend some time on the highway to see if the car is comfortable on the open road, or whether there's too much road noise coming through the cabin.
12 of the Best Family Cars On Sale in Australia in 2021
What Car is Best For a Family Trip For 8 People?
If you're looking to accommodate more than the usual seven people for a holiday trip away, there are a number of cars that can seat up to eight people thanks to an interior design that features two separate rows of bench seats. Some of the most affordable options here include the Honda Odyssey, Kia Carnival, Toyota LandCruiser 200, Hyundai Palisade, Nissan Patrol and the Lexus LX.
What are the Best Affordable Family Car Options?
In terms of the most affordable family cars on Australian roads today, the choice really comes down to how big your family is, and how much space you need for day-to-day activities. If you're a small family, a compact SUV like the Hyundai Kona, Mazda CX3, Toyota CH-R or the Honda HR-V offer enough space for adults and a pair of young ones, but when they get closer to their teenage years, you'll want to upgrade to a medium or full-sized SUV or a wagon body. Some of the best options here include the top picks we've listed above, including the Subaru Forester, Kia Sorento, Toyota Camry or RAV4, Mazda CX-5 or the Volkswagen Tiguan.