Review - 2022 Mitsubishi Triton
AF By Alexi Falson March 03, 2022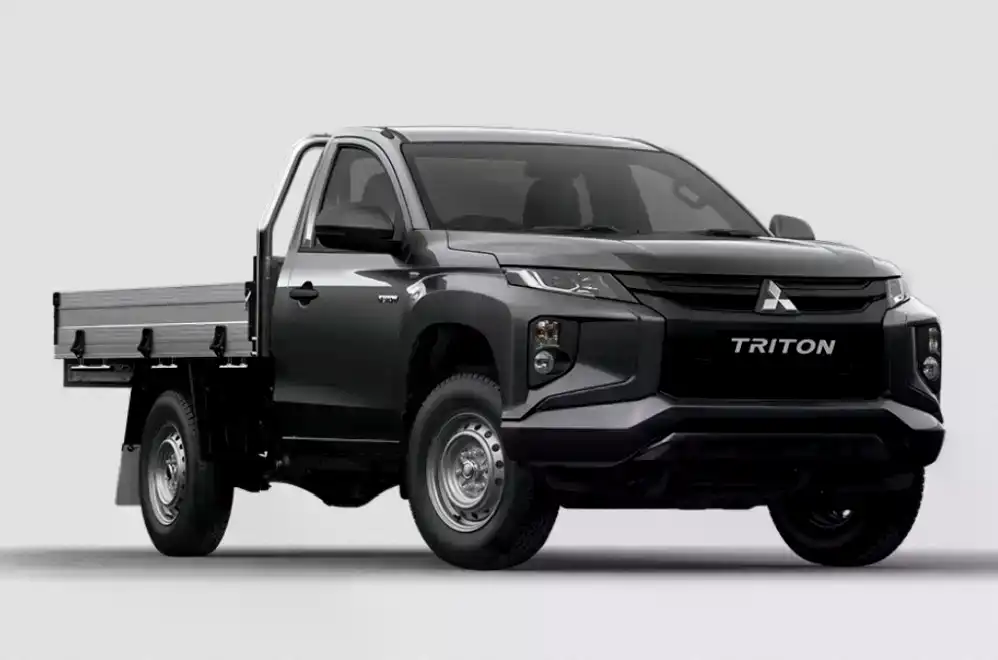 While it might seem surprising, utes like the Triton provide a healthy balance between real-world performance on the worksite in a comfortable and family-friendly platform that can double as a weekend or holiday tourer when needed.
While it may have fierce competitors, the Triton is attempting to win over buyers with attractive price lists that offer a serious value-for-money proposition over its key rivals. With that in mind, let's unpack the Triton range and see how much value is on offer, whether there's some sacrifices for these attractive prices, and whether it stands up to the pressure applied by its competitors.
Starting Price: $23,740
OnlineAuto Savings: Enquire now
Mitsubishi Triton - GLX (4x4)

Specifications
| | |
| --- | --- |
| Model Date | 2022 |
| Make | Mitsubishi |
| Model | TRITON |
| Series | MR MY21 |
| Variant | GLX (4x4) |
| Body | DOUBLE C/CHAS |
| Fuel type | DIESEL |
| Transmission | 6 SP MANUAL |
| Drive | 4x4 |
| Engine | TCDI |
| Engine capacity | 2442 |
| Engine configuration | DUAL OVERHEAD CAM / 16 valves |
| Engine RPM | 3500 / 2500 |
| Cylinders | DT4 |
| Torque | 430 |
| KW | 133 |
| Fuel tank size | 75.0 |
| Fuel usage specs | 7.9 / 0.0 |
| CO2 | 208 |
| ANCAP security rating | 4 |
For more details and other variants, check Mitsubishi Triton car page.
How Much Does It Cost?
The Triton Single Cab lineup kicks off from $23,740 for the GLX 4x2 manual with a petrol engine, rising to $28,240 for the GLX 4x2 turbo-diesel with a manual gearbox. The Triton GLX 4x2 automatic is priced at $30,490, while the 4x2 cab chassis automatic is priced at $37,240.
Opting for a Triton Club Cab brings the price to $37,440 for the GLX 4x4 with a manual gearbox, rising to $40,440 for the automatic, while the GLX+ 4x4 is priced at $43,190.
Mitsubishi's Dual-Cab range kicks off from $37,940 for the GLX 4x2 automatic, while the 4x2 manual and automatic are priced at $38,940 and $41,190 respectively. Moving to the GLX-R 4x2 brings the price to $41,740, while the 4x4 automatic is priced at $42,140. The Triton range tops out in the form of the GLS and GSR 4x4 ute, which is priced at $49,540 and $53,240 respectively.
Keep in mind that there are a number of other variants we haven't mentioned here, and these prices do not include on-road costs.
How Much Can OnlineAuto Save You?
You could save money by using one of OnlineAuto's car agents to assist you in finding the best car for you. As one of the leading car buying services in Australia, our team have access to a range of dealerships across the country to help find you the best deal.
What Features Does the Mitsubishi Triton Have?
Mitsubishi's entry-level Triton GLX comes riding on a set of 16-inch steel wheels, and receive cruise control, air conditioning, remote central locking, vinyl floor covers, a reversing camera and a 6.1-inch infotainment system, while GLX dual-cab variants receive automatic wipers, headlights and fog lights, autonomous emergency braking and lane departure warnings.
Opting for the Triton GLX+ grade adds a set of 16-inch alloys, side steps, rear locking differential, climate control, reversing camera with rear-mounted parking sensors, as well as an upgraded 7.0-inch infotainment system with DAB+ radio, Apple CarPlay and Android Auto. While moving to the GLX-R adds a set of black 18-inch alloys, chrome mirrors and door handles, a leather-wrapped steering wheel and gear lever, as well as rear privacy glass.
The Triton GLS receives a set of LED headlights, keyless entry & start, front parking sensors, dual-zone climate control, blind spot monitoring and rear-cross traffic alerts, as well as an upgraded six-speaker sound system.
Finally, the range-topping Triton GSR receives 18-inch alloys, leather upholstery, heated front seats, a black roof and front grille design, as well as a power-adjustable driver's seat.
Range Features:
16-inch steel wheels

Cruise control

6.1-inch infotainment system

Air conditioning

Reversing camera

Central locking

Automatic headlights

Fog lights

Autonomous emergency braking (AEB)

Lane departure warning

16-inch alloys (GLX+)

7.0-inch infotainment system with DAB+, Apple CarPlay & Android Auto (GLX+)

Reversing camera with rear-mounted parking sensors (GLX+)

Rear locking differential (GLX+)

Side steps (GLX+)

LED headlights (GLS)

Keyless entry & start (GLS)

Super-Select four-wheel drive system (GLS)

Front parking sensors (GLS)

Blind-spot monitoring and rear-cross traffic alerts (GLS)

18-inch alloy wheels (GSR)

Black grille, alloys and roof (GSR)

Leather upholstery (GSR)

Heated front seats (GSR)
Mitsubishi Triton Colours
The Mitsubishi Triton is available in a range of colours, including White, Red, Impulse Blue, Sterling Silver, Graphite Grey, Black, White Diamond and Sunflare Orange, depending on your chosen variant.
Is it Comfortable to Drive?
While the Triton has been designed largely for worksites and adventurous driving in mind, it remains an exceptionally smooth and comfortable commuter for every day driving. This is because the rugged underpinnings provide an extremely strong and supportive platform that makes the Triton smooth while driving around town, and makes light work of rough country B-roads.
When it comes to power, Mitsubishi offers the base GLX single cab with a 2.4-litre petrol that produces 94kW and 194Nm of torque, while the rest of the range receives a significantly more powerful 2.4-litre turbo-diesel producing 133kW/430Nm of torque.
If you're looking for a healthy balance of power for the worksite and even every day driving, we'd highly recommend stepping up to the turbo-diesel unit that makes commuting a smooth and simple task, while offering significantly more pushing power when the going gets rough.
The six-speed automatic transmission takes care of the shifts while positioning you well-within the diesel engine's torque band, making the Triton an easy car to pilot around town and on long holiday road trips.
Overall, the simple platform combined with heavy-duty suspension and a lightweight steering rack makes it perfectly accessible to drivers that are new to the world of utes, and remains a competent and adaptable vehicle for both work and play.
Is it Practical and Spacious?
If you're in the market for a ute that can handle both work and family duties, opting for the Triton in a dual-cab platform is going to be your best option. In this configuration, the front of the cabin offers the driver and front passenger a heap of space and headroom to get comfortable, while positioning them high off the road with a great view out of the windscreen.
Practical touches in the front of the cabin include a set of door bins either side, a sunglasses holder, a compact folding armrest with storage inside, some storage behind the gear lever and a set of cup holders. The Triton's cabin remains straight-forward and utilitarian, which means it is easy to navigate and remains family-friendly.
On that note, the rear seats in the Triton's dual-cab platform offers enough space for an extra set of legs, and is more than capable of accommodating kids without a problem. For any adults sitting in the rear, you'll notice your knees touching the seat in front, and while there isn't a heap of headroom available, it's perfectly acceptable for short trips.
For anyone with children, the Triton features a pair of ISOFIX anchors in the rear of the cabin, as well as a pair of charging ports to keep devices charged up on long holiday road trips.
Is the Mitsubishi Triton a Workhorse?
As a vehicle designed primarily for the worksite, the Triton excels when put under the test. As we've already mentioned, the turbo-diesel unit is the pick of the engine bunch, offering a heap more torque than the entr-y level petrol, so if you're moving heavy loads around, make sure you're opting for the turbo-diesel Triton.
The base model Mitsubishi Triton GLX single cab is rated at 1,800kg of braked towing capacity, with a maximum payload capacity rated at 1,280kg. These numbers increase to 3,100kg of braked towing capacity in the most powerful engine variants, with payload capacities dropping to around 900kg, with a gross vehicle mass of 5,885kg.
The Triton's tray measures in at 2,500mm by 1,800mm in the single cab configuration, while the dual-cab Triton offers a tray measuring in at 1,520mm long, 1,470mm wide - with 1,085mm between the wheel arches - and 475mm high.
All up, the Triton benefits from a relatively low kerb weight, which translates into healthy payload capacity figures, although the 3,100kg towing figure is slightly behind the 3,500kg you'll find in a number of the Triton's rivals.
Is it Safe?
The Mitsubishi Triton has been awarded ANCAP's maximum five-star safety rating, scoring 15.22 out of 16 for front impact protection and 16 out of 16 for side impact protection. As standard, entry-level Tritons come packed with anti-lock brakes, side and curtain airbags, while most receive autonomous emergency braking, lane departure warnings and forward-collision avoidance.
In order to receive things like rear-cross traffic alerts and blind-spot monitoring, you'll have to upgrade to the GLS or the GSR variants.
Is it Fuel Efficient?
The base Mitsubishi Triton, powered by the 2.4-litre petrol unit returns an unimpressive fuel economy figure of 11.4L per 100km on a combined cycle, while the 4x2 diesel is rated at 7.8L per 100km in the single cab manual, and 8.3L per 100km in the automatic.
Dual-cab Triton variants are rated at 8.4L per 100km on a combined cycle, while 4x4 variants are rated at 7.9L/100km and 8.6L/100km for the manual and automatic versions respectively.
Our Verdict: Is the Mitsubishi Triton Worth it?
While the competition may be extremely fierce, the Triton provides a comfortable and flexible package for those looking for both a workhorse and a family-friendly vehicle for weekends away and holiday road trips.
While it might fall slightly short of its key rivals in terms of towing power, it remains an exceptional addition to a competitive marketplace, providing buyers with an undeniably attractive value-for-money proposition.
As a result, we can't help but recommend that you add the Mitsubishi Triton to your shortlist while shopping around in the crowded ute marketplace. On that note, if you're in the market for a new car, you can get a free quote and see how much OnlineAuto can save you on your next car, or call us on 1300 719 925
Five Specs You Need to Know
10-year/200,000km warranty
10-years of capped-price servicing
12-month/15,000km service intervals
Five star ANCAP safety rating
3,000-3,100kg braked towing capacity
Pros
Extremely competitive pricing
Real-world practicality and workhorse abilities
Australia's leading ownership program
Cons
Underwhelming cabin design
Key safety features reserved for premium variants
Lacks braked towing capacity of major rivals
OnlineAuto Rating:
8.5/10
Mitsubishi Triton Competition
LD Lachlan D saved $1,029
off the TAS recommended retail price of a Mitsubishi Triton GSR (4x4) on 15 Apr, 2021.
off the WA recommended retail price of a Mitsubishi Triton GLX+ (4x4) on 27 Apr, 2021.
off the NSW recommended retail price of a Mitsubishi Triton GLS (4x4) on 26 May, 2021.
Savings are based on the difference between the actual driveaway price paid by customers on their new car purchases including stamp duty, government
charges and on-road costs and the Redbook Manufacturer Suggested Retail Price (MSRP) plus stamp duty, government charges and on-road costs.