Review - Toyota Camry
AF By Alexi Falson November 08, 2021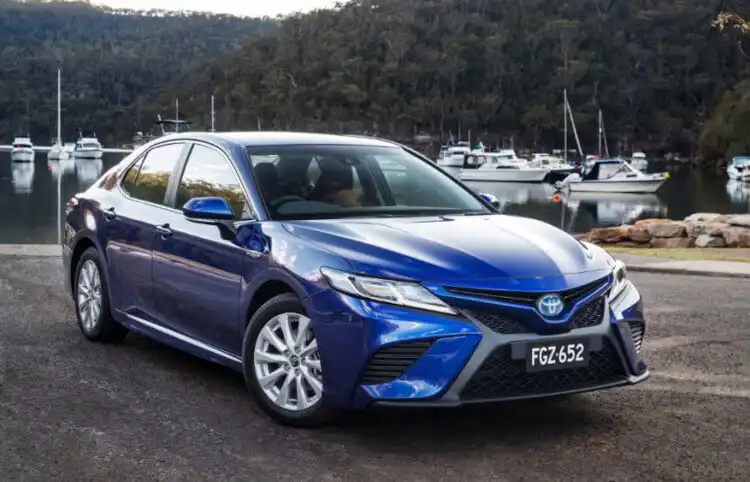 In recent years, however, the market has shifted its attention to compact and midsize SUVs, which has resulted in unimpressive sales figures for the Camry compared to its dominant days.
Another problem that has raised its head in the latest generation Camry, however, is that sticker prices have increased pretty significantly over the past few years, so it needs to perform to an exceptionally high standard as a family-friendly vehicle if it wants to avoid being overtaken by those compact and midsize SUVs.
So, with that in mind, Just how well does the new Toyota Camry prove that a family's needs can well-and-truly be met by the humble sedan body shape? Let's find out.
Starting Price: $30,990
OnlineAuto Savings: Enquire now
Toyota Camry (ASCENT)

Specifications
| | |
| --- | --- |
| Model Date | 2021 |
| Make | TOYOTA |
| Model | CAMRY |
| Series | ASV70R |
| Variant | ASCENT |
| Body | 4D SEDAN |
| Fuel type | UNLEADED PETROL |
| Transmission | 6 SP AUTOMATIC |
| Drive | FWD |
| Engine | MPFI |
| Engine capacity | 2494 |
| Engine configuration | VARIABLE DOUBLE OVERHEAD CAM / 16 valves |
| Engine RPM | 6000 / 4100 |
| Cylinders | 4 |
| Torque | 231 |
| KW | 133 |
| Fuel tank size | 60.0 |
| Fuel usage specs | 7.8 / 0.0 |
| CO2 | 181 |
| ANCAP security rating | 5 |
For more details and other variants, check Toyota Camry car page.
How Much Does It Cost?
The Toyota Camry lineup kicks off from $30,990 for the entry-level Camry Ascent petrol, with the entry-level hybrid variant coming in the form of the Ascent Hybrid, which is priced from $33,490, with the Ascent Sport Hybrid priced at $36,290.
From here, the range moves to the all-new Camry SX Hybrid, which receives a price tag of $39,190, and culminates in the flagship Camry SL Hybrid, which is priced at $46,990. Keep in mind that these prices are subject to change, and do not include on-road costs.
How Much Can OnlineAuto Save You?
You could save money by using one of OnlineAuto's car agents to assist you in finding the best car for you. As one of the leading car buying services in Australia, our team have access to a range of dealerships across the country to help find you the best deal.
What Features Does the Toyota Camry Have?
The entry-level Toyota Camry Ascent comes riding on a set of 17-inch alloys, and receives a reversing camera, auto-levelling LED headlights with a set of LED daytime running lamps, fabric upholstery, active cruise control, a reversing camera, air conditioning, a 7.0-inch infotainment system with Android Auto and Apple CarPlay, DAB+ digital radio and bluetooth which is paired with a six-speaker sound system, as well as three-years access to Toyota Connected Services, including emergency calls, collision notifications and stolen vehicle tracking. Opting for the Ascent Hybrid adds a dual-zone climate control system as well as keyless entry and start.
Buyers opting for the Camry Ascent Sport receive dual-zone climate control, as well as a leather-wrapped steering wheel, front and rear mounted parking sensors, keyless entry and start, an upgraded 9.0-inch infotainment system with satellite navigation, a surround-view camera, blind-spot monitor and rear cross-traffic alerts.
The all-new Camry SX variant receives a set of 19-inch alloy wheels, paddle shifters mounted to the steering wheel, leather sport seats as well as a sport suspension system.
Finally, Toyota's flagship Camry SL comes packaged with a hands-free boot lift, a set of heated and ventilated front seats, a panoramic sunroof, head-up display for the driver, surround-view camera, auto-dimming rear view mirror and a nine-speaker sound system from JBL.
Range Features:
17-inch alloys

Reversing camera

LED headlights with LED daytime running lamps

7.0-inch infotainment system with Apple CarPlay, Android Auto and DAB+ digital radio

Adaptive cruise control

Three-years of Toyota Connected Services

Fabric upholstery

Dual zone climate control (Ascent Hybrid)

Keyless entry and start (Ascent Hybrid)

Leather-wrapped steering wheel (Ascent Sport)

9.0-inch infotainment system with satellite navigation (Ascent Sport)

Surround-view camera (Ascent Sport)

Front and rear mounted parking sensors (Ascent Sport)

Blind spot monitoring & rear cross-traffic alerts (Ascent Sport)

19-inch alloy wheels (Camry SX)

Leather sport seats (Camry SX)

Sports suspension (Camry SX)

Hands-free boot lift (Camry SL)

Heated and ventilated front seats (Camry SL)

Panoramic sunroof (Camry SL)

Head-up display (Camry SL)
Toyota Camry (ASCENT) Colours
| | |
| --- | --- |
| Glacier White | Frosted White |
| Silver Pearl | Feverish Red |
| Eclipse Black | Blacksmith Bronze |
| Lunar Blue | Liquid Mercury |
Is it Comfortable to Drive?
The Toyota Camry is a refreshing back to basics approach to motoring, but don't let that fool you into thinking it's a less sophisticated drive than its major rivals. The latest Camry is by far the most refined sedan that Toyota has created yet, which is a big statement considering the Camry has acted as the benchmark sedan for decades now. This is largely down to the added hybrid nature of Toyota's lineup, which the company says is in response to up to 70% of its buyers gravitating to its previous hybrid engine lineup over the standard petrol unit.
Sitting behind the wheel, it doesn't take long to realise why Australians have opted for the petrol-hybrid over the standard petrol. While the entry-level Ascent receives a 152kW/243Nm push from the 2.5-litre petrol, the hybrid increases the power up to 160kW and increases the torque figure, too; although Toyota won't tell us the exact figure. Power is thrown to the front wheels via an e-CVT transmission, which feels as though you're driving one long gear for a silky-smooth drive. While the hybrid engine commands a roughly $3,000 premium over the entry-level petrol, we believe it's a worthwhile investment that can ultimately save you money over the lifespan from fuel savings.
Whichever engine you opt for, however, the Camry remains a class-leading sedan that offers a comfortable ride quality and near effortless driving dynamic. The entry level petrol receives an eight-speed automatic that works away providing seamless shifts, and handles slow driving speeds through car parks and city traffic without a problem.
The steering has retained its lightweight feel, while offering enough feedback for the driver for added confidence, combining for a sleek, smooth and user-friendly driving dynamic. Combined with an extremely comfortable suspension platform that can handle some of the worst of Australian road conditions without a fuss, the Camry is a timely reminder that the humble sedan still offers the simplest and most straight-forward of driving experiences, and is the perfect addition for any growing family looking to stay safe and comfortable on the road.
Is it Practical and Spacious?
While buyers might feel safe in the assumption that SUVs will always trump something like a sedan body shape when it comes to space and practicality, the Camry acts as a reminder of why so many families have purchased large sedans in the past. The Camry has a heap of room inside, and combined with a large boot, this means that you're unlikely to meet many situations where the Camry falls short, and a midsize SUV reigns supreme. While it might not have the added height bonuses of an SUV, the Camry performs so well, this is unlikely to prove a determining factor.
In the front of the cabin, the driver and front passenger are greeted by a large dash housing the infotainment system that weaves its way down to the centre console in an interesting pattern. The ergonomics and adjustable driving position are outstanding, allowing the driver to find their preferred position, with the large windscreen offering a great view of the road and surroundings. There's large door bins either side for bulky drink bottles and loose items, with a central storage area in front of the gear lever accommodating charging ports, and a large folding armrest for added storage. All up, the Camry provides the driver and front passenger with ample room to stretch out on long drives, and can confidently accommodate the handfuls of loose items that growing families accumulate.
Moving to the rear of the cabin, you'll find a set of comfortable seats for rear passengers and a sizable amount of room for them to stretch out and get comfortable, too. There's so much space in the rear of the Toyota Camry, in fact, that you'll find passengers are able to get more comfortable in the sedan than they would in an equivalent SUV, which is thanks to the fairly large proportions with a long wheelbase, and Toyota's clever interior packaging designs. Headroom is not an issue for even the tallest of passengers, and depending on the size of the driver, there's a huge amount of legroom for those sitting in the back of the cabin on long journeys. For parents, there's a set of easily-accessible ISOFIX anchors in the rear of the cabin with top tether mounts, and thanks to the Camry's long doors, the process of squeezing in even large child seats is a simple task.
In terms of boot space, the Toyota Camry has a cargo storage rating in the boot of 493L for variants fitted with a full-sized spare tyre, and 524L for those packaged with a space save spare tyre. You'll find that these figures match what's on offer in a number of midsize SUVs, making the Camry an undeniably practical offering that can accommodate a growing family with confidence.
Is it Safe?
The Toyota Camry has been awarded ANCAP's maximum five star safety rating when it was tested back in 2017, scoring 15.16 out of 16 for front impacts and 16 out of 16 for side impacts. As standard, every Camry variant, including entry-level models receive autonomous emergency braking with cyclist and pedestrian detection, adaptive cruise control, a reversing camera, emergency steering assistance, lane-departure warnings, traffic sign recognition and intersection turn assistance as standard.
The one downside of the Camry in the context of safety, however, is that you have to opt for the Ascent Sport or above to receive blind-spot monitoring, front and rear parking sensors and rear cross-traffic alerts as standard.
Is it Fuel Efficient?
The Camry's fuel economy depends primarily if you're opting for the base petrol or the hybrid engine, which can dramatically reduce the overall fuel consumption. The petrol-powered Camry Ascent is rated at 6.8L per 100km on a combined cycle, which is a pretty impressive figure in its own right, however, this drops to just 4.2L per 100km in the Ascent and Ascent Sport Hybrid variants. Opting for the SL or the SX brings the fuel economy figure up to 4.5L and 4.7L per 100km respectively, however, these economy figures are outstanding for a vehicle that is capable of comfortably transporting your family and their belongings.
Our Verdict: Is the Toyota Camry Worth it?
The Toyota Camry remains one of the leading sedans on the market, and there's a number of reasons why it has led the pack for so long. Toyota has retained its archetypal value for money and reliability propositions, while continuously improving the overall driving quality and refinement of its vehicles in recent years. Not too long ago, buyers were forced to make some sacrifices when opting for a Camry, but those days are well-and-truly gone.
Overall, it remains perhaps the most compelling vehicle in Australia's shrinking midsize sedan market, and it wouldn't be too much of a stretch to say the Camry remains one of the best options on the market as a whole. The pick of the bunch is no doubt the hybrid engine, which we'd recommend for not only the cash you'll save on your fuel bills, but the added power. On that note, if you're in the market for a new car, you can get a free quote and see how much OnlineAuto can save you on your next car, or call us on 1300 719 925
Five Specs You Need to Know
Five-year, unlimited KM warranty with capped price servicing available

Service intervals are rated at 12-months or 15,000km

Five star ANCAP safety rating

Fuel economy of 4.2L per 100km in Ascent Hybrid

Boot space ranges between 493-524L
Pros
Extremely comfortable suspension offers high quality ride

Class-leading fuel economy figures

Impressive features and technology for the price

Engaging engine in spite of fuel efficiency
Cons
Full-sized spare eats up boot capacity

Some safety tech reserved for mid-range variants

User-friendly rather than inspiring cabin design
OnlineAuto Rating:
9/10
Toyota Camry Competition
off the VIC recommended retail price of a Toyota Camry Ascent on 15 Dec, 2020.
off the VIC recommended retail price of a Toyota Camry Ascent Sport Hybrid on 15 Dec, 2020.
off the VIC recommended retail price of a Toyota Camry Ascent Sport Hybrid on 09 Feb, 2021.
Savings are based on the difference between the actual driveaway price paid by customers on their new car purchases including stamp duty, government
charges and on-road costs and the Redbook Manufacturer Suggested Retail Price (MSRP) plus stamp duty, government charges and on-road costs.