Review - Toyota Yaris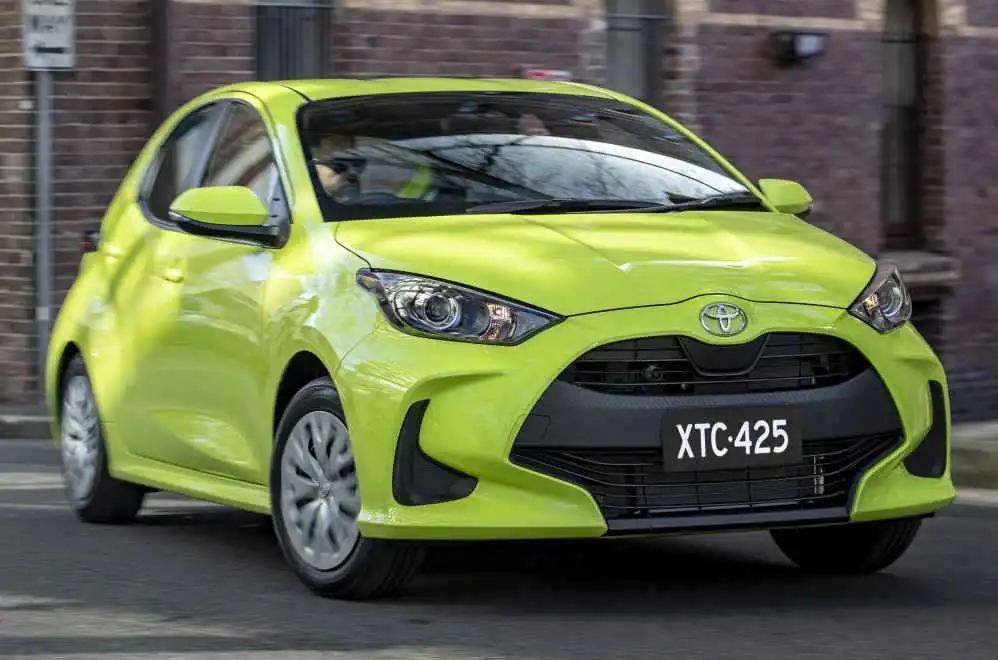 When Toyota announced that it was discontinuing its famous Echo in 2005, my 20-year-old heart broke. This was the car to drive for young'uns everywhere. Then, like a soap opera, my disappointment quickly turned to elation the moment Toyota announced the Yaris. It was, and still is, the kind of replacement model that has young hearts asking, Echo who?
The Yaris comprises the entry level Ascent, the mid-range SX, and the top-of-the-line-sporty-favourite-child ZR. Interestingly, Toyota dropped the sedan variant from its 2017 lineup so that all models are available as a five-door hatch.
In terms of umph, the Ascent is powered by a tiny 1.3 litre engine, whereas SX and ZRs are treated to 1.5 litre variations. Although the bottom two models offer manual and automatic transmission options, the ZR is auto only.
What's on the outside?
The design brief for the updated Yaris must have been something along the lines of, Make an impression or else. And that they did. The entire body appears sculpted in a flag-waving kind of way. Some of the more interesting creative flairs include a set of angular headlights and aggressive chrome front grille that dominates the fascia. The rear, however, is all moderation with slight curves and nondescript taillights.
SX and ZR versions are treated to front fog lamps and the ZR scores some 15 inch alloy wheels.
Interior details
The Yaris is a big small car. We're not just talking ample leg and headroom for those at the front, either. Thanks to some pretty well sculpted seats, four or even five grown passengers can travel comfortably in this car without too much claustrophobia. The Yaris also earns bonus points for practicality because its rear seats fold down to allow bulkier items to travel unencumbered (think surfboards and sporting equipment).
What is disappointing (albeit quintessentially Toyota) is the dull interior styling. True to form, Toyota have utilised hard plastics and faux carbon fibre across the dash and door panels on all variants to give everything a cheap feel.
In terms of tech, the Yaris is a bit of a mixed bag depending on which variant you're in. All models come with a 6.1 inch colour touchscreen, reversing camera, and all the connectivity you need. There are no rear parking sensors in any of the models and safety features, such as the pre-collision safety system and lane departure alert, are optional upgrades in the Ascent and SX. Sat nav and air con, too, are only included in the ZR variant.
Our verdict
Prices start at $18,800 for the Ascent, $21,571 for an SX, and a tidy $26,196 for the top model. Sure, you're paying for arguably the most reliable brand in Australia, but this is not a cheap car – even the base model – and the number of standard features could be improved upon.
The absence of things like rear sensors and sat nav make the Yaris feel rather antiquated, but its practicality and overall drivability definitely justify its position as one of Australia's favourite compact cars.
5 specs you need to know
3 year/100,000km warranty
5 star ANCAP rating
7 airbags
286 litres of boot space
Decent 6.1-inch interface with standard rear camera
Pros
Backed by the ever-reliable Toyota brand
Great for younger drivers
Roomy cabin
Cons
Updated safety aides don't come standard on base model Ascent
Unimpressive fuel consumption figures??
off the NSW recommended retail price of a Toyota Hilux Rouge (4x4) on 21 Jun, 2021.
off the VIC recommended retail price of a Toyota Camry SL (Hybrid) on 27 Jul, 2020.
off the NSW recommended retail price of a Toyota Rav4 Cruiser Cruiser Hybrid on 19 Feb, 2021.
Savings are based on the difference between the actual driveaway price paid by customers on their new car purchases including stamp duty, government
charges and on-road costs and the Redbook Manufacturer Suggested Retail Price (MSRP) plus stamp duty, government charges and on-road costs.