It combines the versatility of a crossover SUV with fuel-efficient hybrid tech, making for perhaps the best variant to own when it comes to long-term running costs and fuel savings.
Just how good is the range-topping Eclipse Cross Exceed PHEV, then, and how well does it justify its price hike over the base model plug-in hybrid? Let's take a closer look to find out.
Mitsubishi Eclipse Cross PHEV Exceed Competition
Starting Price: $55,990
OnlineAuto Savings: Enquire now
How Much Does It Cost?
The Mitsubishi Eclipse Cross PHEV Exceed is priced at $55,990 before on-road costs.
For reference, the most affordable Eclipse Cross PHEV, the ES is priced at $47,290, while the Eclipse Cross PHEV Aspire is priced at $51,240.
How Much Can OnlineAuto Save You?
Looking to buy a car online? Why not let one our car specialists help you find the best value model for you.
Mitsubishi Eclipse Cross - EXCEED PHEV (AWD)

Specifications
| | |
| --- | --- |
| Model Date | 2023 |
| Make | MITSUBISHI |
| Model | ECLIPSE CROSS |
| Series | YB MY23 |
| Variant | EXCEED PHEV (AWD) |
| Body | 4D WAGON |
| Fuel type | UNLEADED PETROL/ELECTRIC |
| Transmission | 1 SP AUTOMATIC |
| Drive | AWD |
| Engine | MPFI |
| Engine capacity | 2360 |
| Engine configuration | DUAL OVERHEAD CAM / 16 valves |
| Engine RPM | 4500 / 4500 |
| Cylinders | 4 |
| Torque | 199 |
| KW | 94 |
| Fuel tank size | 45.0 |
| Fuel usage specs | 1.9 / 0 |
| CO2 | 43 |
| ANCAP security rating | 5 |
For more details and other variants, check Mitsubishi Eclipse Cross car page.
What Features Does the Eclipse Cross PHEV Exceed Have?
As the range-topping model, the Eclipse Cross PHEV comes packed to the brim with features, including a set of 18-inch alloys, leather upholstery with heated front and rear seats, a panoramic sunroof, head-up display, a heated steering wheel, an electric boot lift and ultrasonic mis-acceleration mitigation.
This is in addition to features fitted to lesser variants, which means the Eclipse Cross PHEV is equipped with dual-zone climate control, vehicle-to-load (V2L charging), adaptive cruise control, a rear-view monitor with parking sensors, LED headlights, fog lights and daytime running lamps, roof rails, black styling highlights and an 8.0-inch infotainment system with Apple CarPlay & Android Auto.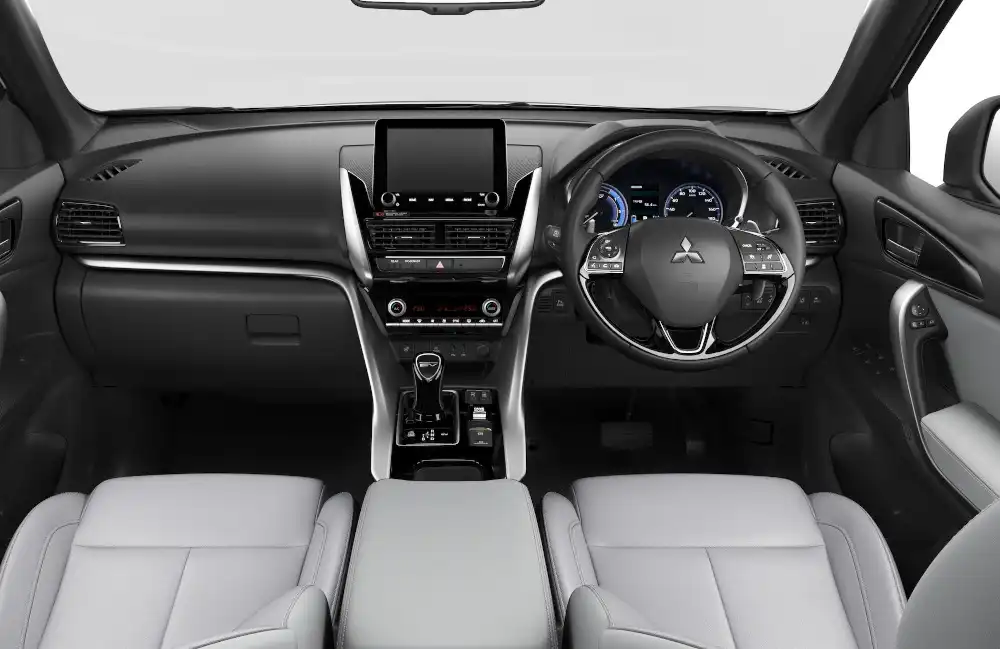 Range Features:
18-inch alloys

LED headlights, fog lights & daytime running lamps

Leather upholstery

Heated steering wheel, front & rear seats

Vehicle-to-load (V2L) charging

Adaptive cruise control

Panoramic sunroof

Head-up display

Electronic boot lift

Dual-zone climate control

Surround-view camera with parking sensors

Roof rails

8.0-inch infotainment system with Apple CarPlay & Android Auto
Is the Eclipse Cross PHEV Comfortable to Drive?
The PHEV version of the Eclipse Cross combines all the user-friendliness of the standard car with a healthy power increase for those looking for some added acceleration off the line.
It comes powered by a 2.4-litre four-cylinder paired with a front and rear-mounted electric motor, the latter of which adds some instantaneous acceleration that gives it some perk off the line.
Power for the electric motors is supplied by a 13.8kWh battery pack that offers 55km of all-electric driving range.
Quite often, the Eclipse Cross PHEV prefers to motor along on electric power alone, which makes it smooth and silent to pilot through town, with the petrol motor kicking in to charge up the battery pack or add some power to the mix.
While it's gained some weight in its transition to a plug-in hybrid, the Eclipse Cross remains nice and agile around town, making for a great commuter and daily driver.
The steering remains lightweight and easy to manage, while the suspension offers a healthy balance of managing the weight and eating up small and moderate bumps around town.
The aggressiveness of the regenerative braking system can be adjusted with the wheel-mounted paddle shifters, allowing you to capture more energy and feed it back into the battery while driving down a long incline.
When you leave city streets, the Eclipse Cross is equally impressive out on the open road, where it sits comfortably and confidently at high speeds thanks to its AWD system.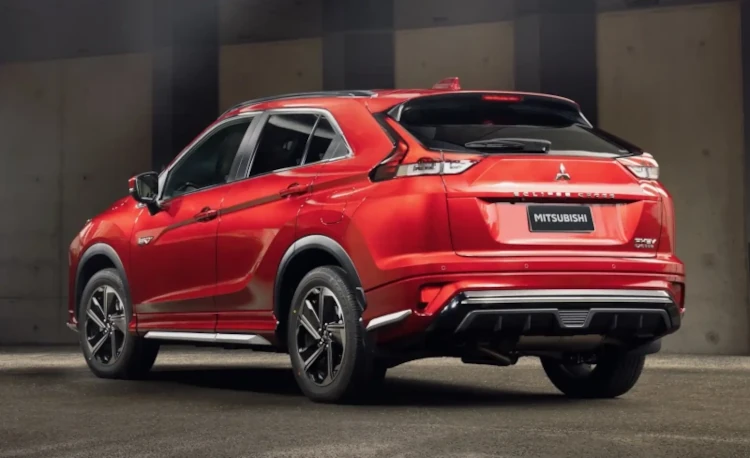 All up, the Eclipse Cross PHEV takes all the user-friendliness of the base car and adds some more potent acceleration and a silent motoring experience that is super relaxing to drive.
Is the Eclipse Cross PHEV Practical and Spacious?
Being a compact SUV, space and practicality inside the Eclipse Cross is somewhat limited in the second row, though this may actually be perfect for younger families looking for a smaller SUV platform.
Inside the cabin, there are a number of changes over lesser-spec members of the Eclipse Cross range that give it a more sophisticated nature.
Premium touches come in the form of leather upholstery - in your choice of black or grey - as well as heated seats in the front and rear of the cabin, though the platform's styling is beginning to show some signs of ageing.
Up front, there's a heap of headroom and a fully-adjustable driving position, with a decent amount of forward visibility for driving and parking, while rearward visibility is impacted by the bulky rear pillars.
Practical touches to the Eclipse Cross PHEV cabin include a small storage tray at the base of the centre console, a pair of cup holders, some added storage inside the folding armrest and a pair of door bins on either side of the cabin.
Move to the rear and things start to get a little cramped, like many, if not all of its compact SUV rivals, though there's still enough space for adults on short hops around town.
The second row is more suited to kids and teenagers, with headroom a little bit on the cramped side for taller rear occupants, though it's actually more spacious than you'll find in a number of small SUV packages.
The rear seats pick up a pair of ISOFIX anchors and top tether points for child seats, while boot space figures stand at 359L in the plug-in hybrid, dropping from 405L in the standard Eclipse Cross.
Is it Safe?
The Eclipse Cross PHEV has picked up a five-star ANCAP safety rating, scoring 97% for adult protection, 78% for child protection, 80% for pedestrian protection and 58% for safety assist.
The Eclipse Cross PHEV Exceed picks up added safety gear over other members of the range that make it by far the best pick for safety equipment.
The list includes adaptive cruise control, a surround-view monitor, rear cross-traffic alerts, blind-spot monitoring, lane-departure alerts, autonomous emergency braking, ultrasonic mis-acceleration mitigation and seven airbags inside the cabin.
Is the Eclipse Cross PHEV Fuel Efficient?
Officially, the Mitsubishi Eclipse Cross PHEV Exceed is rated at 1.9L/100km on a combined cycle, making it far more efficient than the standard Eclipse Cross which consumes 7.7L/100km.
These figures are, however, dependent on a fully-charged battery, with fuel economy figures climbing when the internal combustion unit turns on to either provide charge for the pack itself, or power the front wheels.
Our Verdict: Is the Eclipse Cross PHEV Exceed Worth it?
If you're looking for a well-equipped compact SUV with outstanding fuel efficiency from a clever plug-in hybrid powertrain, the Eclipse Cross PHEV remains one of the best on sale here in Australia.
Having said that, the range-topping Exceed may be overkill for some buyers, which speaks more to Mitsubishi's generous packaging in the entry-level ES and mid-range Aspire than it does of the Exceed.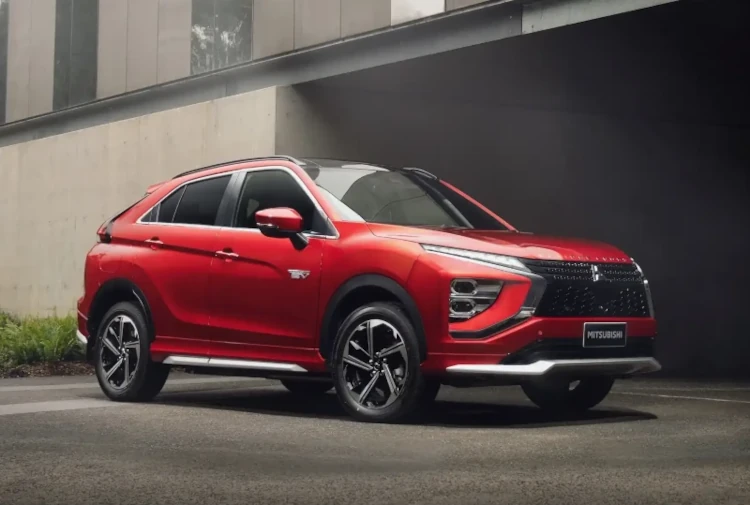 If you're lost in a sea of possibilities for your next car, don't forget to reach out to one of our automotive specialists who can help out on the hunt and find you the best possible price.
Five Mitsubishi Eclipse Cross Specs You Need to Know
Five-year unlimited KM warranty stretches to ten years when serviced within network

Five-star ANCAP safety rating

1.9L/100km combined cycle fuel economy (NEDC test cycle)

2.4-litre four-cylinder petrol, two electric motors and AWD system

359L boot; down from 405L in standard Eclipse Cross