Built for adventure
The LandCruiser now comes in four variants: GX, GXL, VX and the range-topping Sahara. The base model GX is purpose-built for off-road adventure, so it's no frills here. The interior, with its cloth fabrics, durable plastics and rubber flooring, has been designed for easy cleaning, no matter how much mud makes its way inside. If you're someone who appreciates a more luxurious ride however, look to the Toyota Landcruiser GXL model and above.
Despite its simple interior styling, the GX is still attractive enough to feel modern, and the seats are comfortable and supportive for those bumpy tracks.
The LandCruiser GX is very roomy, with luggage space rated at a segment-leading 1431 litres, so you don't have to worry about over-packing. It also comes complete with tie-down hooks, storage pockets and a large centre console box for all your travel storage needs.
While modern conveniences like touchscreen displays are absent, Bluetooth and cruise control do come as standard to afford you a more comfortable drive on a weekend out of town.
On- and off-road performance
The LandCruiser is a huge vehicle, but despite its size it handles well on the road. Shorter drivers may have trouble seeing over the large bonnet, but a little bit of adjustment on the seats will gain you excellent visibility.
The 4.5-litre twin-turbo V8 engine pairs up with the strong six-speed auto transmission to make towing up to 3500kg a breeze (great if you've got a caravan you'd like to tag along). The brakes are also responsive no matter what you're towing, but the one downside to all this power is that it does guzzle fuel.
While its on-road skills are impressive, the real magic happens when you take the LandCruiser off-road. The low-range gearing makes crawling up and down the steepest tracks a cinch, and the 225mm of ground clearance and unbelievable traction mean there's nothing it can't handle.
There's also plenty of onboard assistance when the going gets tough. Toyota's CRAWL system helps you negotiate severe, slippery terrain and 'Turn Assist' steps in to tighten your turning circle and better control your driving experience on tricky terrain.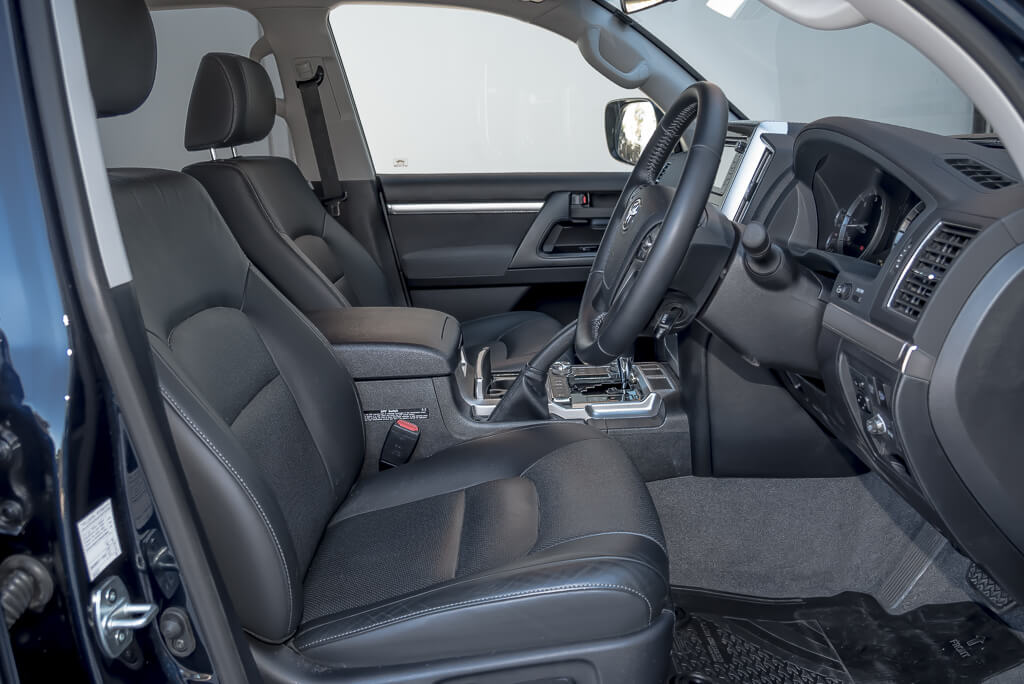 Our verdict
The LandCruiser continues to leave its competition in the dust. If cost isn't an issue, the LandCruiser is easily the best-performing heavy-duty SUV on the market. Perfect for towing a large caravan or bush-bashing in the Outback, it's a tireless workhorse that won't let you down.
5 specs you need to know
Engine: 4.5-litre twin-turbo V8.
Transmission and drive: Six-speed auto 4WD.
ANCAP safety rating: Five stars (scored 33.09 out of 37).
Official fuel economy: 9.5L/100km.
Time from 0-100km/h as tested: 8.92 seconds.
Pros
Solid off-road and towing capabilities.
Spacious interior.
Built for getting dirty and easy to clean.
Functions to assist off-road driving, such as CRAWL control.
Cons
Heavy on fuel.
Can be cumbersome for commuting and city driving.