Having been given a makeover in recent years, the Outlander package is looking sweeter than ever, with the company sticking by its extremely compelling value proposition when it comes to equipment lists and ownership programs.
Just how good is the latest Mitsubishi Outlander, then, and how does it stack up as one of Australia's cheapest seven-seat SUVs? Let's find out.
Mitsubishi Outlander Competition
Starting Price: $36,240
OnlineAuto Savings: Enquire now
How Much Does It Cost?
The Mitsubishi Outlander range is priced from $36,240 for the entry-level Outlander ES FWD, while the Outlander ES AWD is priced at $38,740, the Outlander LS seven-seat FWD is priced at $39,740 and the LS seven-seat AWD is priced at $42,240.
Stepping up to the Outlander Aspire FWD brings the price to $43,240, the Outlander Aspire AWD is priced at $45,740, while the move to the Outlander Exceed brings the price up to $50,990.
Finally, Mitsubishi's range of plug-in hybrid (PHEV) variants brings the price to $55,490 for the Outlander ES PHEV, increasing to $61,990 for the Outlander Aspire PHEV, up to $67,490 for the Outlander Exceed and capping-out at $70,990 for the Outlander Exceed seven-seat PHEV.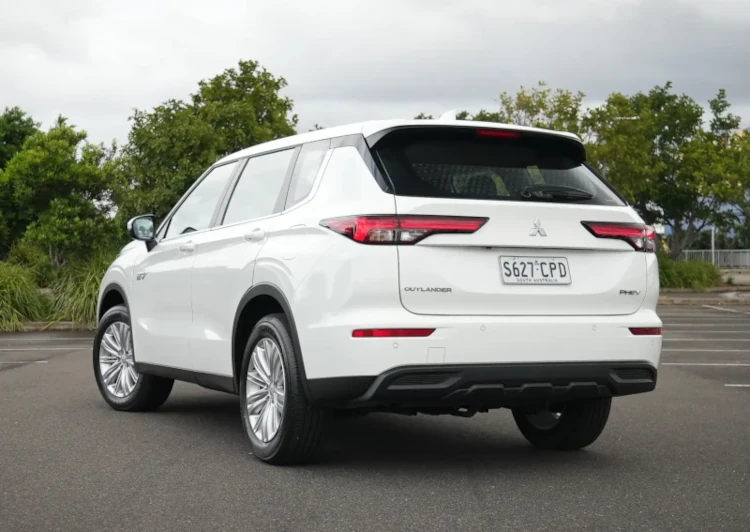 How Much Can OnlineAuto Save You?
Using OnlineAuto's car buying service in Australia, you could save by using one of our car experts to help you find the best new car for you.
Mitsubishi Outlander - PHEV ES 5 SEAT (AWD)

Specifications
| | |
| --- | --- |
| Model Date | 2023 |
| Make | MITSUBISHI |
| Model | OUTLANDER |
| Series | ZM MY23 |
| Variant | PHEV ES 5 SEAT (AWD) |
| Body | 4D WAGON |
| Fuel type | PREMIUM UNLEADED/ELECTRIC |
| Transmission | 1 SP AUTOMATIC |
| Drive | AWD |
| Engine | MPFI |
| Engine capacity | 2360 |
| Engine configuration | VARIABLE DOUBLE OVERHEAD CAM / 16 valves |
| Engine RPM | 5000 / 4300 |
| Cylinders | 4 |
| Torque | 195 |
| KW | 98 |
| Fuel tank size | 56.0 |
| Fuel usage specs | 1.5 / 0 |
| CO2 | 35 |
| ANCAP security rating | 5 |
For more details and other variants, check Mitsubishi Outlander car page.
What Features Does the Mitsubishi Outlander Have?
The entry-level Outlander ES comes riding on 18-inch alloys, and receives LED head & tail lights, adaptive cruise control, a rear-view camera with parking sensors, a five-seat layout with cloth upholstery, dual-zone climate control, push-button start, a 7.0-inch digital instrument cluster and an 8.0-inch infotainment display with wired Apple CarPlay & Android Auto.
The Outlander ES PHEV picks up a 12.3-inch digital instrument cluster and a 9.0-inch infotainment display with wireless Apple CarPlay.
Stepping up to the Outlander LS adds a set of LED fog lights, silver roof rails, keyless entry, a leather steering wheel and gear lever, seven-seat layout, an auto-dimming rear-view mirror, a wireless charging pad and an upgraded 9.0-inch infotainment display.
Moving up to the Outlander Aspire adds a set of 20-inch alloys, adaptive LED headlights, a powered tailgate, head-up display, microsuede upholstery with heated seats, a surround-view camera and some power outlets in PHEV variants.
Finally, the range-topping Outlander Exceed receives LED indicators, a panoramic sunroof, three-zone climate control, leather upholstery with a heated steering wheel, hands-free electronic tailgate, a 12.3-inch digital instrument cluster, an upgraded 10-speaker sound system from Bose and Mitsubishi's MI-PILOT driving assistant.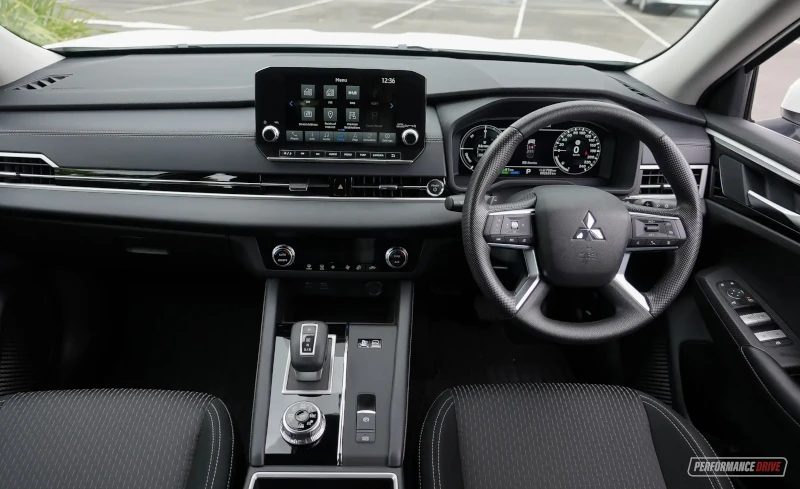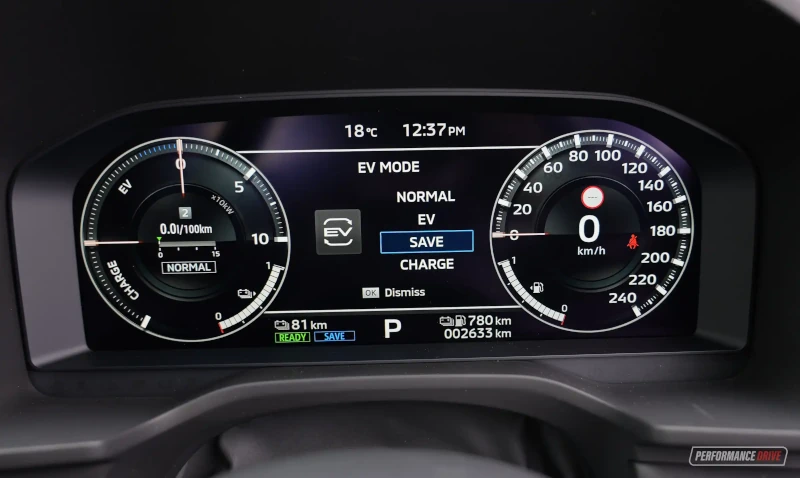 Range Features:
18-inch alloys

LED head & tail lights

Adaptive cruise control

Rear-view camera with front & rear parking sensors

Five-seat layout with cloth upholstery

8.0-inch infotainment system with Apple CarPlay & Android Auto

12.3-inch digital instrument cluster & 9.0-inch infotainment display (ES PHEV)

LED fog lights (LS)

Silver roof rails (LS)

Seven-seat layout (LS)

20-inch alloys (Aspire)

Adaptive LED headlights (Aspire)

Leather upholstery (Exceed)

Panoramic sunroof (Exceed)

10-speaker Bose sound system (Exceed)
Is the Mitsubishi Outlander Comfortable to Drive?
Thanks to a major overhaul a few years ago now, the Mitsubishi Outlander has become far more comfortable and refined on the road than its predecessor.
We'd go as far as to say it's actually quite enjoyable to drive on a variety of roads, and remains impressively user-friendly around town while offering a smooth ride quality at higher speeds on the open road.
Power comes supplied by a 2.5-litre four-cylinder petrol engine kicking up 135kW of power and 244Nm of torque, powering either the front wheels or all four wheels, depending on the variant.
There's also a more powerful engine option in the form of Mitsubishi's 2.4-litre petrol engine paired with two electric motors and a sizable 20kWh battery pack that produces a combined 185kW of power and 450Nm of torque.
"The PHEV engine is fabulous, while the rest of the range strikes a healthy balance as a user-friendly town car and comfortable long-distance cruiser." Dan - OnlineAuto Car Buying Specialist
This makes the Outlander plug-in hybrid substantially more powerful than the standard model, which benefits from more effortless acceleration up to speed thanks to the added torque from the two electric motors.
Whichever variant you opt for, the Outlander's platform is confident on a mix of low-speed manouvers around town where agility is key, with the lightweight steering rack making it easy for drivers of all levels to squeeze into parks and navigate traffic.
The suspension is on the softer side, which makes the Outlander more approachable for a variety of Australian buyers, though the suspension hardware isn't able to eat up more sizable bumps without shaking the cabin a little bit.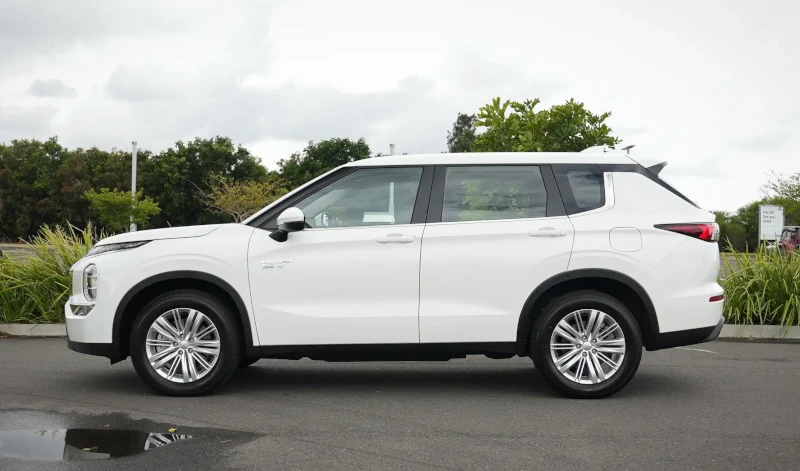 When you leave the smooth city streets, the Outlander proves itself as a very capable long-distance tourer thanks to the smooth drivetrain and the compliant suspension that makes it easy to eat up long highway kilometres.
All up, the Outlander strikes a very healthy balance as a user-friendly urban runaround while remaining exceptionally comfortable for long holiday road trips.
Is it Fuel Efficient?
As you can imagine, the fuel-efficiency hero of the range is the Outlander plug-in hybrid, which - with the help of a fully charged battery - consumes a claimed 1.5L/100km; for reference, the battery offers around 84km of all-electric driving.
For the rest of the Outlander petrol range, fuel economy figures start at 7.5L/100km in the ES FWD, rising to 8.1L/100km in the thirstiest members of the range, which isn't too bad for a large SUV package without any hybrid or turbocharging assistance.
Is it Practical and Spacious?
One of the major highlights of the updated Outlander platform was a massive revamp for the interior design and packaging that has resulted in a seriously family-friendly SUV.
Up front, the driver and front passenger are presented with a comfortable and fully-adjustable driving position, with a decent amount of ride height on offer to give you a better view of your surroundings.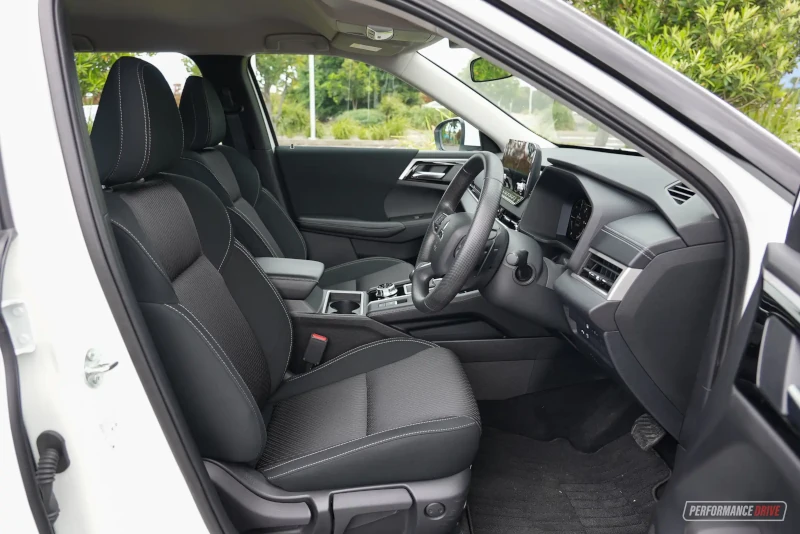 Those seated in front of the cabin are separated by a bulky centre console that adds to the premium nature of the design, with the added benefit of some storage areas on either side of the tunnel.
Other storage options in the front of the cabin include a tray sitting behind the gear lever, a pair of cupholders, storage inside the folding arm rest and a pair of massive door bins that can eat up a large drink bottle.
"Is it a fully-fledged seven-seater? Not really - it's more of a 5+2…though the generous equipment lists, clever packaging and attractive cabin more than make up for it" Arnaud - OnlineAuto Car Buying Specialist
Move to the rear of the cabin and you'll find a comfortable benchseat that is able to recline back and forward to allow passengers to get more comfortable, or sacrifice some room for those seated in the third row.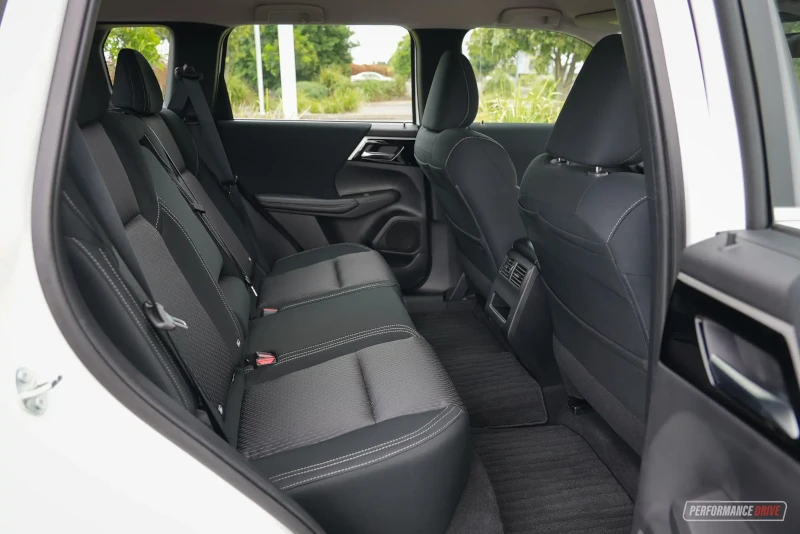 Keep in mind that the base ES model comes as a five-seater, while the option of a seven-seat cabin is reserved for the LS and above.
The second row picks up a set of air vents, charging ports and a pair of ISOFIX anchors with three top tether mounts, with a generous amount of leg and headroom on offer in the second row.
Move to the third row and you'll see the amount of legroom falls short of what you might be hoping for in a 'seven-seat SUV' package, though it gets the job done if your third-row occupants don't have long legs.
Finally, boot space figures stand at 485L for five-seat Outlander petrol variants, rising slightly higher to 494L in five-seat PHEV variants, and dropping back to 163L in seven-seat Outlander variants.
Is it Safe?
Safety is a major drawing card for the Outlander, which offers a tonne of safety equipment as standard, atop its five-star ANCAP safety rating.
The entry-level Outlander ES comes packaged with forward and reverse autonomous emergency braking - with pedestrian and junction assistance - as well as blind-spot monitoring, lane departure alerts, lane-keep assistance, adaptive cruise control, rear cross-traffic alerts and eight airbags in the cabin.
Upgrading to the Outlander Exceed adds Mitsubishi's MI-PILOT driving assistance system.
Our Verdict: Is The Mitsubishi Outlander Worth it?
The Mitsubishi Outlander is a unique SUV package that offers a seriously family-friendly package, which benefits from impressive engine performance and fuel economy in the PHEV variant.
Having said that, the base Outlander's petrol engine is more than adequate for those looking for a more affordable seven-seat SUV package, so long as you're aware of its limitations in the third row.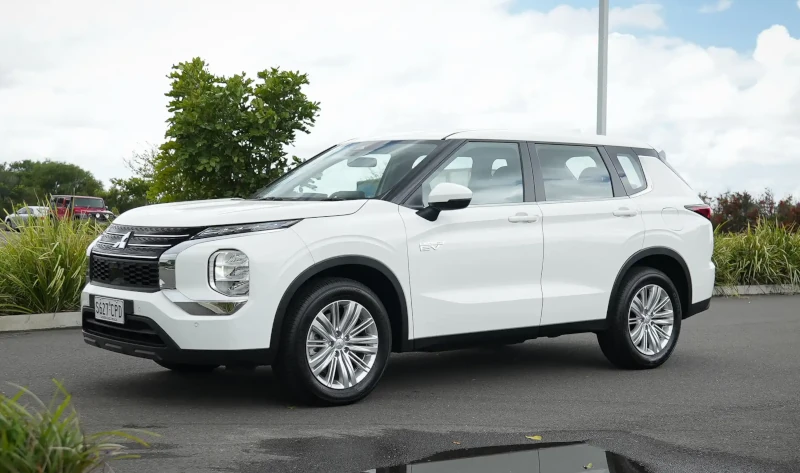 All up, it's a genuinely impressive creation that demands a spot on your shortlist of affordable family-friendly SUVs. On that note, if you're looking at your options on the market, be sure to reach out to one of our car buying specialists who can help you get a great price.
Five Specs You Need to Know
Ten-year/200,000km warranty when serviced within the Mitsubishi network

Five-star ANCAP safety rating

12-month/15,000km service intervals

84km all-electric range from 20kWh lithium-ion battery

Bi-directional charging with vehicle-to-grid and vehicle-to-home charging