Review - Audi A6
AF By Alexi Falson September 07, 2021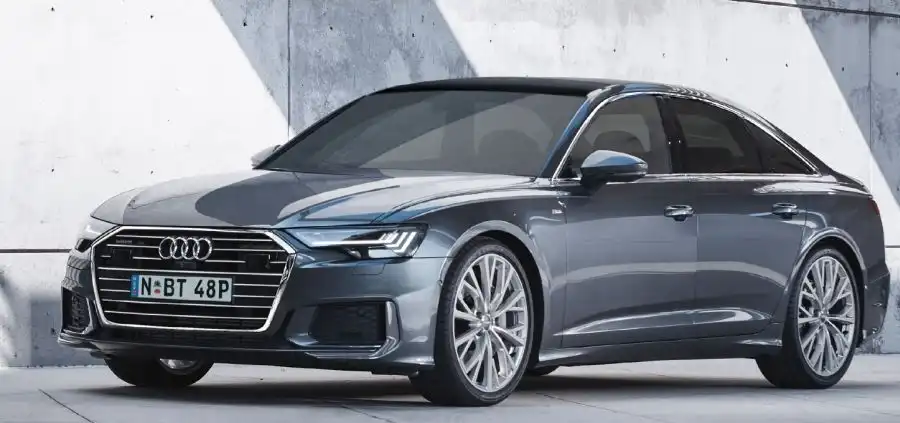 To make things even better for consumers, last year, Audi gave the A6 lineup a complete overhaul with the launch of the fifth-generation A6, which has been packaged with more entertainment, comfort and smart safety features as standard, in a body shape that has no problems swallowing up a full-sized family and their belongings.
The update brought the A6 up against a refreshed BMW 5 Series and Mercedes Benz E Class, which have both set the standard for the premium sedan market for a number of years now. The question remaining, then, is how significant have the changes to the latest generation A6 been, and could they be enough to snatch buyers from its key rivals BMW and Mercedes, as well as the crowded SUV market? Let's find out.
Starting Price: $85,570
OnlineAuto Savings: Enquire now
Audi A6 (45 TFSI QUATTRO MHEV)

Specifications
| | |
| --- | --- |
| Model Date | 2021 |
| Make | AUDI |
| Model | A6 |
| Series | 4A MY21A |
| Variant | 45 TFSI QUATTRO MHEV |
| Body | 4D SEDAN |
| Fuel type | PREMIUM UNLEADED/ELECTRIC |
| Transmission | 7 SP AUTO S-TRONIC |
| Drive | AWD |
| Engine | TDFI |
| Engine capacity | 1984 |
| Engine configuration | VARIABLE DOUBLE OVERHEAD CAM / 16 valves |
| Engine RPM | 5000 / 1600 |
| Cylinders | T4 |
| Torque | 370 |
| KW | 180 |
| Fuel tank size | 63.0 |
| Fuel usage specs | 7.2 / 0.0 |
| CO2 | 165 |
| ANCAP security rating | 5 |
For more details and other variants, check Audi A6 car page.
How Much Does It Cost?
The Audi A6 lineup kicks off from $86,990 for the entry-level A6 40 TFSI, while the S Line version of the 40 TFSI comes with a price tag of $90,900. Moving up to the more powerful, all-wheel drive A6 45 TFSI Quattro brings the price up to $97,000, while the 45 TFSI S Line is priced from $106,177, and the ultra variant is priced at $108,900. The range then moves to the A6 Allroad 45 TDI, which has a price tag of $112,300, and moves up to $118,900 for the A6 55 TFSI S Line Quattro.
How Much Can OnlineAuto Save You?
Using OnlineAuto's car buying service, you could save by sourcing one of our car specialists to help you find the best value model for you.
What Features Does the Audi A6 Have?
The Audi A6 range comes riding on 19-inch alloy wheels, and is packaged with premium features like Audi's 12.3-inch virtual cockpit for the driver, a 10.1-inch screen for the infotainment system with receives Apple CarPlay, Android Auto and DAB+ radio and a 10-speaker audio system, as well as another 8.6-inch screen for the three-zone climate control settings and heated seats.
The A6 is also packaged with Matrix LED headlights, LED indicators and LED interior lighting, and receives a leather upholstery with aluminium contrast trim, adaptive cruise control, powered boot lift, a heated steering wheel with paddle shifters, head-up driver's display, keyless entry and start, park assist system and a host of active safety technologies that we'll cover later in this review.
A6 models can also be optioned with Audi's 'Premium Plus' package, which comes at a $15,000 premium, but adds a set of larger 21-inch alloys with a unique Audi Sport design, upgraded Matrix LED headlights, panoramic glass sunroof, rear privacy glass, ambient LED lighting package for the interior and an S Line interior package that adds a perforated leather steering wheel, stainless steel pedals and S Line embossing on the seats.
Range Features:
19-inch alloy wheels

Matrix LED headlights

12.3-inch virtual cockpit driver's display

10.1-inch infotainment system with Apple CarPlay, Android Auto & DAB+

Adaptive cruise control

Powered boot lift

Surround-view camera

Parking assist

Leather upholstery

Heated front seats with heated steering wheel

21-inch Audi Sport alloys (Premium package)

HD Matrix LED headlights (Premium package)

Panoramic sunroof (Premium package)

Ambient LED interior lighting (Premium package)
Audi A6 Colours
| | |
| --- | --- |
| Brilliant Black Solid | Chronos Gray Metallic |
| Firmament Blue Metallic | Floret Silver Metallic |
| Glacier White Metallic | Manhattan Gray Metallic |
| Myth Black Metallic | Soho Brown Metallic |
Is the Audi A6 Comfortable to Drive?
The Audi A6 has been the car of choice for premium transport services for a number of years now, so it should come as no surprise that it's fantastic on the road. The A6 provides the driver with a near-effortless drive, while passengers can soak up the benefits of the extremely smooth engine and soft suspension system that makes even the most mundane of commutes an absolute pleasure.
While the entry-level A6 is left to make do with a front-wheel drive configuration, Audi has done a great job in designing the 40TFSI to feel and behave like its all-wheel drive siblings.
As a casual driver, you won't know the difference. You'll be more than satisfied by the amount of power on offer from the turbocharged four-cylinder engine with mild hybrid technology, which is paired with Audi's refined seven-speed S-Tronic transmission that takes care of gear shifts in a rapid, extremely smooth manner. Moving up to more powerful variants like the 45 and 55 TFSI makes the A6 significantly faster, with the latter receiving a turbocharged six-cylinder engine that provides more power than you'll ever realistically need on the road.
The more powerful variants still do a great job in remaining quiet and refined while commuting, giving the driver the option to deploy the power if it's needed for overtaking, and settles straight back into a relaxing drive.
Around town, the A6 is a pleasure to drive. It's so competent that it allows the driver to sit back and enjoy the drive that little bit more, providing a quiet, refined and typically sophisticated ride quality that we've come to expect from Germany's premium manufacturers.
Audi offers the A6 with adaptive dampers, which can iron out bumps on the road even more than the standard system, but this comes at a near $2,000 premium. The steering has a somewhat hefty feel to it compared to other vehicles, but it remains light enough to steer the A6 at low speeds and while parking without a problem.
For casual drivers new to the large sedan segment, you might need to acclimate to the sheer size of the A6, but it's not significantly larger than the Mercedes E-Class or the BMW 5 Series, which require the same attention while navigating tight spots around town.
On the open road and long highway journeys, the A6 is faultless as a comfortable family cruiser, and asserts itself atop the premium sedan market as one of the segment's best all-rounders.
Is the Audi A6 Practical and Spacious?
Luxury and practicality were clear priorities for Audi while designing the A6's cabin, and the results of this approach mean that the A6 overall is an extremely comfortable offering that can actually match the practicality on offer in most midsize SUVs. The front of the cabin features a clean, futuristic design that features two displays for the infotainment and climate control systems in an uncluttered format that gives you a clear view of the road ahead.
The driver is treated to their own 12.3-inch digital display, known as Audi's Virtual Cockpit unit, which displays your speed, as well as navigation and even entertainment options on an overlapping digital display. Separating the driver and front passenger is a central console that hides two cup holders and some storage for loose items, while there are two door bins that can accommodate full-sized drink bottles.
Moving to the rear of the cabin, you'll find a set of extremely comfortable seats that can accommodate adults without legroom being an issue, even behind taller drivers. There's no issues with headroom, either, making the rear of the A6 an extremely comfortable place to sit for short trips around town and long holiday road trips alike. While there might be slightly more headroom on offer in something like an SUV, the rear of the A6's cabin shows there is enough space and practicality on offer that there's no distinct need to set up to an SUV.
In terms of boot space, the A6 can be loaded with up to 530L of cargo, which is only slightly smaller than what's on offer in cars like the Mercedes E Class and matches the BMW 5 Series' boot space. For those of you with young children, Audi's ISOFIX anchor points are easy to access, likewise the top tether mounting points, which makes the process of installing child seats a simple task, with easy access into the rear of the A6's cabin.
Overall, then, the A6 is an undeniably practical offering that proves the humble sedan can meet the majority of needs for an Australian family.
Is it Safe?
The Audi A6 has been awarded ANCAP's maximum five-star safety rating, where it scored 93% for adult occupant protection and 85% for child occupant protection. As standard, the A6 lineup is packaged with active safety technology like autonomous emergency braking, front and rear parking sensors with a surround-view camera and Audi's parking assistance program, adaptive cruise control, front and rear cross-traffic alerts, lane change and exit warning assist and a host of front, side and curtain airbags for the front and rear of the cabin. The A6, then, lacks no significant safety technology and has been constructed with a very tough chassis in the event of a collision.
Is the Audi A6 Fuel Efficient?
The A6 lineup is fitted with mild hybrid technology which Audi says can reduce the overall fuel consumption by around 0.7L per 100km while driving around town. Officially, the A6 40 TFSI is rated at 6.3L per 100km on a combined cycle, which for a vehicle of this size, is actually a pretty impressive figure that rivals economy numbers of significantly smaller and lighter vehicles like hatchbacks and compact SUVs. Moving up to the 45 TFSI brings the economy figure up to 7.2L per 100km, while the 55 TFSI is officially rated at 7.4L per 100km.
While these figures will, of course, change depending on your driving style, they are impressive economy numbers for a large sedan powered by a petrol engine.
Our Verdict: Is the Audi A6 Worth it?
The Audi A6 is a far greater vehicle than its Australian sale numbers would suggest. This comes at no fault of the A6, rather, Australian car buyers are gravitating too closely to larger SUVs over sedan body shapes that they are actually missing out on a supremely capable vehicle. The A6 is a car that proves you don't need the sheer size of an SUV to accommodate a family in style and comfort, and serves as an important reminder that the sedan class overall still serves a practical purpose.
As a complete package, the A6 is a sublime car to drive, and although it is priced at the higher end of the market, it comes packed with enough features that the typical buyer will be extremely pleased with even the entry-level variant. If you want to buy a car online, you can get a free quote at OnlineAuto.com.au and see how much you can save, or call us on 1300 719 925
Five Specs You Need to Know
3-Year, Unlimited KM Warranty

12.3-inch digital driver's display, 10.3-inch infotainment system and 8.0-inch climate control panel

Five Star ANCAP safety rating

530L boot space

Economy figures between 6.3 - 7.4L per 100km, depending on engine choice
Pros
Sublime engine paired with smooth transmission

Exceptionally crafted interior design filled with tech and features

Comfortable, spacious rear seats with large boot
Cons
Limited three-year warranty

Adaptive suspension remains an optional extra

Prevalent digital controls can overwhelm drivers new to the Audi ecosystem
OnlineAuto Rating:
8/10
Audi A6 Competition
off the NSW recommended retail price of a Audi Q3 40 TFSI S Line on 25 Sep, 2020.
off the VIC recommended retail price of a Audi Q2 35 Edition2 Design on 12 Feb, 2020.
off the VIC recommended retail price of a BMW X1 SDRIVE 20i on 11 Mar, 2021.
Savings are based on the difference between the actual driveaway price paid by customers on their new car purchases including stamp duty, government
charges and on-road costs and the Redbook Manufacturer Suggested Retail Price (MSRP) plus stamp duty, government charges and on-road costs.