Review - Mitsubishi Eclipse Cross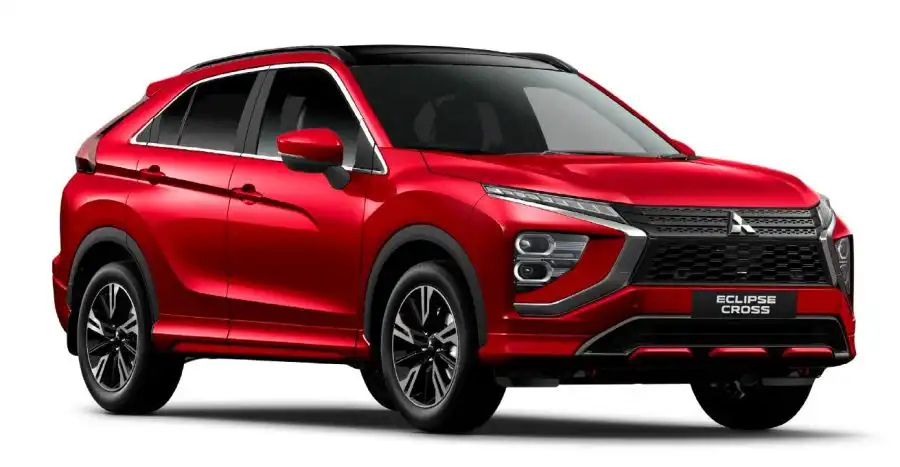 With an updated style to the 2021 variant, the Eclipse Cross is a versatile, modern shaped car with a quality range of features and backed by Mitsubishi's strong performing warranty.
Launching originally in 2018, the Mitsubishi Eclipse Cross added a new modern small SUV to the Mitsubishi lineup, sitting somewhere between the ASX and the Outlander.
Although one may not guess it by just looking at the Eclipse Cross due to its creative and futuristic styling with head up displays on the dashboard and a stylish rear to the vehicle, you could be mistaken to think this car was from a different family as it differs so much from the standard Mitsubishi shape we have grown to expect.
Elegantly designed
Coming in a range of colours, the signature colour most used for promotional purposes is the 'Red Diamond'. This colour showcases a bold confident look that really does work for this particular model. Other popular colours in the range include white, lightning blue and a range of silver to black shades.
The 2021 Eclipse Cross sports alloy wheels across the range, beautiful Eclipse Cross lettering on the newly designed rear windshield (an upgrade on the previous split screen design), and Mitsubishi's elegantly designed diamond shield front grill adding style to compliment the sharp crisp LED headlights.
Smooth driving with just the right amount of power
But the big question, how does this small futuristic looking SUV drive? The answer is pretty good.
The Eclipse Cross doesn't have the biggest engine, but thanks to a pairing with a turbo, it has enough power to play with on city driving. With the 110kw, 1.5l direct injection turbo charged engine, this vehicle has the required response when the driver needs to move.
It's certainly not a sporty SUV in that respect to other more premium SUV's, but it is powerful enough and comes with the benefit of lower fuel consumption due to this pairing and does represent great value at its price point.
Impressive safety features
On the updated 2021 Eclipse Cross, Mitsubishi has also taken the opportunity to review the ride, featuring larger rear shock absorbers, fine tuned suspension springs and a rigid connection which they claim ensures precision and stability.
Safety is pretty impressive on this vehicle with a host of Mitsubishi's MiTec features existing as standard across the range. This includes a rear view camera, emergency brake assist system, emergency stop signal function and the forward collision mitigation system with pedestrian detection.
The vehicle has the all important 5 star ANCAP safety rating, and comes with Mitsubishi's prominent warranty for peace of mind.
Mitsubishi Eclipse Cross interior showing car seat installed
Mitsubishi Eclipse Cross Competition