6 Features for Your First Family Car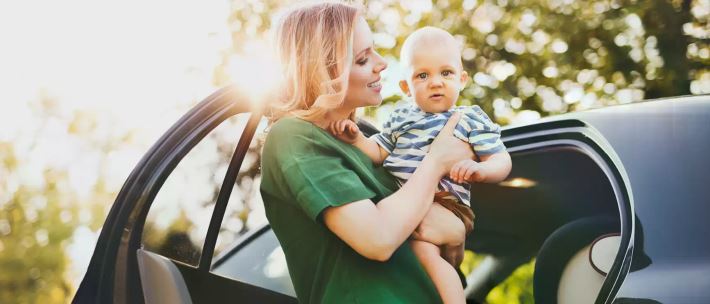 The good news is these days' family cars are designed with actual families in mind, which means an abundance of features every manufacturer will tell you, you need.
These include bigger boot space, built-in rubbish bins, vacuum cleaners, keyless entry, rear-seat screens, built in entertainment, voice enhancement, coolers sections, reversing cameras, Bluetooth connectivity and powered lift gates to name a few.
With so many features available to choose from, buying your first family car can quickly become overwhelming. Here's how to save your sanity and time when looking for a new car.
These 6 features should be on the top of your list when shopping for baby's first car.
A well-designed boot
When babies arrive they come with a lot of baggage and you'll be using your boot multiple times a day. Your boot will need to be as multifunctional as you are, ensure there is enough room for larger items such as giant boxes of diapers, alongside your pram is crucial.
It's also a good idea to look at the height of your boot for those times when you need a make shift change table. Powered tailgates will definitely come in handy when you have your hands full, keyless or gestured controls are even better.
Five star-ANCAP rating
Although built in vacuums are a godsend, (thanks Honda Odyssey!), safety features are what really counts. Five stars by the Australasian New Car Assessment Program (ANCAP) are what to look for. This means that vehicles have performed at the highest level across all crash tests and assessments. Always make sure you check what year the vehicle was tested in, a 5-star car from 2010 won't be the same in a crash as a 5-star car from 2019. Visit ANCAP to see ratings for most makes and models.
Rear camera and sensors
Babies and kids can create a lot of noise, which can be distracting when trying to get in and out of a tight spot. Cameras can help alleviate an already frazzled parking experience. Be sure to look for sensors located low around the rear and sides of your car to detect smaller objects while you reverse.
Automatic Driver Settings
For those times when shuffling a seat forward or adjusting the mirrors will actually push you over the edge, thank your lucky stars for memory seats. Whether it's in the form of programmable keys, a driver profile that can be selected on entering or exiting the car, this can make swapping between drivers a whole lot easier, these are the little things that will make a big difference. Once the preserve of luxury brands, these customisable driver profiles and electric memory seats are now starting to be found as options on family cars like the Nissan Pathfinder, Kia Sorento or the Mazda CX-9.
A Practical Interior Design
Because accidents happen and let's face it you're going to be the one cleaning them up. Look for an easy to clean fabrics like leather which will mean you are wiping off the mess and not shampooing the seats!
It's also important to keep in mind room and the distance between the back and drivers' seats. Rear-facing child seats require more space than forward-facing child safety seats. Also, consider how sunlight in the backseat will effect a baby in a reverse-facing child safety seat. Sedans tend to have lower slopping back windows which will shine sunlight more intensely on your bub.
Keyless entry
If you thought your handbag was a labyrinth now, just wait until you have a baby bag packed full of the necessities. So getting the keys out might not always be a quick task and may even require two hands. Keyless entry is one of those great inventions, you don't need to find the keys you just need to know you have them… somewhere!