How Does the Car Buying Process Work?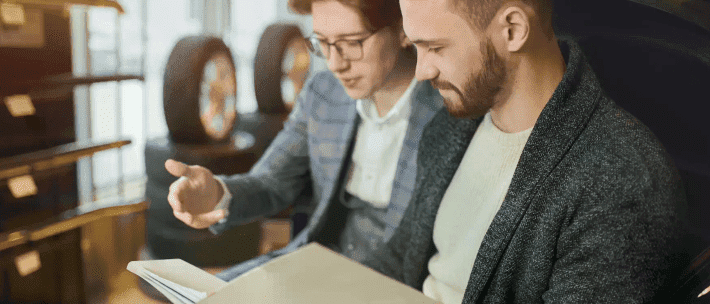 Buying a car is a big commitment, let alone the extra running around talking to a dealership can entail! This is where a car buying service steps in, and this is how it works.
The old method of car buying used to involve setting a side a day, typically a Saturday, to pound the pavement and talk to a few dealerships. For the uninitiated, this was a painful process, as you had to talk to the slick salesman who was only looking after themselves, despite saying they'd look after you. Then, you'd talk price, which could be like pulling teeth, and dealers were adept at making you feel like you got a good deal, when in fact you didn't. A car buying service essentially eliminates all of that, and ensures you get a good deal on your car, so how does it all work?
What is a car buying service?
As the name might suggest, a car buying service essentially does the car buying process for you. The service rolls up its sleeves, and gets to work, finding you your desired car at a competitive price.
Car buying services work by accessing fleet-price deals from the dealer, and then passing on the savings to the individual motorist. This saves you, the motorist, from having to run around and call individual dealers hoping to get a good deal on the car. In fact, a car buying service can be so convenient, you might not even need to leave your driveway.
What does OnlineAuto offer?
OnlineAuto is a car buying service that works with the dealerships to get you the best deal on your car of choice. If you're shopping around for a new car but not quite sure who to talk to, OnlineAuto could be a good first port of call.
OnlineAuto works with its dealer network to find cars in stock, so you don't have to. Further, OnlineAuto has no ties to any brands or manufacturers, meaning you're provided with car options based on your lifestyle, budget, and requirements without a brand bias.
Aside from the car buying service, OnlineAuto also offers:
Test drives:

You might not even need to leave your house. The OnlineAuto team can drop off and pick up your car of choice to test drive to either your home or work place. Imagine being able to buy a car in your lunch break!
Organise finance:

OnlineAuto

puts you in touch with one of our specialised car finance consultants to help find the right car loan for you.
Organise trade-ins:

Save yourself the hassle of selling your old car before the new one comes in, and get OnlineAuto to provide you a trade-in quote and organise the process for you.
Insurance:

If you've got a shiny new car, you want to know you're covered the moment you jump in for the first time. The OnlineAuto team can organise a range of cover options over the phone, or you can also request a quote with your car buying enquiry.
Novated leases:

Novated leases can be an effective way of financing a new car, and is essentially a way of salary-sacrficing your car, which could be beneficial at tax time. If your employer offers it, OnlineAuto can talk to a financier to get you organised.
For all of this, OnlineAuto does not charge any fees. We have bulk-buying power that allows us to buy cars from the dealership at a cheaper price, passing those discounts on to you.
How the car buying service works
If a car buying service sounds like a good option for you, here's how it actually works, broken down into simple steps:
Make an enquiry: Submit your information using the online portal, and a car buying expert will be in touch.
Consultation: The car buying specialist will then help you find cars that match the needs of your lifestyle and budget.
Compare offers: Within 48 hours, the lending specialist will have found you a variety of competitive offers from dealers across Australia. From there, a test drive can be organised, as can finance and more if you're happy with the vehicle.
Receive your car: Once purchased, OnlineAuto can drop your new vehicle off to you.
If this sounds like a good deal to you, complete an enquiry form today, and one of our car buying experts will be in touch shortly.